Traditionally, I always left the stuffing under the command of my Grandma. Thanksgiving meal was always her show, and my brother and I were big fans of her stuffing, which incorporated the sweetness of apple, the nutty saltiness of parmigiano, and a crunchy-soft texture from fluffy, baked bread into one spectacular side dish. Last year, my grandparents went out of town for Thanksgiving, so I had to scrap together a last-minute stuffing. And this story is what brings me here today….
I've been saving this stuffing recipe for a year now, waiting to publicize it on BenGusto.com. The time has come to pass it on to more tables in preparation for the Thanksgiving holiday.
Before trying out the new stuffing recipe, if you need any more help, ideas, or inspirations for the perfect family meal, take a look at these other BenGusto™ Thanksgiving recipes: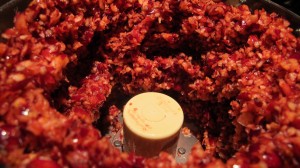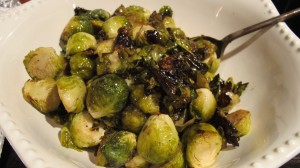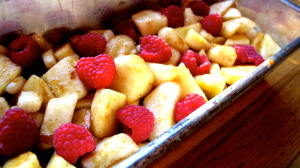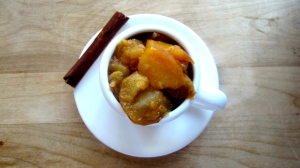 Thanksgiving Apple Stuffing
Level: Easy         Time: 15-20 minutes
1 large Yellow Onion
2 medium Carrots, peeled
2 stalks of Celery
3-4 cups Chicken Stock
1 large, round, fluffy loaf of White Bread
1 large, red Apple
1 1/2 tbsp. Rosemary, chopped
2 tsp. Dried Oregano
Salt & Pepper
2 large Egg Whites
Preheat oven to 400 degrees (or, if you are making in advance, do not preheat the oven to 400 degrees)
Dice the yellow onion, peeled carrots, and celery very fine.
Add the chopped vegetables in with the chicken stock in a small pot, and set over high heat. Bring to a boil, and then set the flame low. Let simmer until vegetables are soft, and broth evaporates a little.
Dice the bread loaf into medium-sized chunks, keeping the crust and fluffy center intact. Place in a large bowl.
Finely dice the apple. Place in the bowl.
Gradually add the stock with the vegetables in the large bowl, until the bread is slightly damp, but not completely wet and falling apart. Add the egg whites and stir.
Season with rosemary, oregano, and salt and pepper to taste, mixing each one in well. Place in a baking dish and either refrigerate for later, or bake at 400 degrees for 10-12 minutes.
Garnish with shavings of parmigiano reggiano. Enjoy, and give thanks!