Imagine yourself sitting in a Sicilian cafe, basking in the warmth of the spring sun, taking a whiff of the salty air as the fishing boats at the nearby dock rock back and forth.
Now, I have never had such an experience. However, this image springs into my mind every time I enjoy grilled octopus.
"Polpo alla Griglia" is a staple of the Italian mediterranean diet. In my opinion, it is packed with much more flavor than its more-famous cousin, the fried calamari. Not to mention, you avoid the hassle of dealing with hot oil.
Even though octopus is harder to find in the States, you can still find some little, fresh polpo at most grocery stores. Frozen octopus is also everywhere, but I wouldn't recommend it for obvious reasons (numerous reports have revealed that many restaurants are switching chewy octopus with chewy pig bladder with none the wiser). I found some pleasant little octopuses at the local Asian market here in Northern Virginia, a market full of exotic fish and produce (where I bought banana flower a while back). Beware! The octopuses (the plural form octopi is also acceptable, but some "scholars" believe it to be more improper) I bought were uncleaned, so I am going to take you on a little, unpleasant detour on the steps to cleaning a small octopus. If that is not in your palette, then I suggest you skip the first few photos.
One last note: if you are grilling on a memorial day weekend and you are looking for a simple way to impress your guests, grill them some octopus. It's not common in the United States, but it should be!
Ok, THE LAST Note: I did try frying a few extra octopuses to prepare the classic "calamari" dish. They may look good in the picture below, but they actually came out soft instead of crunchy. I know that at the Agrihotel, we'd only fry raw octopus, and not boiled. Hmmm… I shall fix this and get back to you!
Summer Grilled Octopus 
Level: Easy        Prep Time: 15 minutes      Cook Time: 7 minutes
15 baby Octopuses
1/4 cup Olive Oil
1 tbsp. Lemon Juice (freshly squeezed)
1 tsp. Salt
1 tsp. Pepper
1/4 tsp. Red Pepper Flakes
1 tsp. Granulated Sugar
2 tbsp. fresh Tomato Sauce
1 tbsp. freshly-chopped Parsley
3 cloves of Garlic
Heat a grill or panini press to proper grilling temperature. Must be sizzling!
Prepare a small saucepan of boiling water.
If your octopuses are not already cleaned, then start by cleaning out the insides of the head. Cut a little slit in the head, and fish out the inner parts. Yuck!
Next, take your knife and extract the small black dot where squid ink is typically released.
Once all octopuses are clean, let them cook in the boiling water in the hot saucepan for a quick 40 seconds so they become firm. Drain and let sit aside.
Take all ingredients besides the octopus and grind them in a blender fitted with a steel blade until a thin sauce is formed.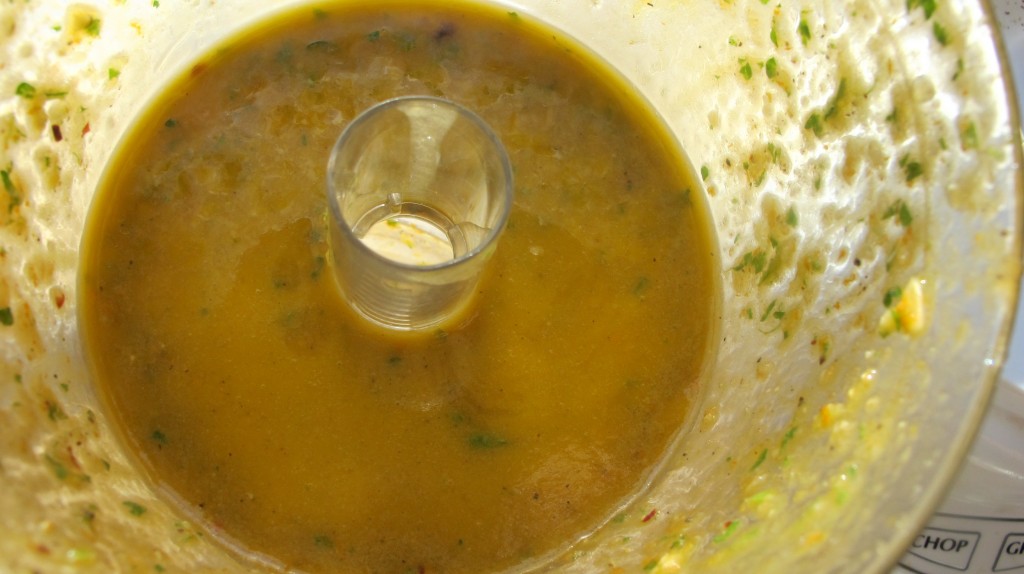 Give each octopus a dose in the sauce, and a generous seasoning of salt and pepper. Place on the grill for 5-7 minutes, flipping each octopus once (if you use a panini press, you can just press the hatch down).
Midway through the grilling process, give each octopus an extra helping of sauce!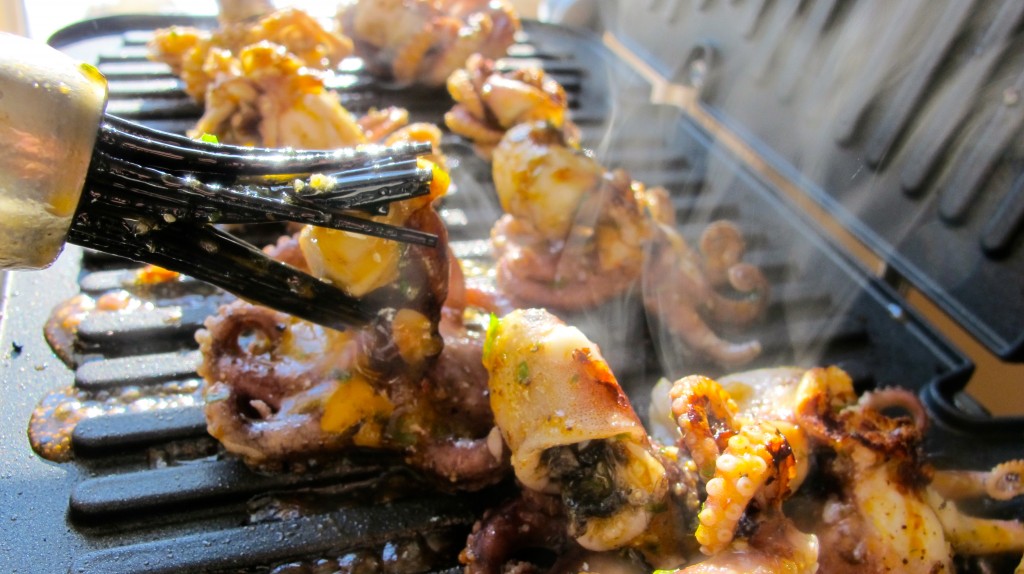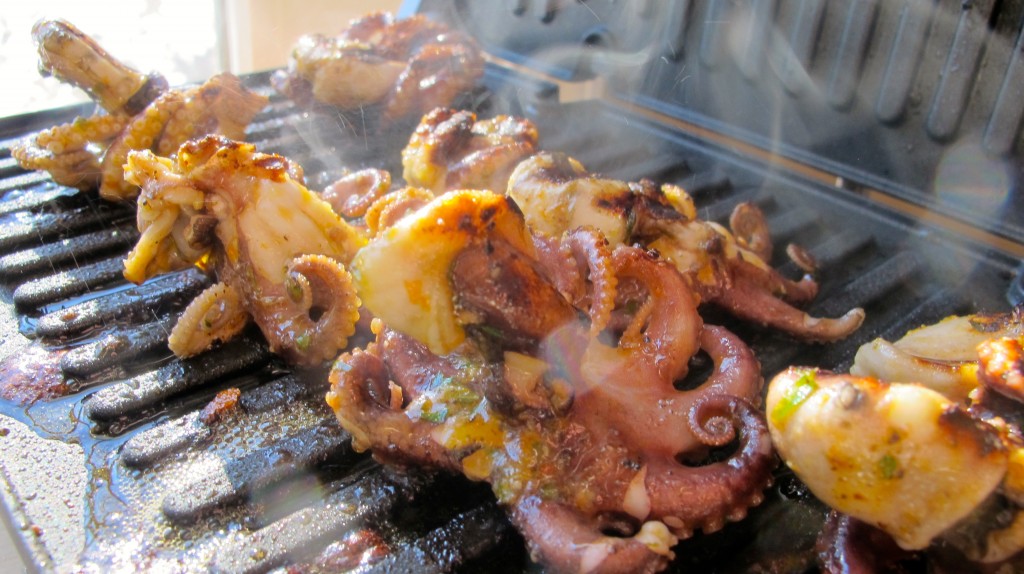 Enjoy your grilled polpo warm with a little dripping of sauce, and a sprinkle of fresh parsley. Buon appetito!