Do you ever find yourself roaming in an ethnic grocery store, surrounded by unfamiliar foreigners, and have the urge to try something they do? To cook something they cook? Well, I was strolling around the local Korean supermarket recently, and at the sight of actual sugar cane and cherimoya, had the temerity to buy a random item in the store, and eat it. I chose the banana flower, a large, tight blossom with purple leaves on the outside, and white leaves in the inside. The banana flower is, of course, the blossom found along with bananas on the tree, and I had literally no clue what I would do with it.
When I came home, I found that the options there are for eating banana flower are very limited. Basically, you can make it into a salad. And that's about it. A salad? What could be easier than a salad?
Then I researched a little further. Banana blossoms require quite a bit of work before they are actually edible. They need to be peeled by hand, which is tough because the petals are very rigid, and there are certain parts that are good to be eaten, and certain parts that aren't so good. Immediately after cutting them, the petals need to be soaked in water with lime, or lemon, juice to keep from oxidizing. All of the recipes for banana flower salad were Thai and Vietnamese cuisine, which called for flavors a little out of my comfort zone. For instance, I, being an Italian boy and cooking only Italian and American food, did not have Thai chili paste, or Thai mint, or even peanut oil. This dish was going to be a daring test for me, but I had committed myself to the task as soon as I had picked up the unknown item.
Since I didn't have a stock full of Thai seasonings and flavors, I developed my own recipe by combining ingredients from numerous banana flower salads, so I
could make it using a normal, American-Italian pantry. My creativity was successful, and the salad was a nice taste of Asia that gave a bit of flare to a normal meal.
This story should probably end with a moral, just because it feels odd without one. So I'll give you a nice cheesy one. "Don't be afraid to try something new." Obviously,  I am not the deepest-thinking philosopher, but there is truth to that simple statement.
Thai Banana Flower Salad with Shrimp and Chicken:
2 Banana Flowers

LemonJuice
3 Limes
1/2 cup of Shallots
8 oz of Shrimp
Olive Oil
Cooked Chicken (about as much as shrimp)
4 tbsp. White Vinegar
5 tsp. Fish Sauce
3 tsp. Brown Sugar
2 cloves of Garlic
6 drops of Tabasco Sauce
Water
1/2 cup of Toasted Peanuts (unsalted)
Salt and Pepper
The first step is to prepare the banana flower. Oh boy.
First, prepare a deep bowl of water and lemon juice (a lot of lemon juice, about 1/2 cup). Keeping the cut banana flower in the lemon water will keep it from oxidizing.
Take the banana flower and cut off the white end. Start peeling the first few purple layers and discard them. After the first few layers, continue to peel the whiter layers (the flower gets whiter as you peel further) and take each one to cut into thin strips. The thin strips are cut by running your knife from the top to the bottom of the petal to create numerous long, thin strips.
Once strips are cut for one petal, immediately plunge them in the water-lemon bowl and turn back to the flower to repeat the process with another petal.  Do NOT peel all the petals and then cut into strips, do it one petal at a time to keep them from oxidizing. You can also cut them into strips AFTER you have peeled the banana flower and soaked it, right before you put it in the salad.
There are also small buds found in between petals. The white buds can be eaten and thrown into the lemon water along with the petals. Black buds are not good to eat.
Let the prepared banana flower soak in the lemon water for at least 40 minutes.
If you have any more questions about preparing a banana flower, look at some of these sites:
http://ilovethaicooking.wordpress.com/2010/05/30/banana-blossom-how-to-prepare-them-for-thai-vietnamese-recipe/
http://heavytable.com/cooking-with-banana-flower/
With a few tablespoons of olive oil to coat the pan, heat the shrimp over medium heat until golden and cooked. Place in a large bowl.
Chop the peanuts and mix them in with the shrimp.
Dice the cooked chicken into bit-size pieces, and throw it in the bowl as well.
Chop the garlic very finely and place in a small bowl. Take the three limes and squeeze their juice into the bowl. Add the fish sauce, brown sugar, white vinegar, and tabasco sauce. This is your dressing.
Add the soaked and prepared banana flower to the large bowl of shrimp and chicken. Add the dressing and toss well. Add salt and pepper as you please, and more dressing if necessary. Enjoy this version of a Thai classic!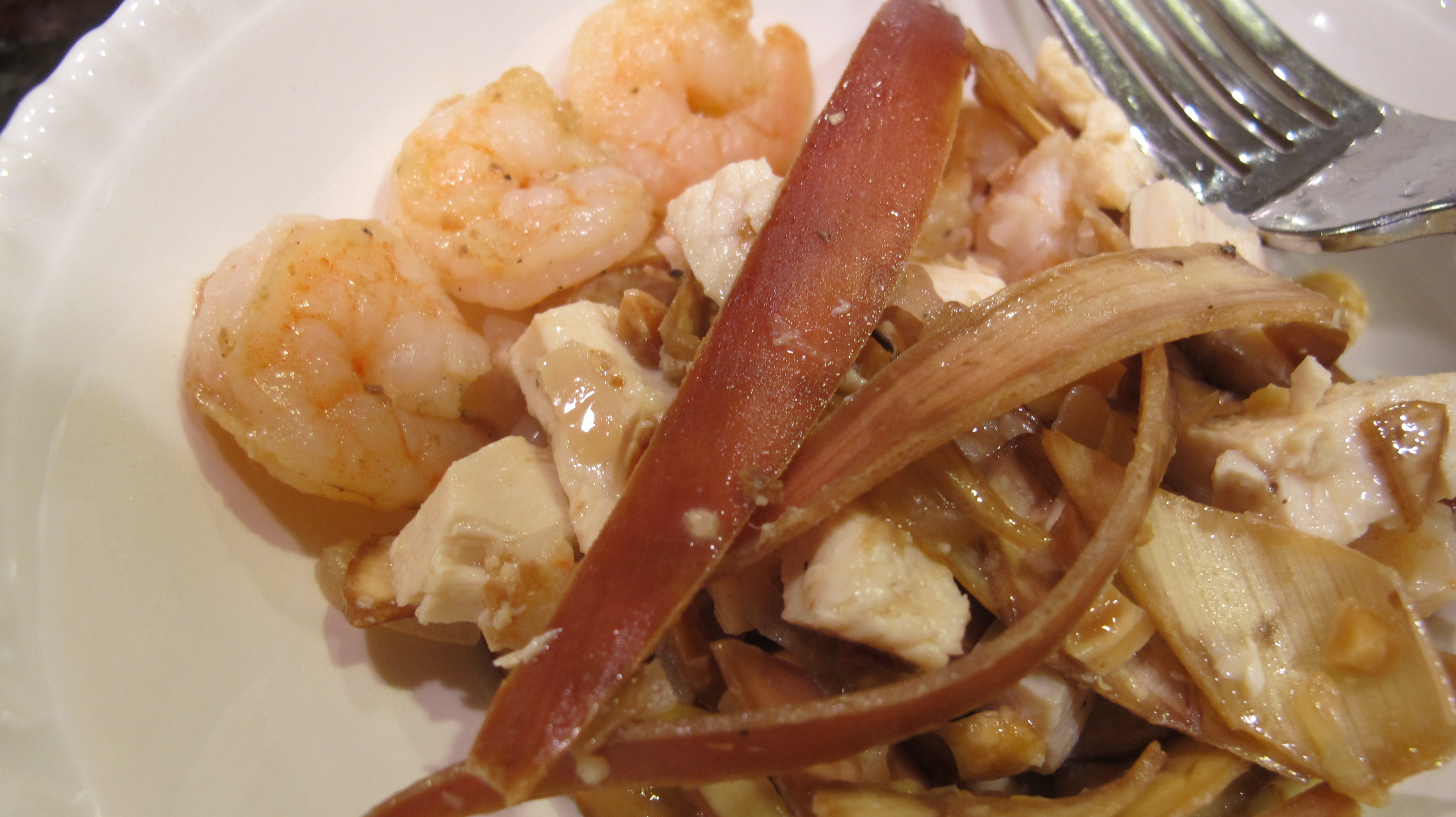 เพลิดเพลิน ("enjoy" in Thai)