I feel like it was just yesterday that I was saying "it's radicchio season!"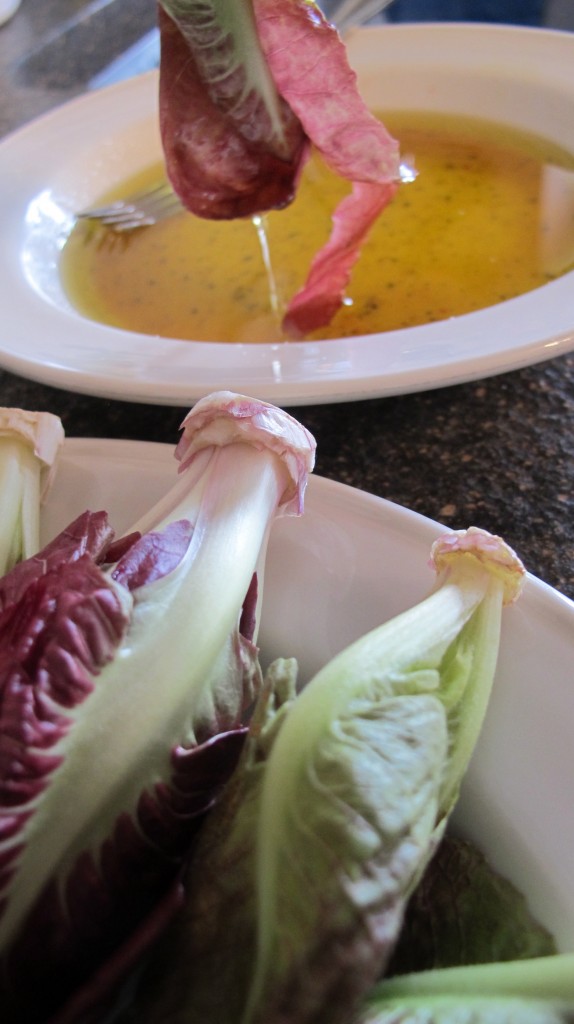 I did my post on radicchio season, and Nonna Italia's risotto con radicchio, just about 8 months ago because the Piemonte, Italy radicchio season is in the winter. But Virginia's radicchio season seems to be in the fall, which works out great because this way I get an extra 4 months to work with the vegetable.
Radicchio is a bitter, purple cabbage that is bursting with character and vitamins. By character I mean that if it were a human, radicchio would be one of those large beardsman that stands quietly in the corner, but packs a heavy punch if provoked. Radicchio has a strong flavor that must be taken care of, and paired with complimentary ingredients. (I'm not too sure if my beardsman analogy works, but I just like the word beardsman)
This is my version of a classic Piemontese dish. I spiced things up with pecorino shavings and a sprinkle of chopped walnuts as garnish. The radicchio pasta is best used with penne, and also goes dashingly well with whole-wheat penne. My father, somewhat of a traditionalist, scoffs at any whole wheat pasta that enters the household, so I didn't use it in the making of this recipe.
Fun Fact: There are three different types of pecorino- Pecorino Sardo, Pecorino Romano, and Pecorino Toscano from Sardinia, Rome, and Tuscany. Pecorino compliments the pasta, but a few shavings from a nice block of parmesan would work well too.
Penne with Radicchio and Pecorino
250 g Penne (whole-wheat goes very well with this pasta)
1 head Radicchio
2 tbsp. Olive Oil
1 clove Garlic
dash of Red Pepper Flakes
2.5 tbsp. Butter
Salt
Splash of Dry White Wine
Handful of Walnuts
Pecorino Cheese
Pepper
Set a medium pot of water over high heat to boil.
In a medium pan, heat the garlic and red pepper flakes in the olive oil over low heat. Heat until the garlic softens (a few minutes).
Peel the radicchio leaves into a bowl, and then coarsely chop the leaves. Give them a good wash under water.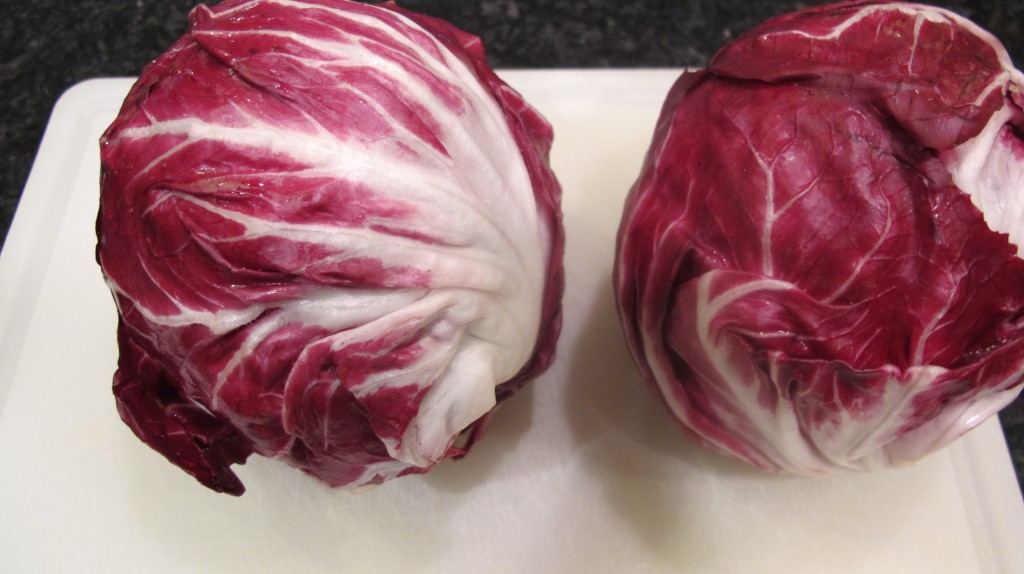 Add the radicchio leaves into the pan and cook over medium heat until the radicchio boils down.
Add a dash of white wine to the simmering pan, as well as the butter. Butter isn't often used in my recipes, but it really helps glue the sauce together here.Add salt to taste (about 1 tsp.). Simmer for another minute or two, and then turn off the stove.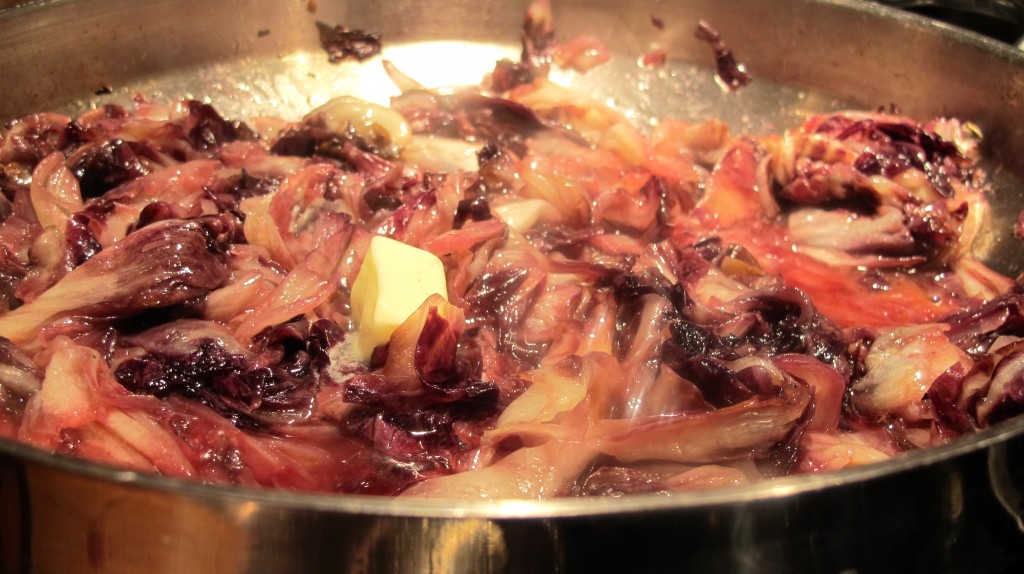 Salt the boiling water. Throw in the pasta and cook according to the manufacturer's instructions.
While the pasta cooks, finely chop the walnuts and prepare the pecorino shavings. Add the chopped walnuts to the radicchio sauce.
Drain the pasta and add it to the radicchio. Garnish with pecorino.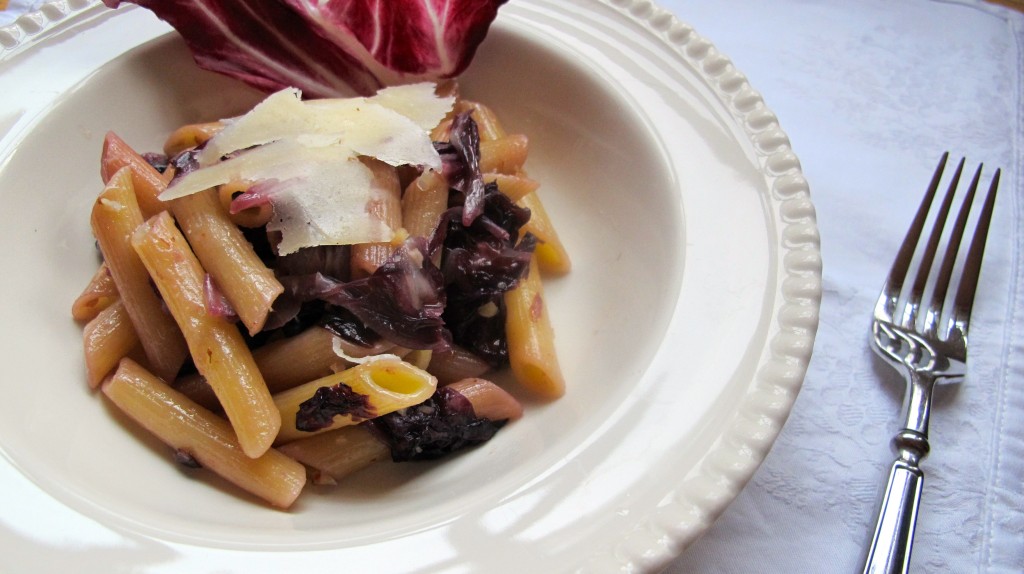 Buon Appetito!
– BenGusto