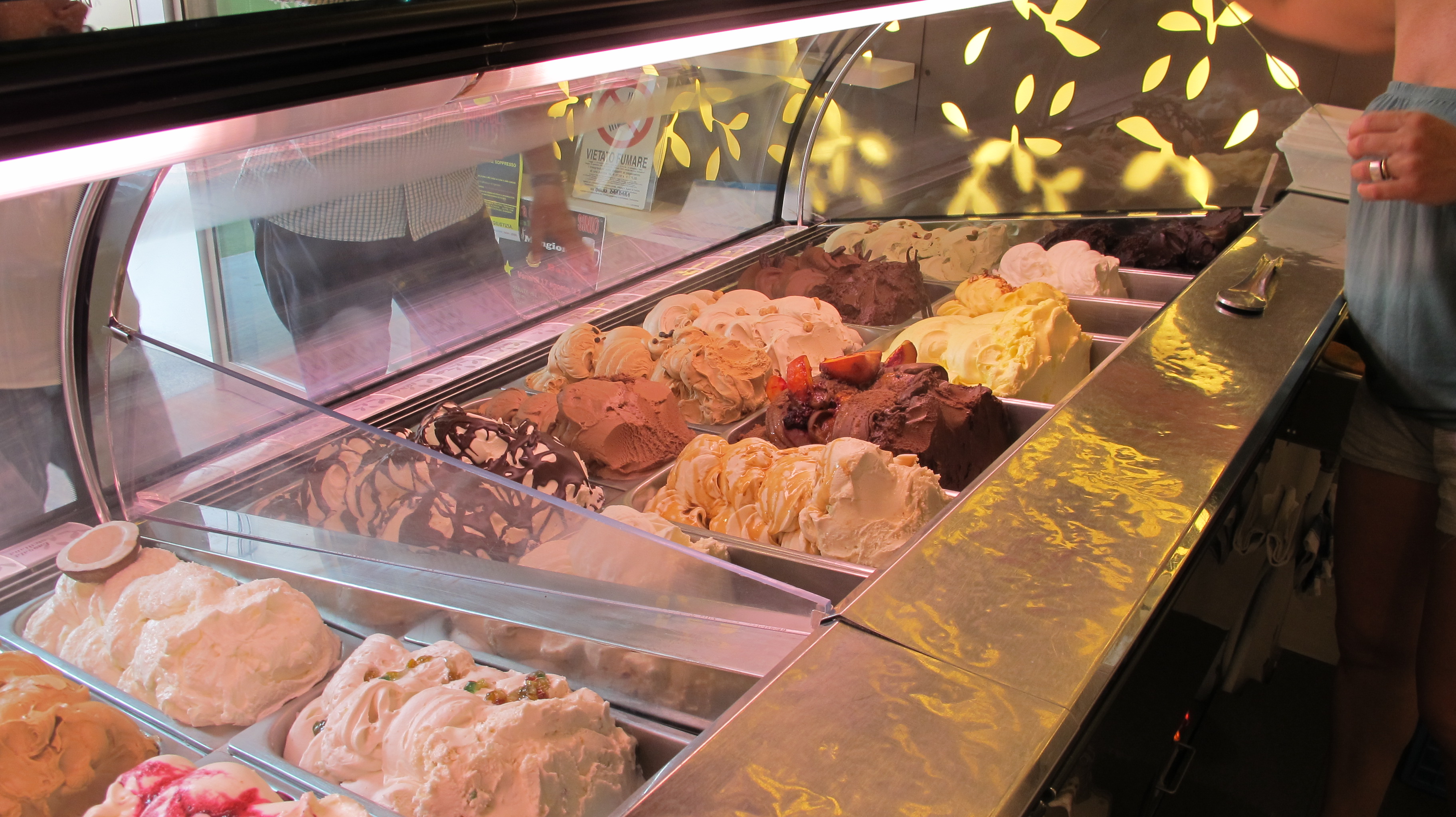 The other day, I was strolling through the main street of Alba (a town in Piemonte, Italy) with my parents and nonni (grandparents) when I stopped in front of our all-time-favorite gelateria and told my dad I wanted to ask our gelato lady friends something. Two sisters and another kind blond lady work the counters day in and day out of this gelato shop that makes unbeatable flavors with an incredible creamy consistency. We've always had a good relationship with the ladies because we all support the same soccer team, Juventus FC. So whenever we need a cool gelato on a hot summer day, we go down to our gelateria, Sacchero, for a tasty treat and a chat about how my soccer "career" is going, or how Juventus is doing.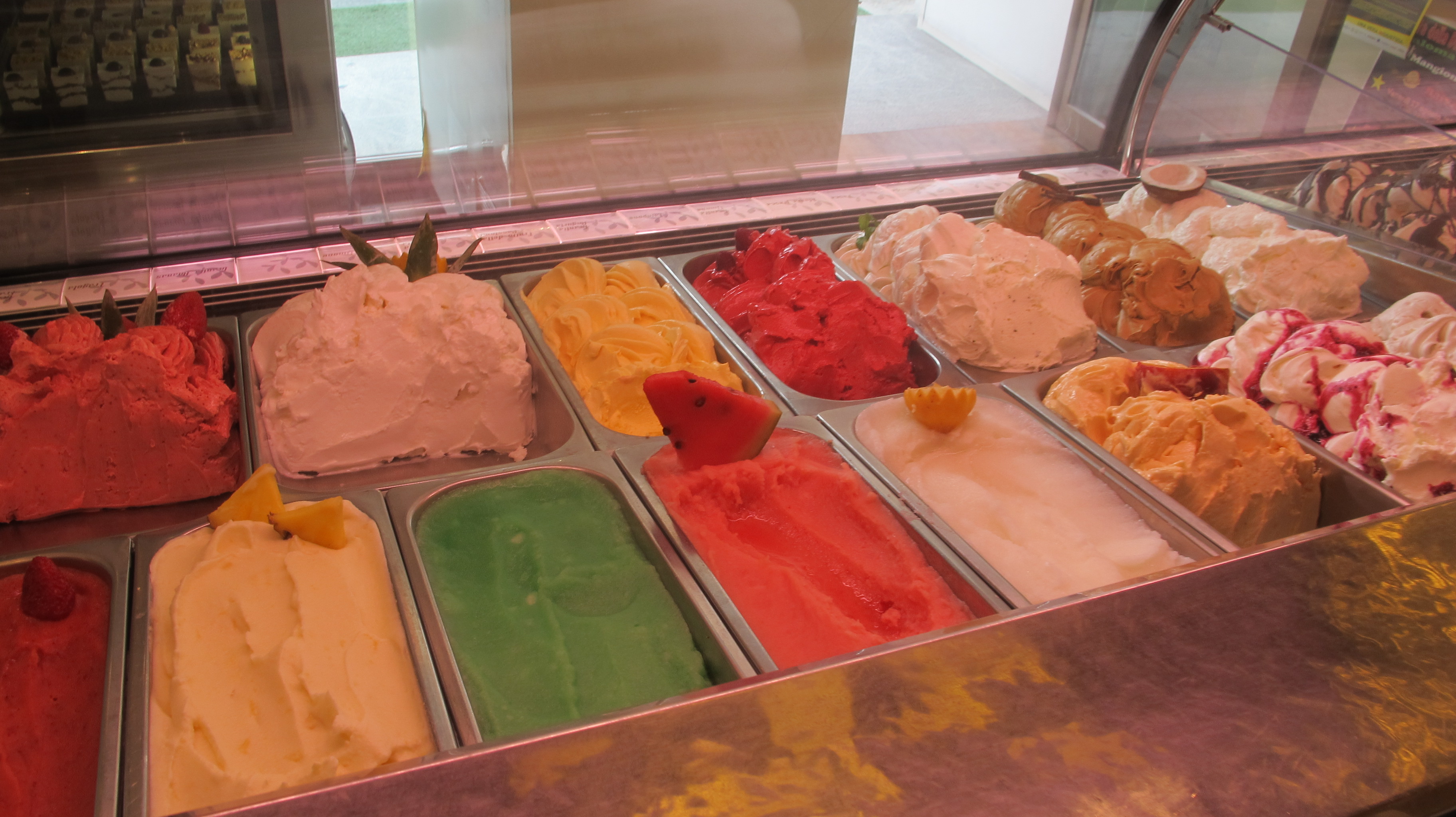 But this time, I wasn't going to talk about soccer. I wanted to ask if I could possibly come in sometime to watch the sister that makes the gelato at work. I always wanted to know why their gelato was so good. How come I can only eat their gelato and nobody else's? Why is their gelato so much better than every other gelato? And could I crank out a gelato like theirs back in America using my little Cuisinart ice cream maker?
Our closest friend of the three was at the counter. She's always very happy to see me, the little calciatore, walking in to get his favorite gelato. Before I pick my two flavors, I always have to try at least three gusti, just so I'm sure I'll be picking the best ones. So she kindly gave me a taste of mint, strawberry, and cassata siciliana, but as always, I went with my favorite combo of Dark Chocolate and Fior di Latte (which is a
pure milk ice cream, no vanilla flavor). Then I asked her when I could come in to watch how the gelato is made. She was, of course, thrilled to hear it and told me her sister, Barbara, would be making gelato tomorrow afternoon.
So here is an exclusive look behind-the-scenes at the production of top-quality gelato:
The gelato machine is a two-in-one kind of worker. It heats the gelato, while mixing, to dissolve the sugar, and then transports the liquid down to the bottom half of the machine, where the temperature is the opposite, in order to mix and freeze the liquid into gelato.
And here are some interesting facts I got from taking notes and using my Italian with Barbara:
She uses three types of sugar: Sucrose (normal sugar), Glucose, and Dextrose. The sucrose gives the flavor and the glucose makes the gelato creamier. I'll definitely try some glucose in my gelato.
To make the killer dark chocolate flavor I like, she uses a 55% chocolate from Germany with added cocoa. She uses less sugar and more dextrose to make it creamier, otherwise it won't be as smooth due to the cocoa.
The gelato is kept at 10 degrees F (-12 degrees C) because the gelato should not be served too hard.
The ratio of whole milk to panna (cream) is generally 3 liters of milk to 1 cream. Gotta remember that!
The gelato is made every day, except for her day off and the one day when she prepares all of the sugar packs.
She changes flavors depending on the season
Many gelaterie, such as the chains like Grom, buy their mixtures of flavor and sugar already done. She does everything
herself.
She says making gelato takes more chemistry skill than cooking. There is a lot of measuring, and dealing with different amounts of sugars and temperatures.
She stressed the importance of the quality of the cream and milk. Italian dairy products are incredible, that's why they make such good gelato.
Italy has very strict laws on public health and safety. The working area must be pristine and Barbara has to write reports after every day on the temperatures she uses and the cleansing procedures she took.
I got to see 5 flavors made in over an hour, along with a batch of popsicles. That means I also got to taste test  5 different flavors: yogurt, fior di latte, stracciatella, coconut, and pear. From tasting each one, I learned that gelato tastes much better fresh out of the mixer. So next time I go, I'll ask "What's she making back there?"