Over the past four years that I have been blogging, traveling, working in kitchens, and crafting new recipes, I've found plating to be the most difficult culinary skill to master.  The typical artist's (if I can call myself that) mentality acts as a roadblock for me: the feeling that my own work is never visually appealing enough. Even when I serve a dish to diners and receive genuinely positive reactions ("Woah! This sunchoke quiche is just beautiful!"), I fail to look at my creation with the same admiration.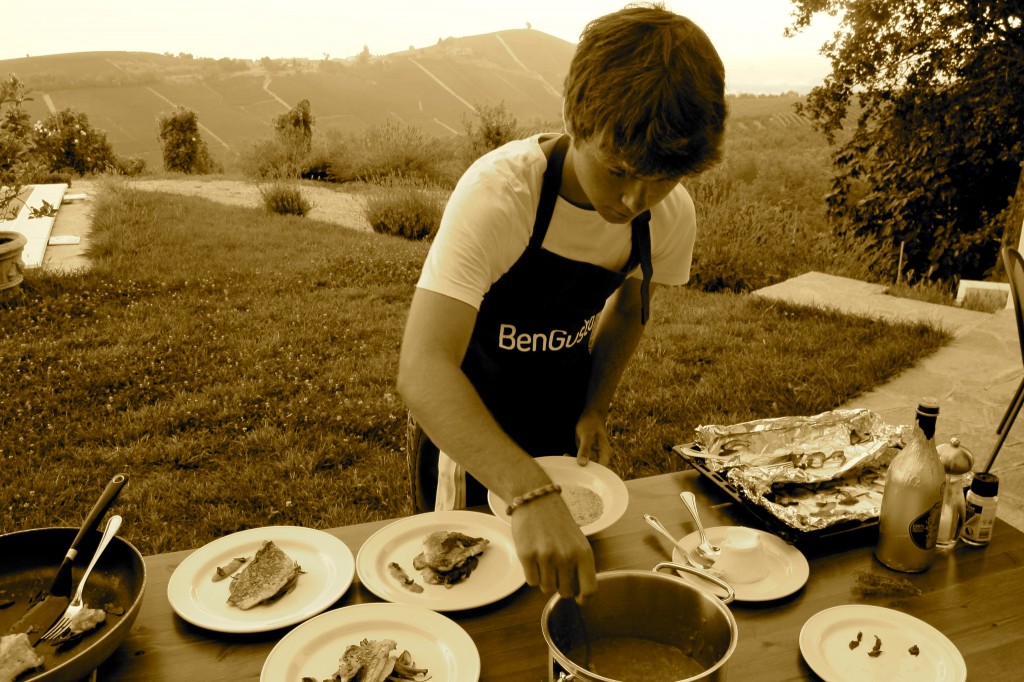 Along the way, I've followed a few helpful guidelines to improve my plating technique. These have certainly improved the "wow" factor of my dishes, yet I don't believe I will see great improvement until I can start looking at my culinary paintings with pride. I do encourage you to try putting the extra effort into plating now and then. It can go a long way at dinner parties, and it is one of the most exciting parts of the cooking process!
Here's some helpful tips and tricks for plating:
Carefully select your dishware. The dish you use is your canvas, and can have a bigger effect on the diner's impression and experience than appearance of the food. You must think about both the practicality and aesthetic appeal of your dish, and ask yourself questions while selecting a dish. Should the plate be pure white to have dark colors in the food pop? Would it be more exciting to serve finger food in a paper cone? How will a mellow green ceramic bowl interact with the colors on my plate?
Leave empty space. Not only is this more comfortable for the diner (nobody wants their beans to overflow out the bowl), but it also centers the diner's attention on the small details and vibrant colors in the food. The eye tends to gravitate towards empty space, so let it do so.
Mind the height. Stacked food towers are difficult to manage with a fork and knife, and they often appear overwhelming. It's nice to have some features on the plate pop out in a 3D effect, but do not go overboard.
Prepare decoration tools and ingredients beforehand. Draft a design of your plate in your head or on paper beforehand, and set aside ingredients used in creating the dish for plating. You cannot go wrong garnishing a dish with an ingredient used during the cooking process.
Experiment with plating your food. Try out some of these techniques:
Layering Your Plate: Deconstruction of the making of a Gelato Dessert
The photos here illustrate the layering of a dessert dish I made: Vanilla Bean Gelato with Burnt Caramel, Golden Berries, and Cactus Fruit Juice. Everything tasted really good except for the cactus fruit, which didn't compliment the rest of the dish flavor wise.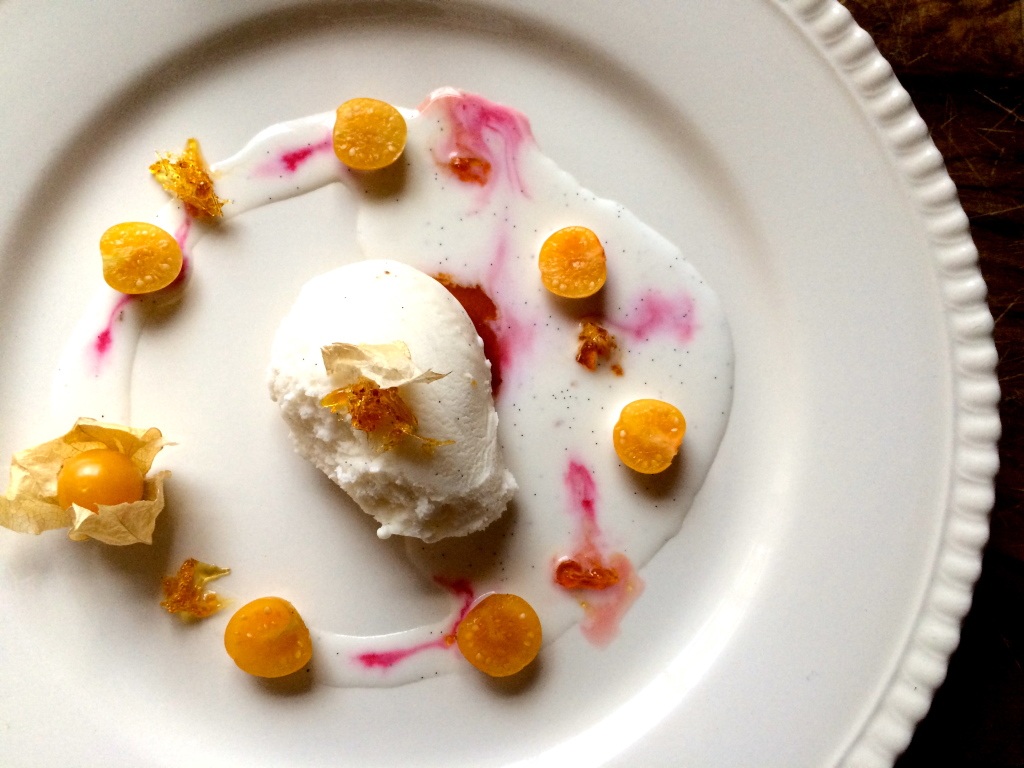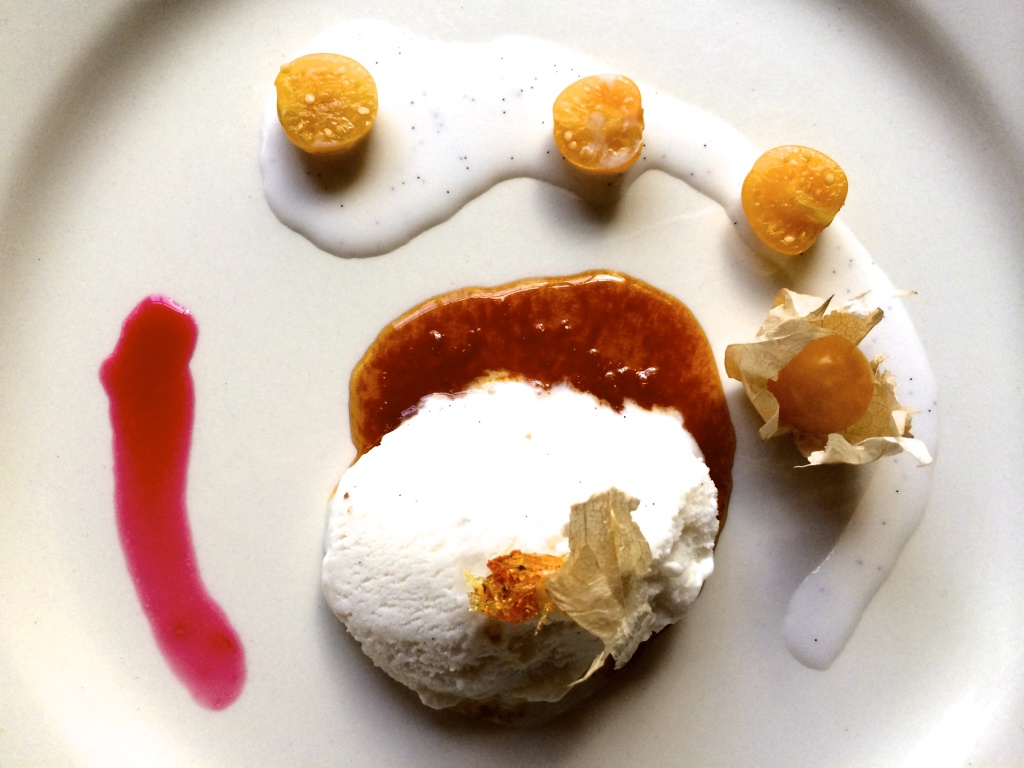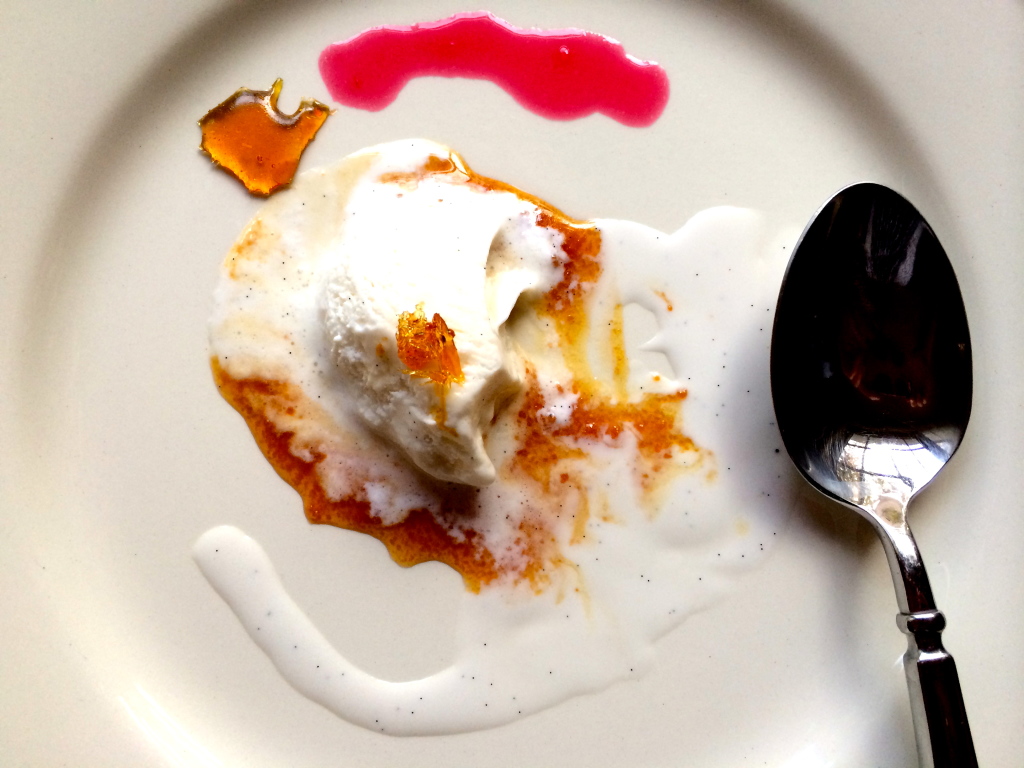 I hope that helps. This is most of what I've learned and noticed over the years. Good luck, and happy plating!
– Ben