I spent two weeks this summer working in the kitchen at the Agrihotel Elisabetta in Cecina, Italy in the region of Tuscany. It is run by the famous Brunetti family, and showcases the best flavors of Italy with their own wine, hotel service, restaurant, and garden. The establishment was founded by Luigi Brunetti, a well renowned Italian chef who brings plenty of traditional passion to the kitchen.
The "agri" part in "Agrihotel Elisabetta" comes from how the Brunetti family are completely agricultural. They produce their own wine, grow their own fruits and vegetables, pick their own herbs, and cook their own food. Knowing this, I was sure that my experience in the hotel kitchen would be top-class. As soon as I arrived on a late Friday night, I was immediately grabbed with a warm family welcome. The first impression Luigi's family gave me was that they are a traditional Italian family, and that this is just the cozy, food-oriented restaurant I always dreamt of working in. The Agrihotel is what any American would imagine a typical family-run establishment in Italy to be.
Since the cooking baton was passed down to his son, Leonardo, Luigi is just as much in the kitchen as he is everywhere else in the estate, working as a true owner, and acting as the "face" of the establishment. Ok, well, not only the "face", but also the "voice", because he loves to sing Pavarotti and Marco Masini at the top of his lungs as he travels from table to table. I'll never forget the feeling when you knew he was coming around the corner because he was singing "le ragazze serie, non ci sono più"  (there are no more serious women) like he was in the Teatro Alla Scala opera house. His wife, Elisabetta, took care of me as if I were a son. She was similar to my Nonna in that she was always looking to help me out, and make sure I was okay. Although she may not be as verbose as Luigi, she is just as important to the stability and functionality of the Tuscan hotel.
Then there's the kitchen, which is where I was based. The first day of work was as awkward as the first day of school (Where are the paper towels? What can I be doing? Where do I stand??). But as I became more comfortable with where I was working, I also got to know the chefs I was working with. As I said before, the Agrihotel is a very TV-like, stereotypical, family-owned business, so the kitchen was as well.
Head Chef: Leonardo. He's loud like his father, but not with his singing voice. He bangs on the table, pots, and pans as he yells, but not an aggressive way, at his sou chef and assistants to pick up the pace when they're already working at light speed. He also liked to warn me once or twice a day on how "women are crazy, and will drive you insane." I gave him the title, "sexist", which all the ladies in the kitchen now enjoy calling him by. He was in charge of the main meat and fish courses, and served as my main instructor. He's warm-hearted, and was eager to take me under his wing as soon as he saw my potential.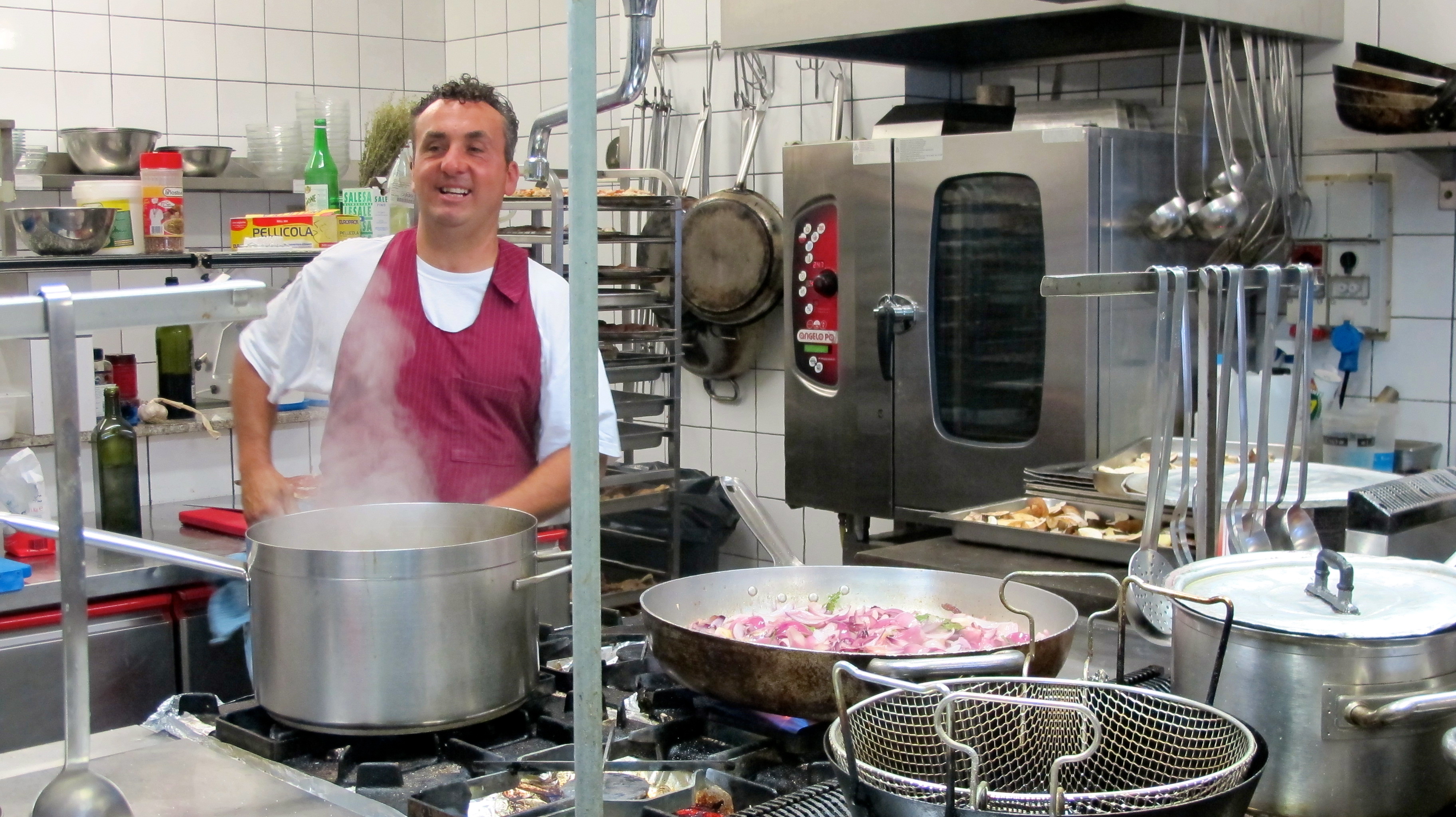 Sou Chef: Matteo, the group's Napoletano (from Naples). Whenever a mistake is made, or something is said that the others don't agree with (mainly on the topic of soccer), it's because he's Napoletano. With his thick Napoletano accent, I could only understand half of what he was saying. But every time he finished preparing a dish, he could not get over describing, in Italian, how "seemple it is", "you just throw this and that and this and that, and wallaa!", "ees so bootiful."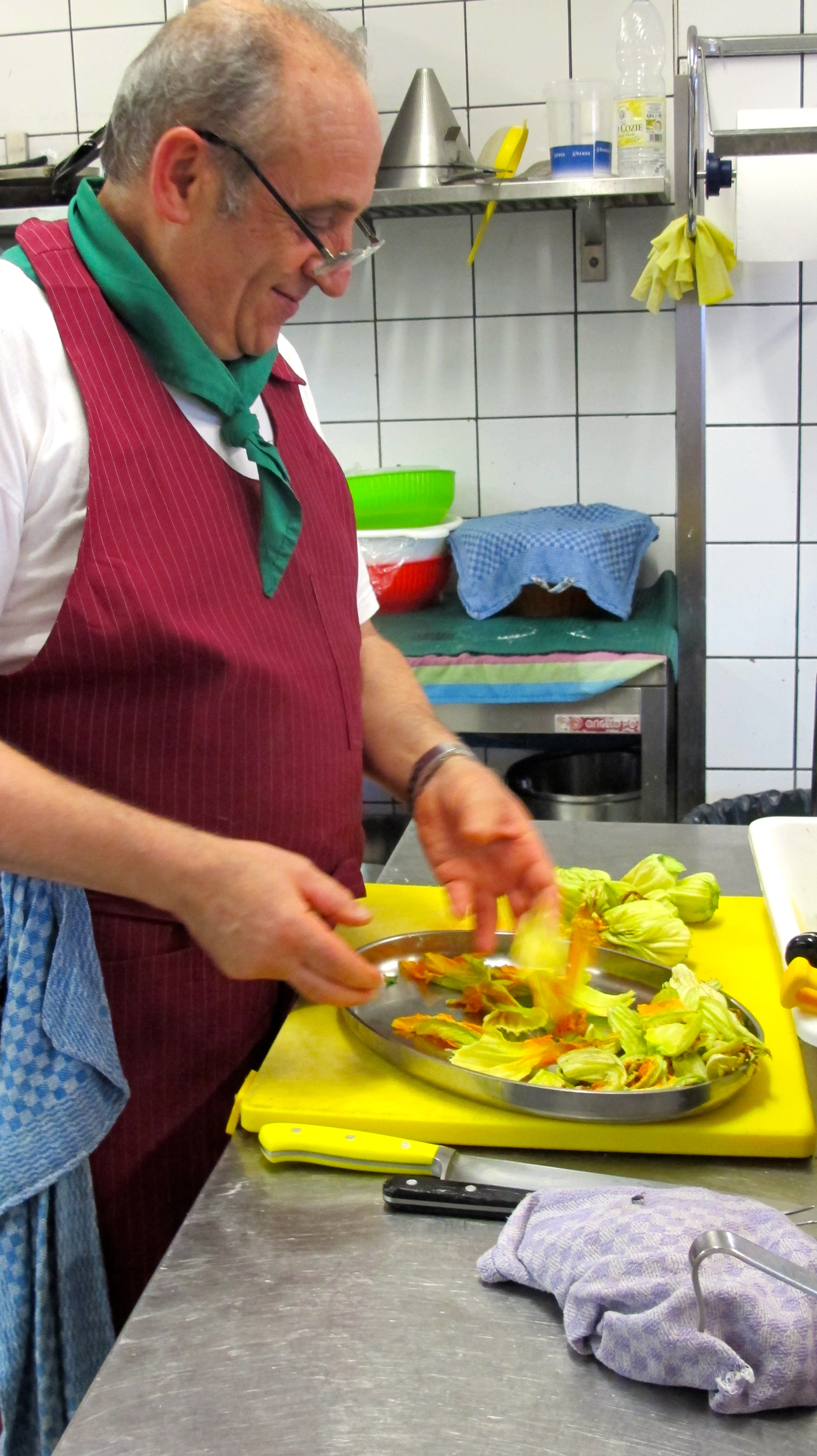 Marinella and Rosy: These two friends shared the same job, as well as sharing their smoke breaks to catch up on gossip (or whatever it is they talk about). They worked hard at the annoying tasks, such as loading up the dishwasher, cleaning the utensils, peeling the garlic, and dicing the fruit for the macedonia. I started working with them for the first few days, but I was invited more and more to work with the Sou and Head Chefs as the week went on. I was banned from cleaning dishes by Luigi, not because I was so darn good at it, but because he wanted me to learn to cook and not clean. Seeing where Leonardo got his genes, Luigi told me to "leave it for the women!" I still enjoyed sneaking over to Marinella's work space to challenge her to see who could rip the heads off the sardines and gut them faster. Oddly enough, gutting fish was my favorite task.
Monica: Monica had the better job compared to what the other two ladies were doing. Instead of washing dishes and gutting fishes, she sliced Italian dried meats and fresh tomatoes. She worked mainly on laying out and preparing the buffet.
Join us on the next Agrihotel Elisabetta post on …. where we talk more about actually cooking food in the kitchen.