Every so often, you will come across a poor soul who claims he does not like chocolate. That's when you turn to him, make a facial expression as if seeing a turtle eating a gorilla, and exclaim "Huuhh???"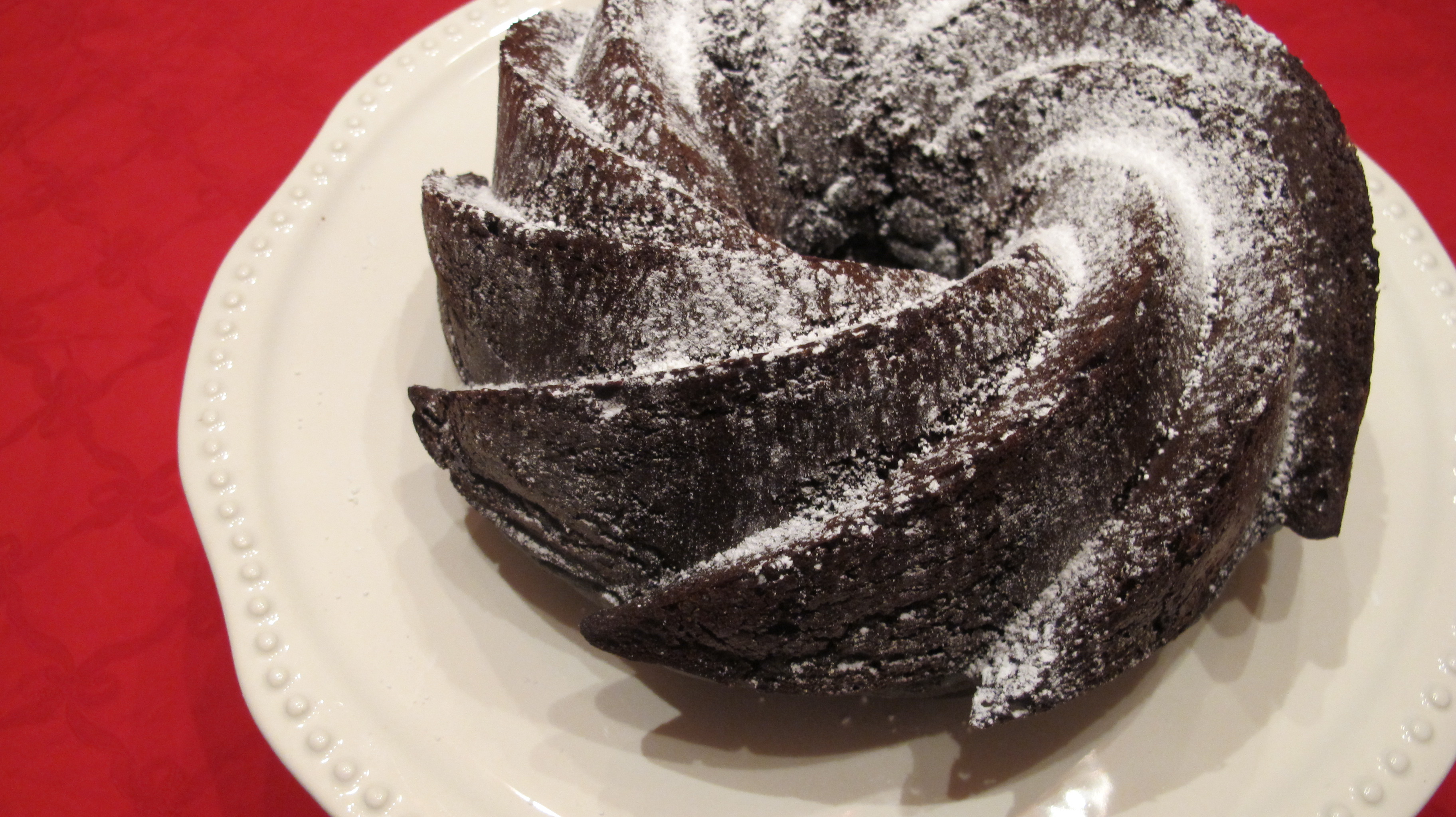 The taste of cocoa is, in my books, unbeatable. I'll even eat cocoa unsweetened. That's why this dark, decadent, double-chocolate cake is one of my favorites. Back in Torino, I was making it every week to have at breakfast. I found myself spending a good amount of time traveling around the city for the cake's ingredients. In fact, the highlight of my weekend would be, besides my soccer games, scouting out a new chocolate store in the Italian capitol of chocolate. We were surrounded by these stores, having one on literally every block. It's incredible how fit the Torinesi are for how much chocolate they have floating around.
Dark & Decadent Chocolate Bundt Cake
(my adapted version from a Food Network recipe)
2 cups all-purpose Flour

1 cup granulated Sugar
2 tsp. Baking Powder
1/2 tsp. Baking Soda
1/2 tsp. Salt
2/3 cup unsweetened Dutch-process Cocoa Powder
5 tbsp. of Espresso or 1 1/2 tsp. instant Espresso Powder
little less than 1/2 cup Water
1 tbsp. Vanilla Extract
1 cup Greek-Yogurt or Plain Yogurt (I use 0% fat)
1/2 cup Milk (I use 2%)
3 tbsp Canola Oil
3 tbsp Olive Oil
1 Large Egg
1 Large Egg White
5 oz Dark Chocolate (at least 75% cocoa)
Preheat the oven to 325 degrees F.
Start by mixing the flour, sugar, baking powder, baking soda, and salt in a medium bowl.
Place the cocoa powder in a small bowl. Add the espresso, or the espresso powder.
Boil the 1/2 cup of water. Once hot, pour it over the cocoa and espresso and mix.
In a large bowl, whisk together the egg and egg white, the olive oil and canola oil, the yogurt, the milk, and the vanilla extract.
Gradually add the cocoa mixture to the wet mixture, stirring until combined.
Next, gradually add the flour mixture to the cocoa-milk mixture.
Chop the dark chocolate into bit-size chunks.
In your hands, coat a small amount of flour on the chocolate chunks before placing them in the cake batter. This will keep the chocolate chunks from sinking to the bottom of the cake. Once floured, mix the chunks into the batter.
Grease a 10-inch bundt pan heavily with cooking spray. Place the batter into the pan evenly.
Bake for 35 minutes, or until a toothpick will come out of the cake clean. Dust with powdered sugar and enjoy!