"Zuppa di Pesce" = Soup of Fish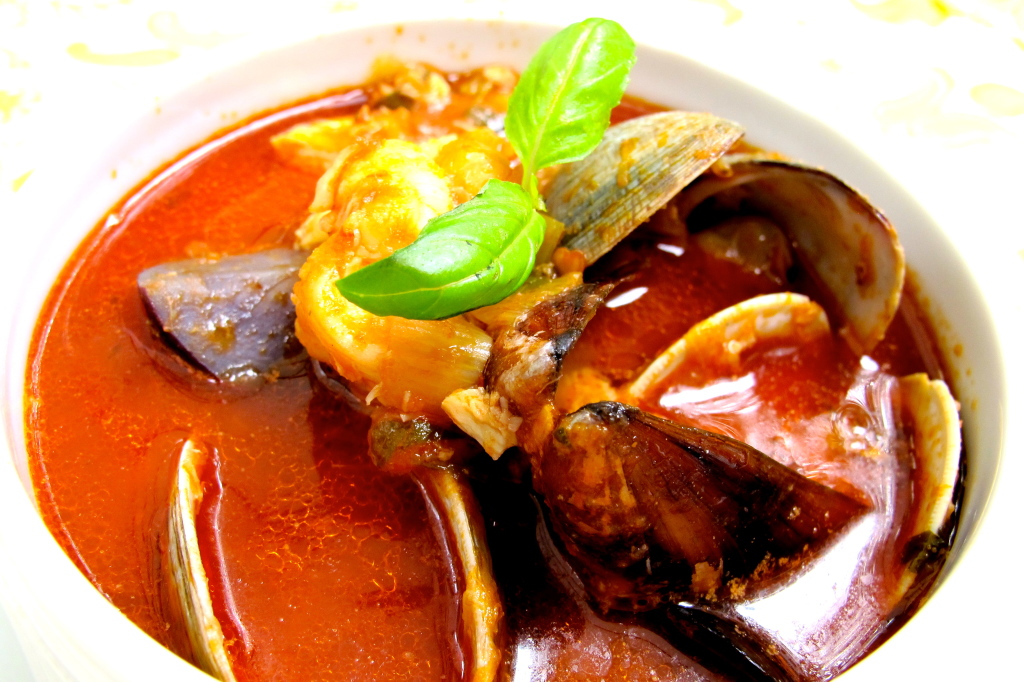 My father, a native of Venezia, Italy, grew up in a household where the Mediterranean diet reigned as life's golden rule. My nonna taught him a lot about how to prepare clams, fish, and seafood of all types. I spent a good portion of my childhood summers traveling along the Western coastline of Italy, as well as in Venice. Whenever we'd visit a restaurant on the coast, my father and I would always keep our eyes peeled for our favorite Italian classic: Zuppa di Pesce. It's like a hodgepodge of the freshest fish from the day's market in a tomato broth, flavored with the aromas of parsley and basil. Having never passed up the opportunity to order it when available on a restaurant menu in Italy, I decided to finally discover how I can bring along this spectacular dish with me in my journeys outside Italia. As it turns out, my father has been holding onto the "zuppa knowledge" he inherited from Nonna all this time. Well, he finally passed on the baton to me last Mother's Day.
This soup doesn't involve any crazy techniques or in-depth knowledge of seafood, but it is time consuming. Luckily, it can be made up to two days in advance. It is a show-stopper, and, like any fine wine, improves with age (until it reaches about the fourth day in the fridge).
5/10/15
Papa's Zuppa di Pesce
Level: Medium-Hard        Prep Time: 45 minutes        Cook Time: 35-45 minutes
– 1/3 cup Olive Oil
– ½ tbsp. Red Pepper Flakes
– 4 cloves chopped Garlic
– 1 large Leek
– 2 Green Onions
– 1 cup Dry White Wine
– 3 cups Vegetable Broth
– 10 small Potatoes (gold, purple, and/or red)
– 28 oz. (1 lb.) of Tomato Puree, unsalted
– 1 lb. Halibut Filet (use any white, sturdy fish that doesn't flake apart)
– 0.7 lb. Swordfish Steak (or substitute for more halibut)
– 3 Lobster Tails
– 30 Clams
– 15 Mussles
– 1 tbsp. Absinthe
– 6 large leaves Basil
– ½ cup chopped Parsley
– 2 tsp. Salt
– 2 tsp. ground Black Pepper
To clean the clams of sand, place them in a large, deep sink or basin and close the drain. Turn on the faucet and beat the clams around the sink with your hands for 2-3 minutes. Alternatively, clean the clams by placing them in a strainer under running water for 6-8 minutes.
Place 1 cup of water in a medium pot and bring to a boil. Over medium-high heat, steam the clams in the water and cover the pot until they open completely (about 5 minutes). Next, steam the lobster tails in the covered pot until they take on a white color (about 5 minutes). Drain and set both aside.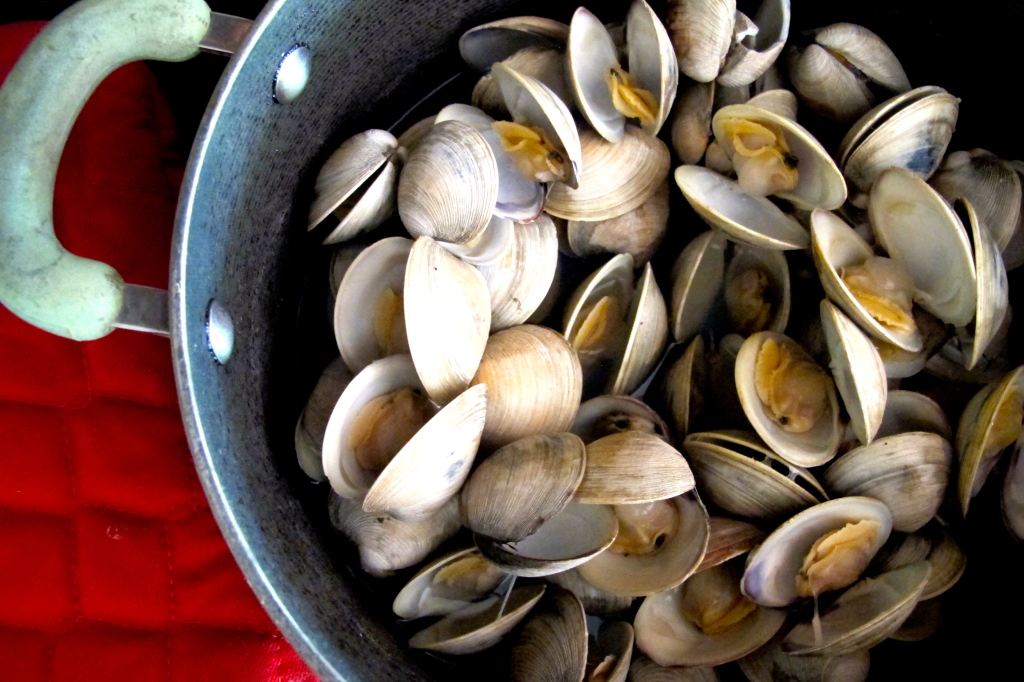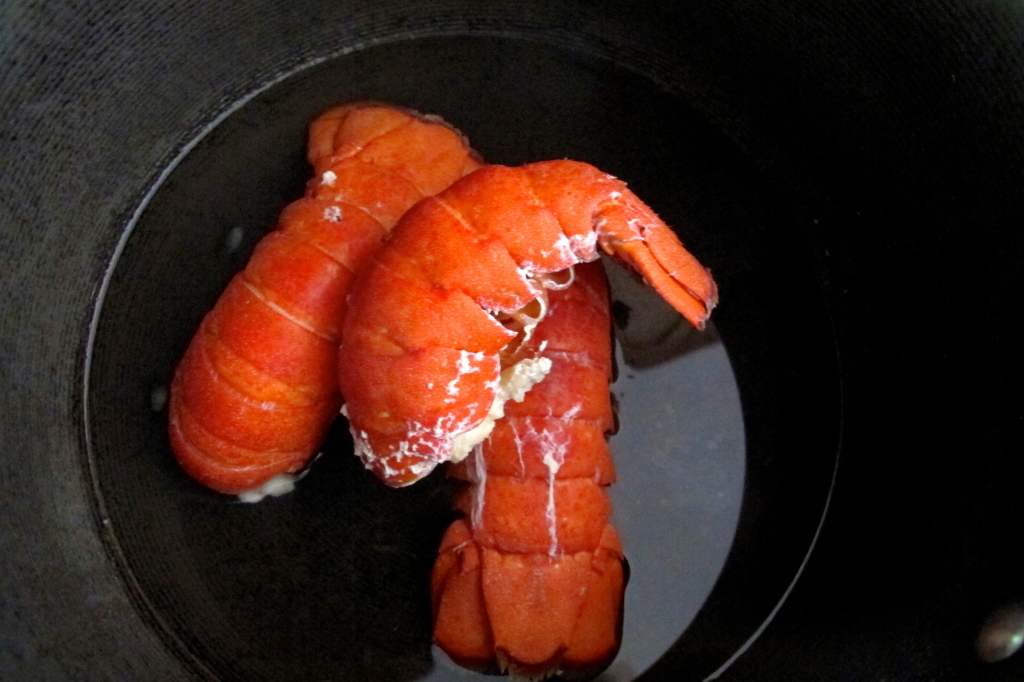 Dice the fish into cubes. Make sure that whatever fish you use is sturdy and white, and doesn't break apart easily. Set aside.
Dice the small potatoes (red, purple, and/or gold potatoes) into chunks. Set aside.
Pour the olive oil in a large soup pot. Add the red pepper flakes and chopped garlic, and heat over low heat to infuse the flavors together.
Chop the leek into thin rings, and rinse them in a strainer, tossing the rings in your hands under running water to ensure that no sand or dirt is hiding between the cracks. Chop the green onion into thin rings. Add both to the oil in the pot, and continue to heat over low heat.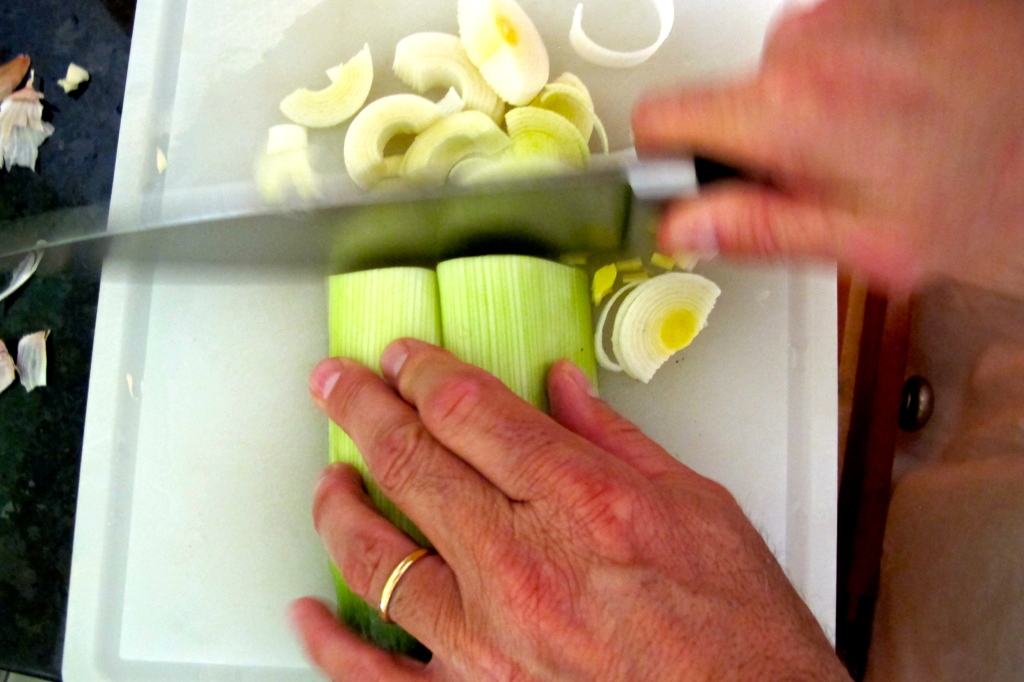 Once the leek and onion soften (about 3 minutes), add the white wine and stir. Turn up the heat to high. Add 3 cups of vegetable broth.
Add the diced potatoes, tomato puree, and pinch of salt to the pot.
Add the halibut, swordfish, lobster tails, clams, mussels (the mussels are still uncooked, but will open up in the soup), absinthe (optional), chopped basil, chopped parsley, black pepper, and salt. Once the water begins to boil, reduce to a simmer.
Pour in a cup of water and let simmer covered for 20-30 minutes.
Enjoy with a fluffy white loaf of bread (preferably lightly grilled), parsley, and cracked black pepper. Remember, this soup gets better each day (until it reaches its shelf life of 3 days), so don't be afraid to make this ahead! Buon appetito!