As a proud Italian-American, I'd like to say that I have always incorporated elements of both American and Italian cuisine in my recipes over the years. However, I must admit that I've delved heavily into Italian flavors, especially those of the northwestern regions of Piemonte and Liguria, and very little in the American side of gastronomy.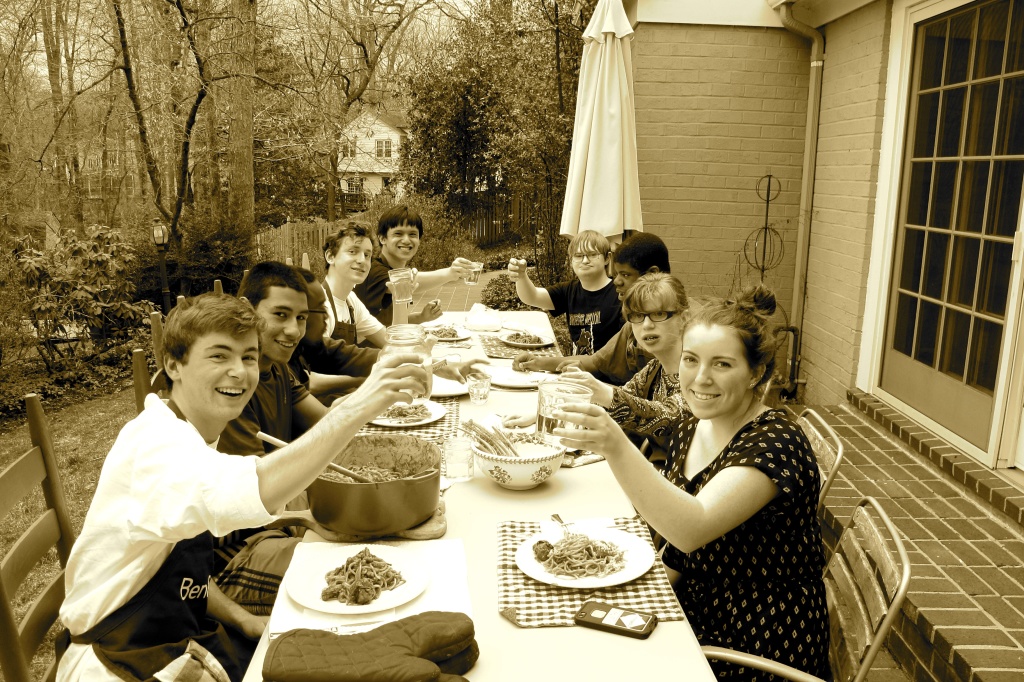 So, for once, I'm pleased to announce that the BenGusto Buddy Cooking Class team has finally discovered what it means to be Italo-Americano at the table. Legend has it that spaghetti and meatballs developed into a staple of the New York Italian-American diet shortly after its creation in the 1920s. Therefore, the dish truly does represent the quintessence of Italo-Americano culture.
On Thursday, March 26, the usual group of chefs met up to tackle a full menu of spaghetti with homemade meatballs, asparagus, and peas, and a side dish of roasted asparagus and fennel wrapped in prosciutto crudo. We cooked in 10, with the beautiful addition of a promising chef named Lorenzo who recently got into cooking after participating in the Best Buddies organization's annual "Sweet Life" culinary event.
We followed the BenGusto™ recipe for Baked Turkey "Polpettine" Meatballs, but added a hint of spring life with the addition of asparagus tips and peas. For the side dish, we prepared little "packages" of fennel and asparagus wrapped in prosciutto, seasoned with olive oil, salt, pepper, and thyme, and roasted in the oven at 400 degrees for 18 minutes. Fantastico! In addition to brilliant dishes, we had some brilliant chefs in the kitchen that lesson. CJ was in the zone throughout the class, always staying near to wash the fennel, prepare the soaked bread, roll the meatballs, and stir the sauce. He has really developed a passion for cooking and a talent in the kitchen.
Since warm weather finally decided to come our way, some of the boys went out in the backyard to kick the soccer (I should say football, because that is the correct terminology) ball around. At one point, Lorenzo shouted, "My cup is missing! Where did my cup go?" Nobody could find the missing glass cup, and it was pronounced lost.
Later, when we sat down to enjoy a spectacular dinner as one large Jersey Italian family, Lorenzo asked Robert privately, "Did you throw my cup in the bushes?" Twenty yards behind Lorenzo's seat lay a glass cup in front of the pachysandra. "Hmmm… let me think," Robert replied. Mrs. Crawford overhead the interrogation, and asked Lorenzo what they were talking about. Lorenzo, of gentle nature and kind heart, trying to cover up the friend who threw his cup, replied, "Oh nothing, Mrs. Crawford. Robert and I are just talking about dogs."
Side note: I feel like I owe an apology for not posting this sooner. I was working as a translator overseas for some time, and didn't have much computer access. Look out for the next cooking class update coming late April!