I have two incredibly adventurous friends, Alex and Tyler, who enjoy going on odd journeys with me through Europe, to jazz concerts at loading docks, and other things of such nature. Tyler and his father conduct both life and business within the hydroponics/organic/bio ethical farming world. One day, when Alex and I were dropping Tyler off after another trip downtown in pursuit of some strange plan, we encountered Tyler's father unloading a big cardboard box from the back of his pickup truck. He motions for me to jump out of the car, and hands me a sack of muddy roots, which closely resemble fresh ginger.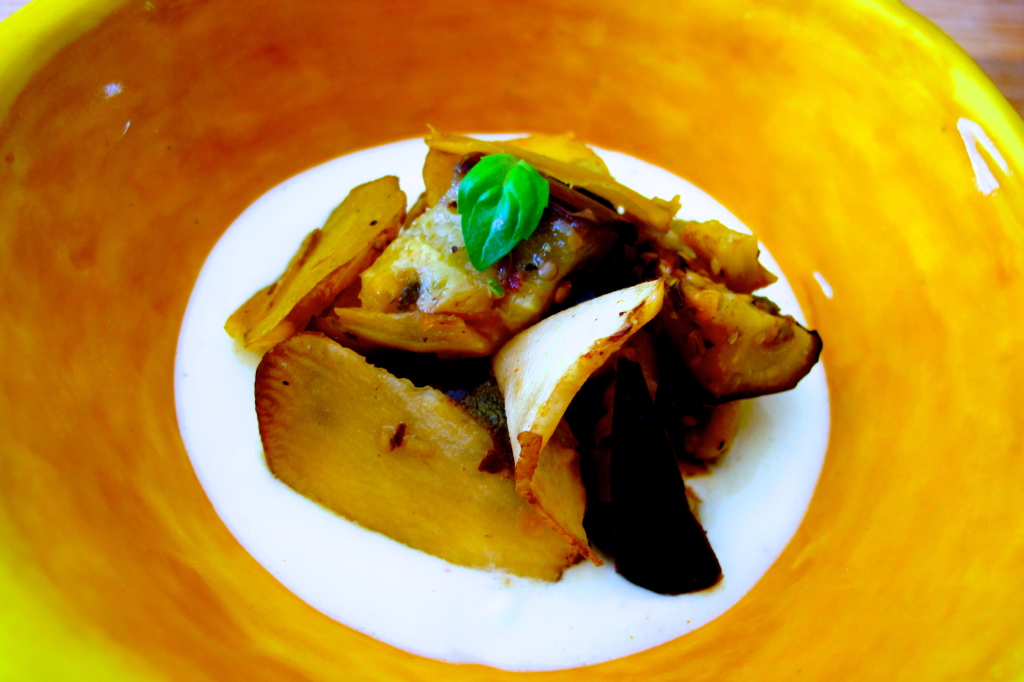 I had never cooked with sunchokes (otherwise known as "Jerusalem artichokes") before, and knew very little about them. As Tyler's father explained it, the sunchoke is the bulb of the sunflower plant, and can best be described as a starchy, nutty artichoke in root form. The sunchokes, he told me, are best eaten right after the winter season, because although winter is their peak season, the sunchokes develop a touch of sweetness if left underground a little longer. I was intrigued, and placed the sackful of bulbs in my arms as a second grader on Christmas Day would hold a new train set.
That night, I cooked up a storm for Alex and Tyler, using half of my sunchokes to craft a quiche with portobello mushroom, spinach, ricotta, and a side of balsamic beef. It was brilliant, but I felt that I could construct a superior recipe.
I went home the next morning to develop the recipe below. It is new, different, and filled with spices and aromas to make any sunflower shine.
Tyler's Sunchoke Salad with Roasted Eggplant, Buttermilk Yogurt
Level: Medium               Time: 25 minutes
– 2 large purple Eggplants
– 1 lb. Sunchokes, raw and washed
Dressing for eggplants:
– 1/3 cup Olive Oil
– 1 Meyer Lemon (juice + zest)
– 5 Sage Leaves, chopped finely
– 1 tsp. Salt
– 1 tsp. ground Ginger
– ¼ tsp. ground Black Pepper
– 10 leaves Basil
– ½ tsp. Fennel Seed
– Dash of Red Pepper Flakes
For cooked sunchokes:
– 2 tbsp. finely chopped Red Onion
– 2 tbsp. Olive Oil
– ¼ tsp. Salt
– Dash of Red Pepper Flakes
– 2 tbsp. Water
– Pinch of ground Saffron
For buttermilk sauce:
– 2 tbsp. Greek Yogurt
– 2 tbsp. Buttermilk
– 1 tbsp. Olive Oil
– Dash of crushed Red Pepper
– ½ tsp. Sugar
Add at end during salad assembly:
– Basil
– Taggiasca Olives, pitted
Preheat the oven to 400 degrees.
First, prepare the eggplants for roasting. Slice them lengthwise down the middle two times, and then dice into bite size chunks. Spread the eggplant over a pan aligned with parchment paper.
In a small bowl, mix together olive oil, lemon juice and zest, chopped sage leaves, salt, ginger, and black pepper. Pour the mixture over the eggplants and toss to mix well.
Season the eggplant with a dash of red pepper flakes, and some extra salt or pepper if desired. Lay the basil leaves over the eggplant and place in the oven for 20 minutes, or until eggplant is soft and golden.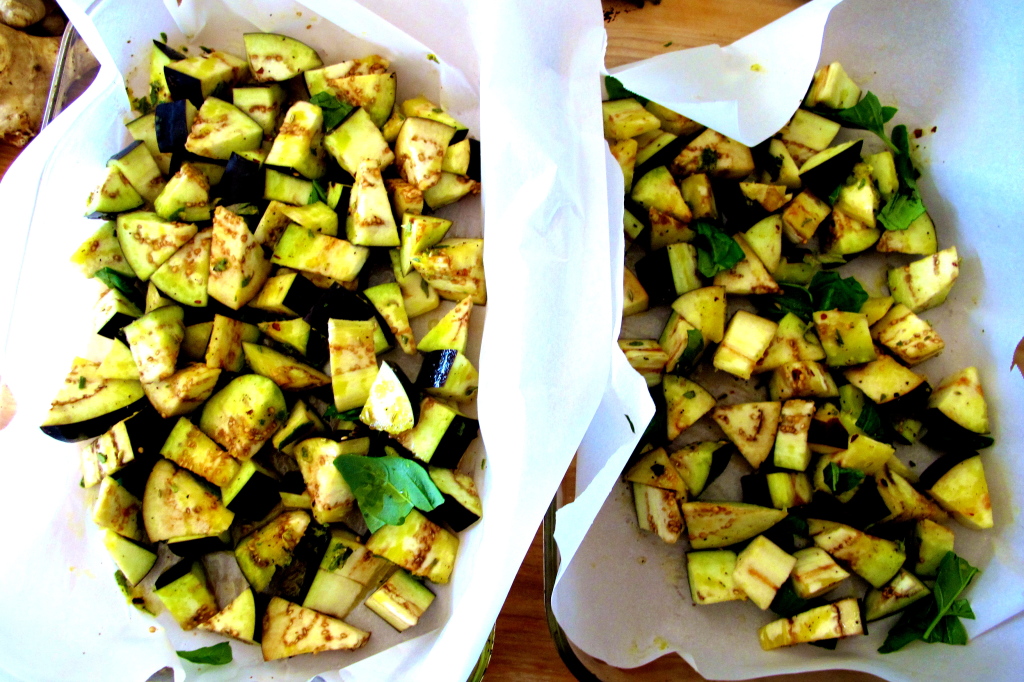 While the eggplant roasts, finely chop 2 tbsp. red onion and place in a medium sized non-stick pan with 2 tbsp. olive oil, and a dash of red pepper flakes. Over low heat, fuse the flavors of the onion of pepper into the oil until the onion caramelizes. (about 4 minutes)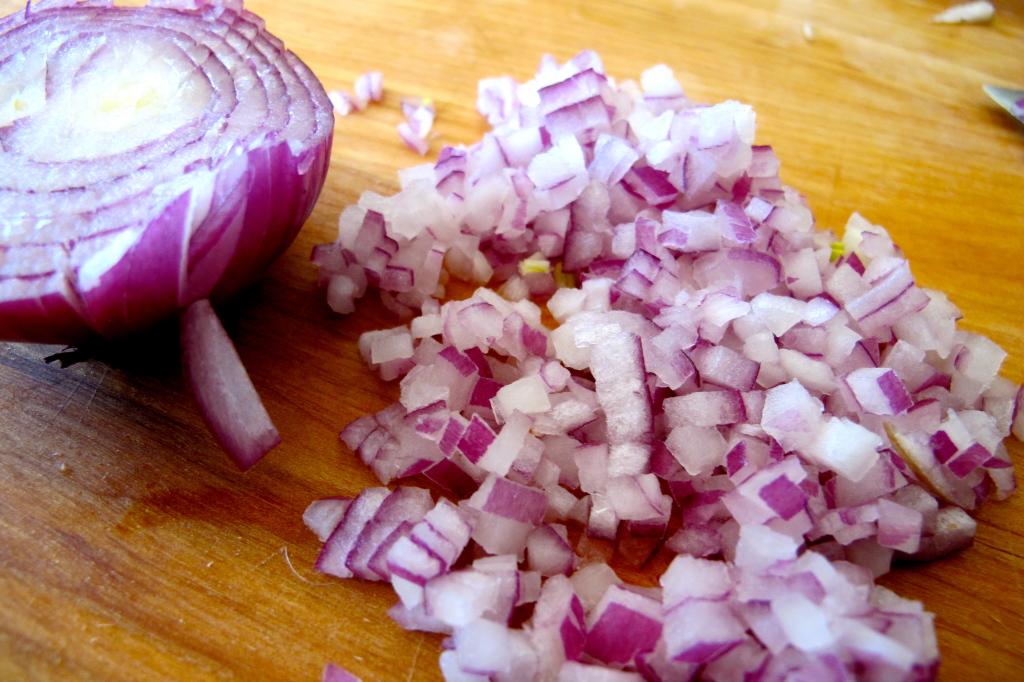 While the red onion cooks, thinly slice the sunchokes. You can use a mandolin slicer for help! Set aside 1/3 of the sliced sunchokes to be added into the salad raw later.
Place the sunchokes in the pan and crank the heat up to medium. Add the salt and the saffron dissolved in 2 tbsp. water. Continue to cook for 2-3 minutes, or until the sunchokes soften but maintain a bit of crispiness.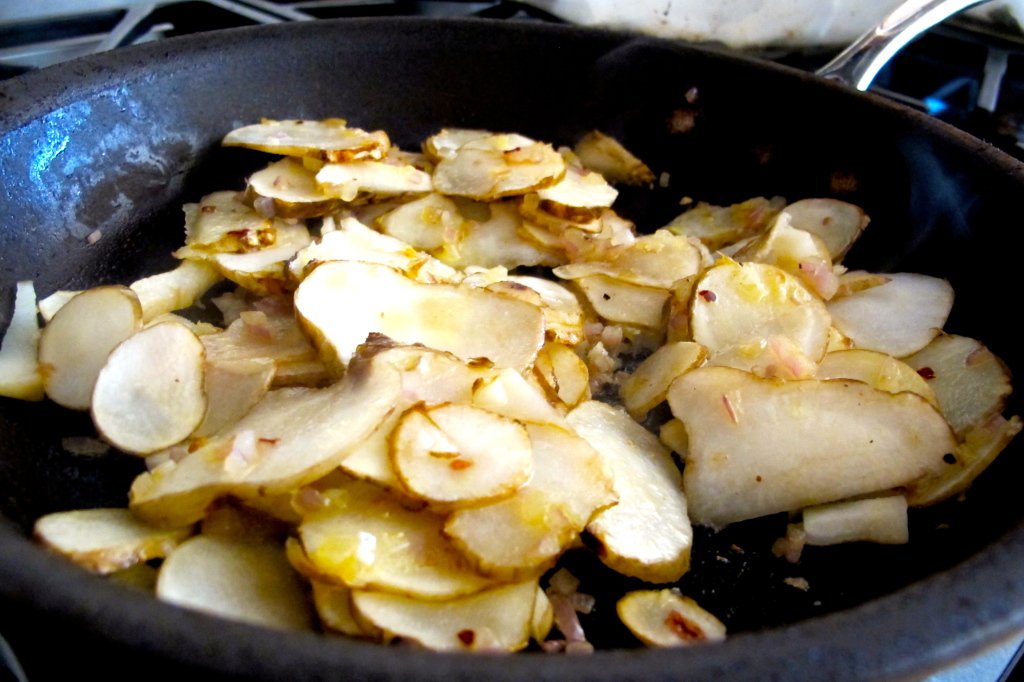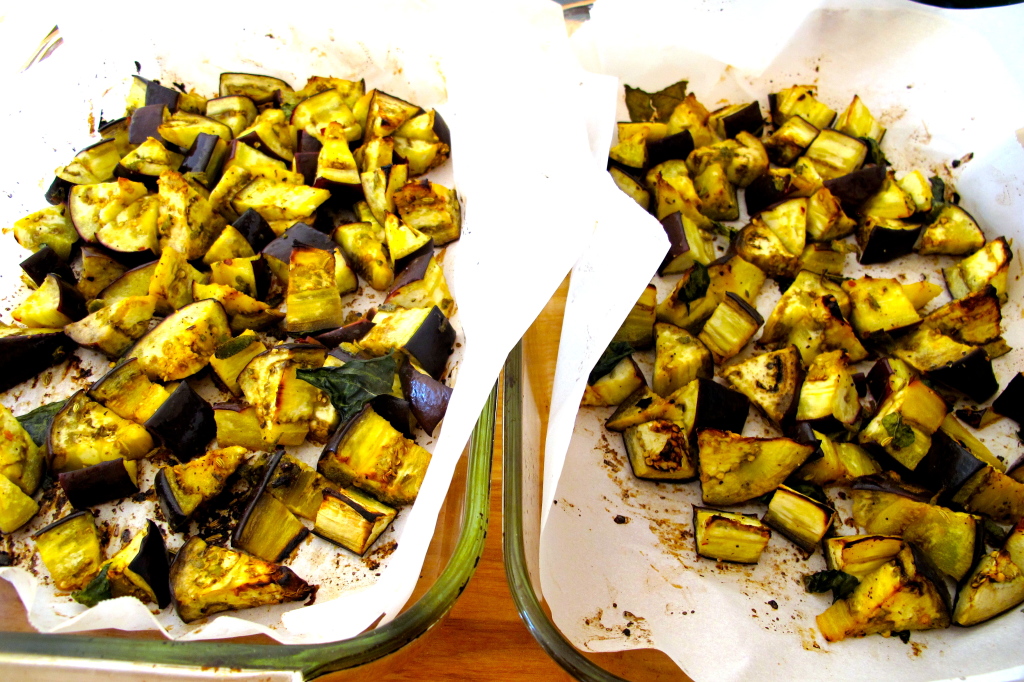 Prepare a quick buttermilk-yogurt sauce: mix together the yogurt, buttermilk, olive oil, ground red pepper, and sugar in a small bowl until combined.
All the salad components are ready! Now it is time to have fun with plating. Lay some buttermilk sauce down, and place roasted eggplant, saffron sunchoke, and raw sunchoke over it. Garnish with basil and olives. Buon appetito!