Much of my childhood summers were spent running around my Nonna's mountain village in Liguria, Italy, joining in squirt gun wars with Italian and German kids of the village. The villagers were mostly elderly folk, retired farmers and construction workers. So, of course, some seniors were frustrated with the ruckus we caused with our water balloons and weaponry, especially when the village encountered periods of drought.
During the afternoon, my parents would regularly pack my brother and I in the car, water guns and all, to head down to the beach. On our way down the mountain and towards the coast, we'd stop by the bakery to pick up a few slices of what Liguria is perhaps most known for in Italy: focaccia.
Focaccia Ligure is suitable for any light lunch or aperitivo. It's light, fluffy and full of good mediterranean olive oil. It's versatile both in preparation, and in service. I always bring it to potlucks (yes, kids my age do host potlucks from time to time), because the bread regularly claims center stage. The touch of rosemary and caramelized onion brings a more exciting flavor and sweetness to the bread. This focaccia is a slice of the Italian Riviera served in your very own home.
Rosemary Onion Focaccia
Level: Easy       Time: about 4 hours total (10 minutes of prep)
3 cups Bread Flour (or All-Purpose Flour)
1 tbsp. Chopped Rosemary
Sea Salt
2 cups Warm Water
1 tsp. Dry-Active Yeast
1 tbsp. Granulated Sugar
1 medium Yellow Onion
Olive Oil (about ½ cup total)
Measure out 2 cups of warm water (can be tap water). Add the yeast and sugar. Mix. Set aside.
Mix the bread flour, almost all the chopped rosemary, and 1/2 tsp. salt in a large bowl. Set the remaining chopped rosemary aside for later.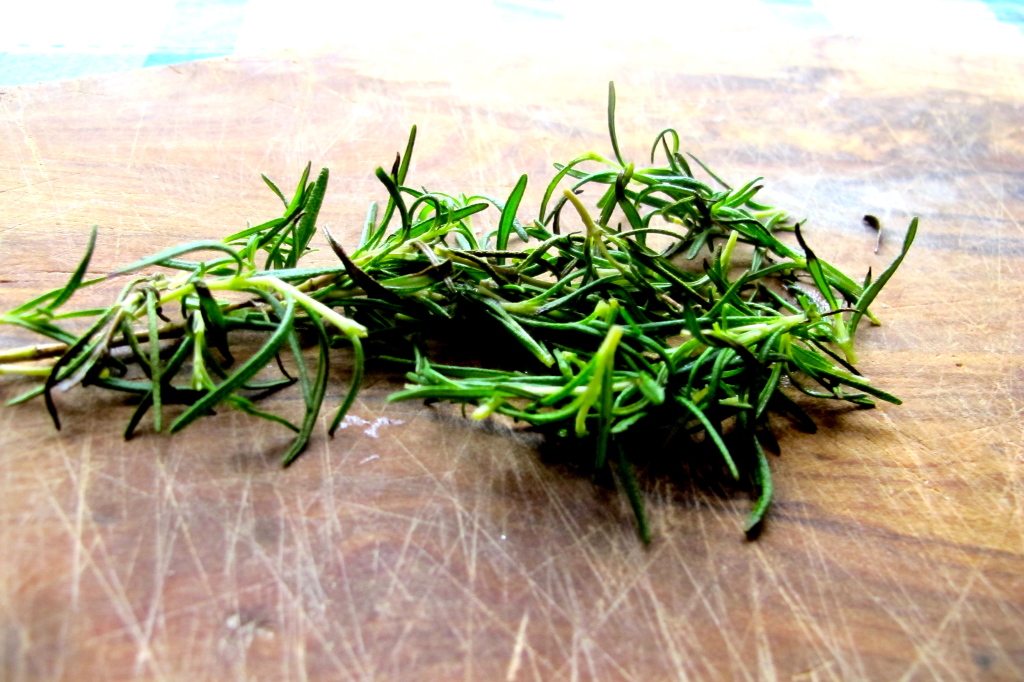 Add the water and yeast to the dry mixture. Stir until a wet dough is formed. Cover with plastic wrap, a dish towel, or a plate and let rise until doubled (at least 2 hours).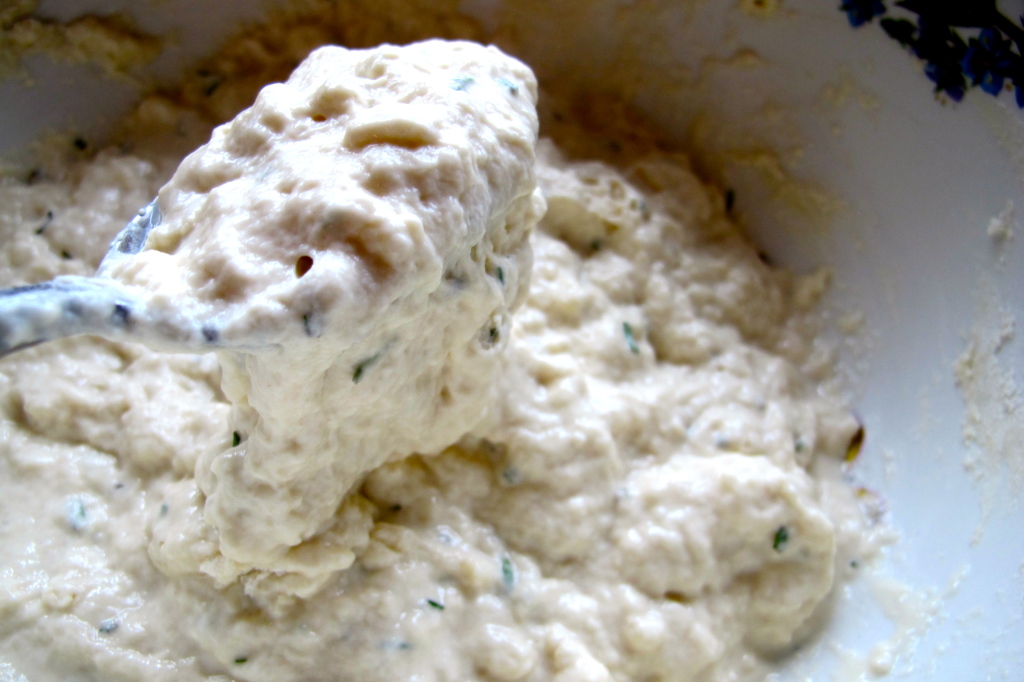 Once the dough has risen, preheat the oven to 450 degrees Fahrenheit.
Slice the yellow onion into thin disks. Place in a saucepan and toss with a generous amount of olive oil (2 – 3 tbsp.). Season with salt.
Over medium heat, saute the onions until translucent and soft (about 5 minutes). Stir occasionally to keep from burning.
Grease a baking pan with a generous amount of olive oil (about 3 – 4 tbsp.). Make sure all sides are coated. Use either a round pizza pan or metallic baking pan. Do not use a glass pan like I did, or the bread may stick to the bottom. I used glass because it looks better for photos.
Pour the dough over the pan, and spread the dough using wet fingers (helps avoid your hands from sticking to the dough). Punch small holes in the dough using your index finger.
Spread the onions and remaining chopped rosemary over the dough. Season with salt (either coarse or fine), and drizzle more olive oil over the focaccia. The bread is famous for its greasy, salty goodness, so don't be shy!
Bake for 35 – 40 minutes, or until  browned on the edges, and golden in the center.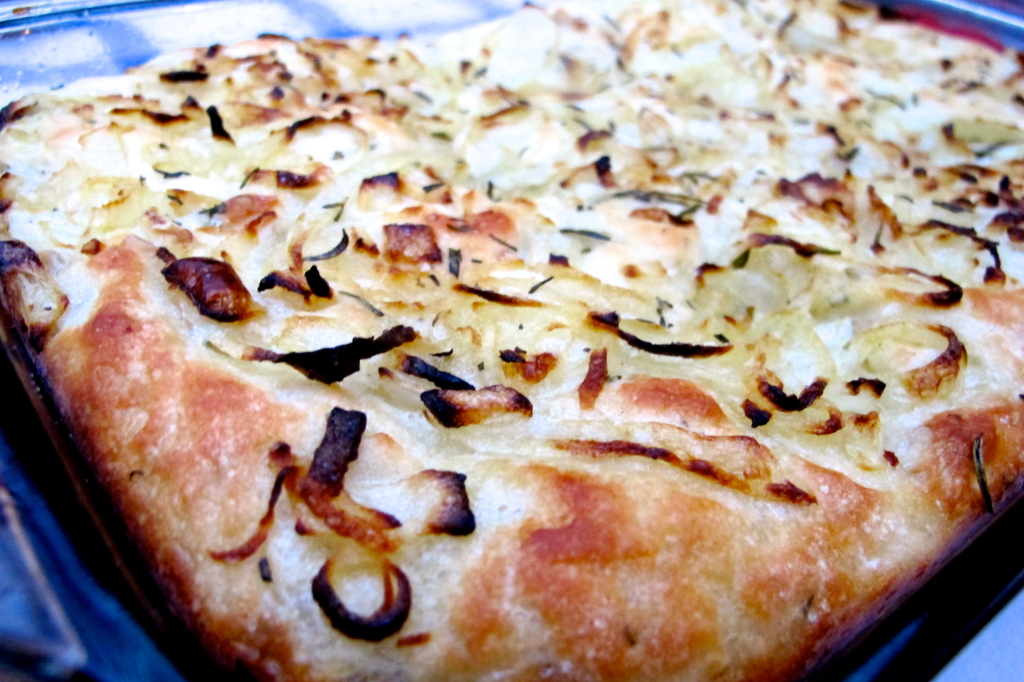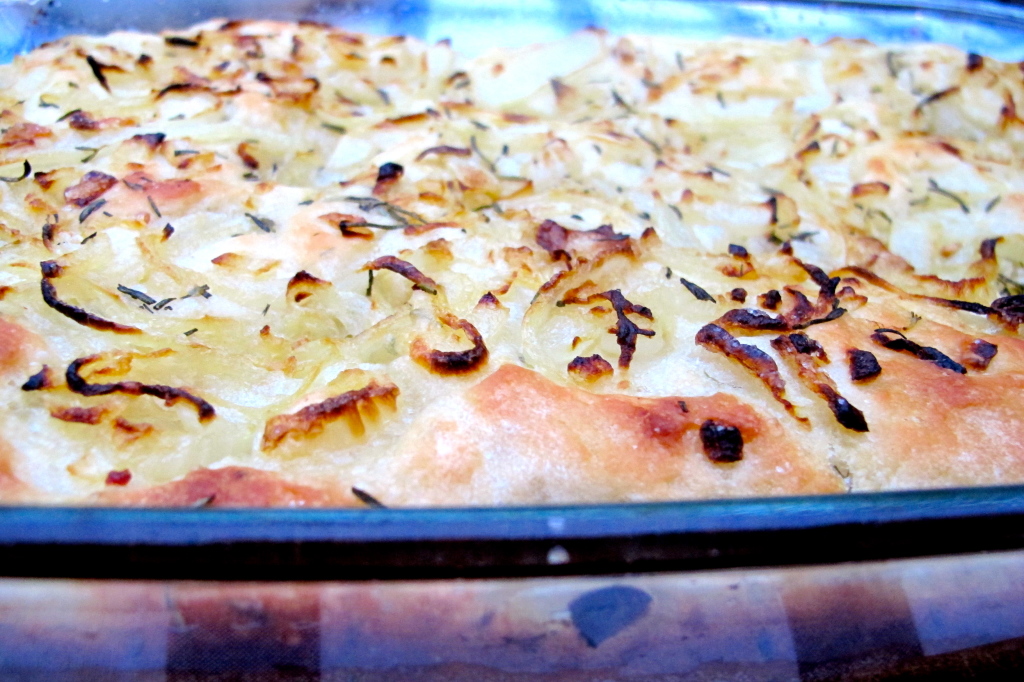 Buon Appetito!