Branzino is one of the more popular choices of white fish in Italy. It is often baked whole in a crosta di sale (salt crust), and accompanied by roasted rosemary potatoes. Branzino has fluffy white meat that falls apart rather easily when cooked. I cannot recall ever coming across filleted branzino, nor seen it filleted. Therefore, I went ahead and tested to see how fillets of branzino roast in the oven, and if they can withstand the heat without falling apart. Turns out they are sturdy enough for cooking, and do not lose any of their prized delicacy!
In the "foodie world", there has been a recent emergence of support for buying whole fishes, and filleting them yourself.  Following summers of cleaning and gutting fish at the Agrihotel in Tuscany, I have grown as a supporter of filleting your own fish. It's fun, and it pays more respect to the fish. The best part is that there's a better chance that a whole fish is fresher than a pre-filleted one, but, even so, always make sure that your whole fish still has that shiny, new look to it. A dull, brown fish isn't a good sign!
Dijon Branzino with Grilled Fennel 
Level: Easy/Medium            Time: 25 minutes
For the Branzino Rub:
Olive Oil
Salt & Pepper
Whole Grain Dijon Mustard
Fine Italian Bread Crumbs
Zest of 1/2 a Lemon
Thyme
1 large Shallot
Leaves of 1 large Fennel Bulb
For the rest of the dish:
1 large Fennel Bulb
Olive Oil
Salt & Pepper
1 large Russet Potato (optional)
Red Pepper Flakes (optional)
Preheat the oven to 400 degrees.
Take your fennel bulb. Wash it under the sink, and cut off the stalks. Save the stalks for later, because we will use the leaves (the sprigs that look like dill)! Insert your knife into the bottom of the bulb, and carve out the hard, white circle.
Cut your bulb lengthwise down the middle, and proceed to slice into thin slices. Set slices aside.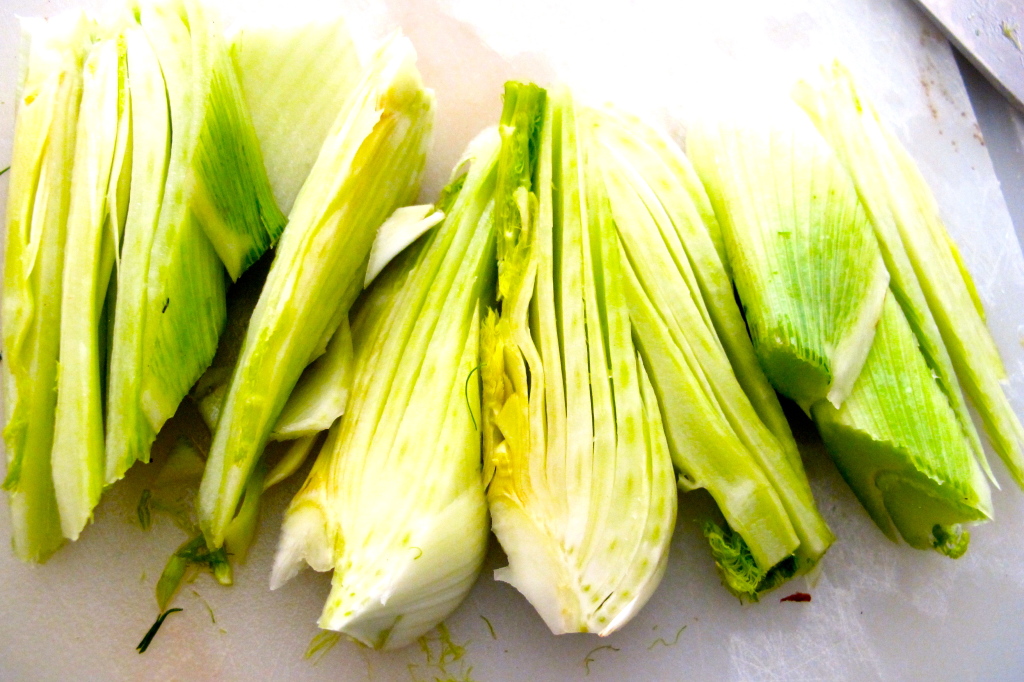 If you'd like to make an extra garnish to add a special kick to your final dish, make homemade potato chips. Thinly, thinly slice your potato into disks, and place on a pan lined with parchment paper. Season with salt, pepper, a dash of red pepper flakes, sprinkles of fresh thyme, and a generous brush of olive oil. Place in the oven on a pan lined with parchment paper for 15 – 20 minutes, or until cooked and crisp.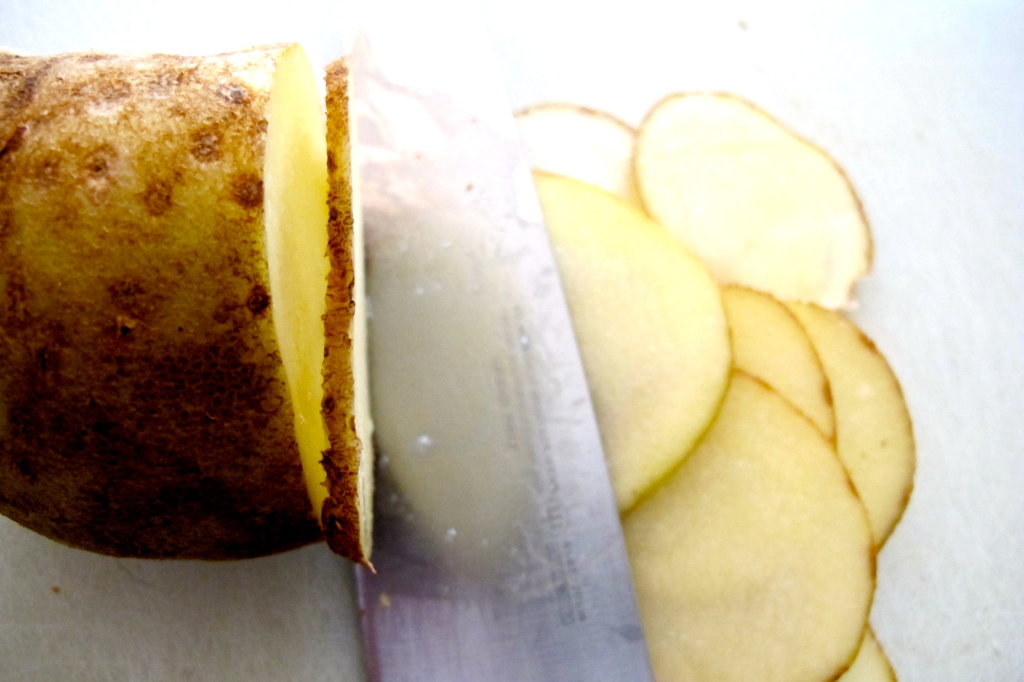 Take out your branzino fillets (or, if you are butchering them yourself, go ahead and slice up what you need from your fish). Give each a brush of olive oil, and season with salt and pepper to your liking. Sprinkle fresh thyme, lemon zest, and smear whole grain dijon on top. Finish with bread crumbs, and press the toppings down on top of the fish so they stick.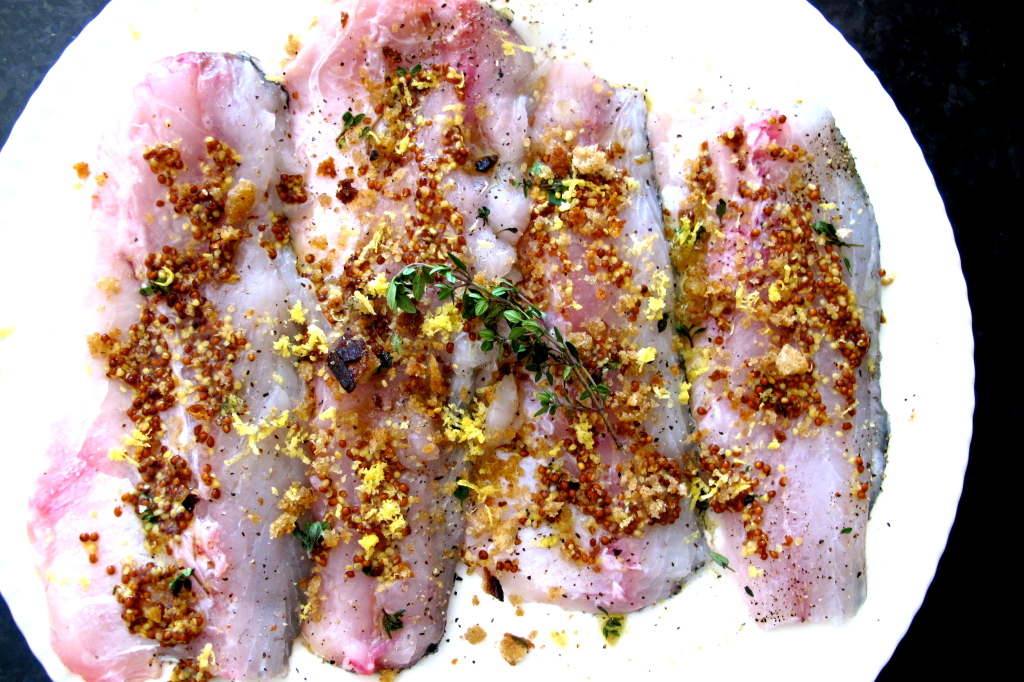 Line a baking pan with parchment paper or tinfoil, and place your fish in. Thinly slice your shallot and spread the slices over your fish. Lay the fennel leaves over as well. Bake at 400 degrees for 12 – 15 minutes, or until the fish flakes apart easily when pierced with a fork.
Prepare a small, electric grill or panini press for cooking. Brush your fennel with olive oil, and season with salt and pepper. Grill on the press until marked slightly but still crunchy, or roast in the oven for about 3 minutes.
I plated my dish by laying out some fennel slices, draping a branzino fillet over top, tucking two potato chips underneath, placing a few leaves of watercress with drops of balsamic vinegar and olive on the side, and sticking a fresh fennel leaf nearby for good looks. Of course, the fish tastes great no matter how you serve it! But, it is fun to try new plating techniques out for a size.
At first, I tried putting watercress salad down, and placing the fish over the salad. It looked too junky. In painting your picture on a blank canvas plate, like in any form of art, our eyes go to the empty space. If there is not enough space on your plate, then it consequently does not appeal to your eye. The white space makes the colors of the food pop, which, in return, enhances the dish's overall taste. The first taste you get of a dish comes from your eyes, so make your plating count!
Buon Appetito!