Any chic qualities carrots once had have been dried away with baby food jars and large stock pots. Let's face it: carrots can be boring.
There was a moment when the food world was pumped about the revival of sauteéd baby carrots. Some of the best Michelin-starred establishments were featuring the buttery orange veggies to accompany pork shoulder or filet mignon. However, that fad now seems to be passé.
(above) An example of baby carrots done elegantly in a Michelin-star restaurant. (courtesy of an unknown photographer)
I am a supporter of cooked carrots. Feeling sorry for their tragic story, I developed this simple recipe to try and spice up their wardrobe. This recipe is interesting because it strays from my normal palette of Italian flavors, and carries with basic tastes of Creole and Cajun cuisine.
I used rainbow carrots to make things even more interesting. Color plays tricks on the mind and senses, resulting in a slightly different reaction to each color of carrot. However, regular orange carrots work great as well!
Spicy Sauteéd Rainbow Carrots
Level: Easy         Time: 10 minutes
7 Large Carrots (multicolored and/or orange)
1 tbsp. Butter
1 tbsp. Olive Oil
Dash of Red Pepper Flakes
3 sprigs of Dill, finely chopped
Pinch of fresh Rosemary, finely chopped
Dash of Cinnamon
Dash of Cayenne Pepper
Dash of Paprika
Two dashes of Onion Powder
Salt and Pepper (to taste)
Wash and peel the carrots.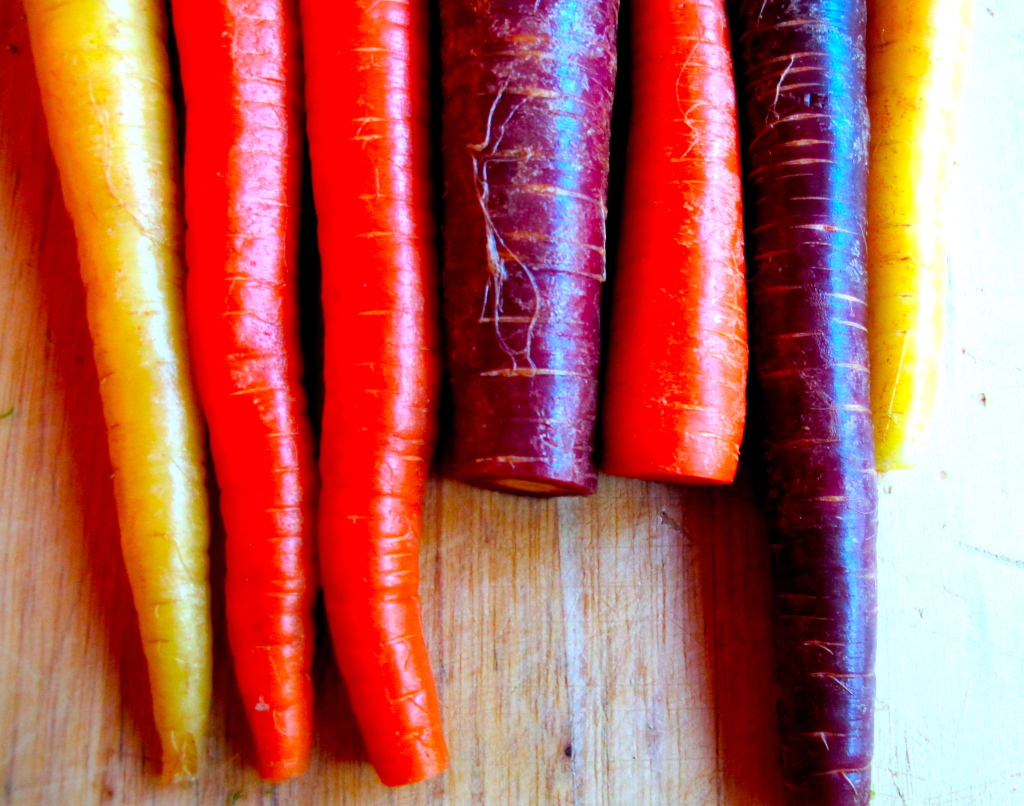 Cut the carrots in half lengthwise.
Finely chop the dill and rosemary.
Heat butter, red pepper flakes, and oil on a medium-sized pan over medium heat. Place the carrots on the hot butter and oil.
Add all the spices, the herbs, salt and pepper.
Enjoy as a snack or a healthy side dish!