When I returned to the Agrihotel Elisabetta on July 15 for the second time, I expected to learn how to cook more traditional Tuscan and Italian dishes. I dreamed of being given the privilege of working during service hours this summer, cooking orders of pasta for people on the spot. I did not expect my dream to come true…. in such an unexpected manner.
Head Chef Leonardo Brunetti, my main instructor in the kitchen of the three-star hotel farm, asked me on my third day at work if I knew how to make pancakes. Immediately recognizing an opportunity to make a dish on my own, I said yes. He said, "Great! You are to make pancakes for tomorrow morning's buffet breakfast." That's when I remembered that I don't make pancakes every Sunday morning like a good American should, and I don't have my own recipe for them either.
So, after the night service, I whipped up my own recipe for lemon-ricotta pancakes alone in the kitchen of the Agrihotel. I made a rasberry-mint sauce using the small marmalade packages (like the ones that the bagel store gives you when you order a peanut butter and jelly bagel) that the Agrihotel offers with the breakfast buffet. I took a large box of what must have been 200 of those small jam packages, and opened each one individually until the box was empty, and my pot was full. Then, I set out making the pancakes. I made half with "frutti di bosco" (fruits of the woods, which consists of a mixture of berries) inside, and half plain.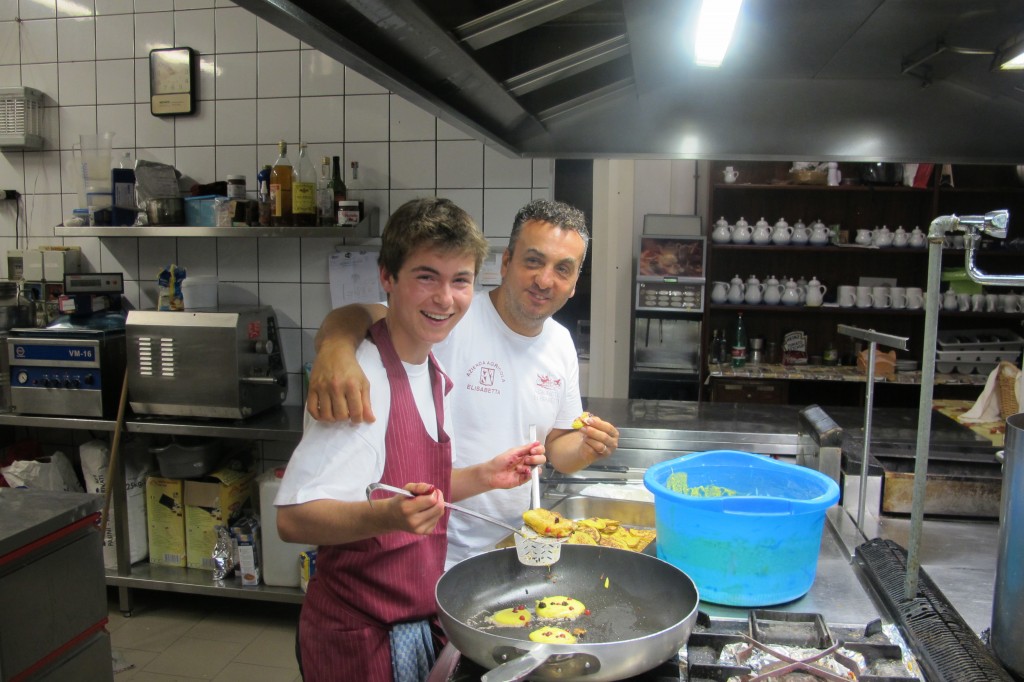 The next day, to the delight and surprise of many guests whom had never 'seen anything like this at the Agrihotel before', I set up shop with my warm pancakes. Chef Leonardo was very pleased. After morning service, he came over to me carrying two electric stovetops, and a set of plastic containers. Handing me a shiny new pan, he told me that I was to prepare pancakes and eggs "mise en place" every morning for the rest of my life. And that's it. Complete with my own stovetop, set of containers, pans, and a walk-in-refrigerator full of ingredients at my disposal, I was out on my own in the Tuscan gastronomical haze.
I always found pancakes to be boring. A fluffy cake that tastes like nothing drowned in sugary liquid? Hmmm… little exciting there. It seemed like making the same ol' pancakes and omelettes for the entire summer could get boring. So, I started foraging for interesting ingredients in the pantry to make my pancakes with. Below are some of the classy combinations I came up with.
My good friend and colleague, Léon, made a "Bencakes" sign for me. Guests and staff alike started calling me "Bencakes". I suppose the name fits. After all, they were pancakes made with buon gusto, nothing average.
There was one young boy from England who came up to me and asked for a pancake with sugar and lemon. I thought about putting lemon zest in the pancake, and then dusting it with powdered sugar. No, that would be too boring. I ran into the guest buffet inside, cut the line, and scraped together some ricotta, mascarpone, and honey. Together with the lemon I made a cream for the client to go with his pancake. Seeing the boy's face, full of excitement and shock, was incredible. He was speechless. I'd say that was the height of my 'bencake' career.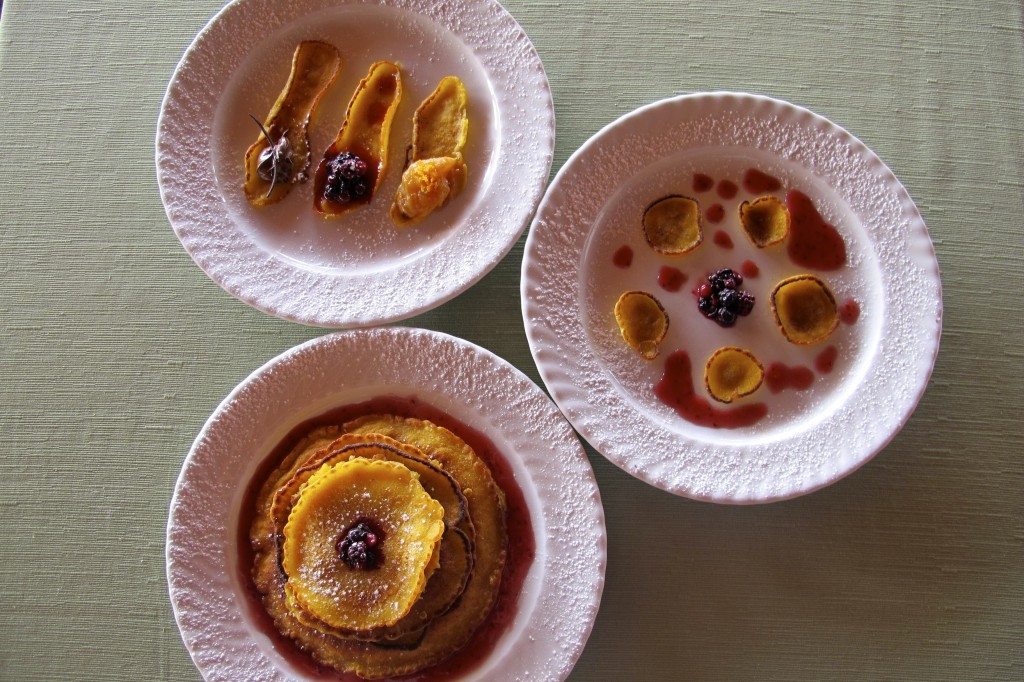 The most interesting order I got the entire summer? There was one Italian biker that stayed for a few days, and ordered an omelette filled with frutti di bosco every morning. I always meant to give it a try, but in the end I forgot!
After a month full of Bencake fun, I left the Agrihotel with a tearful goodbye, handing my spatula over to a young assistant chef named Francesco. I left my secret BenGusto™ recipe (which I might share online in the near future) with him to carry on the legend, but guests still let me know that their pancakes were not being served with…. well, the same passion. Little decoration. Less creativity. At the end of the day, you need passion to serve a true Bencake.