The BenGusto™ elibrary contains documents upon documents of successful recipes, intriguing ideas (most of which won't actually work), and hilarious disasters that are all stored on one electronic device. If there were to be a real, physical BenGusto library, it would be rather large, and it would smell rather nice.
So where am I going with this? Occasionally I create a new recipe that I like and wish to publish, but instead choose to retain it in the BenGusto files. I may keep a recipe from graduating if it calls for ingredients that are out of season, prepares a dish that is not fitting of the current season, contains photographs not of Gusto quality, or if BenGusto.com is not ready for it (for example, if I just posted a tomato pasta recipe yesterday, I won't post a pesto pasta recipe right afterwards). This recipe has long been hiding under my mustache, chafing my bristles. I created this dish last October, but since zucchini were long out of season, I decided to wait in agony. Now has come the time to unveil this beautiful, simple seared salmon with sauteed zucchini and roasted almonds. ¡Olé!
Seared Salmon with Zucchini
Prep Time: 5 minutes      Cook Time: 15 minutes         Level: Easy         Serves 2
2 skinned Salmon Filets (for two people)
1 large Zucchini
2 cloves Garlic
Dash of Red Pepper Flakes
2 tbsp. Olive Oil
6 leaves of Fresh Basil
Pinch of Saffron
6 Almonds (finely chopped)
Salt and Pepper
Thinly slice the zucchini into disks. Set aside.
Season the salmon filets with salt and pepper. Set aside.
Over low heat, saute the garlic and red pepper flakes in the olive oil for about 2 minutes, or until the garlic softens.
Add the zucchini, and turn the heat on medium-high. Add the basil leaves. Dissolve the pinch of saffron in 2 tbsp. of tap water, and add it to the zucchini. Cook for one or two minutes, seasoning with salt.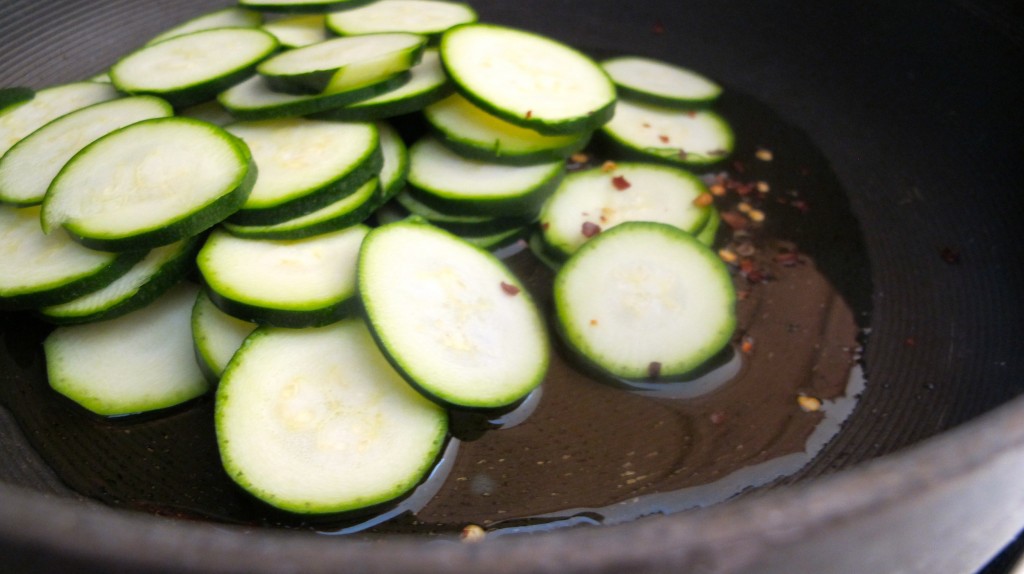 While the zucchini are still slightly hard, push the zucchini to the sides of the pan and place the salmon filets face-down on the center of the pan. Sear the salmon for about 3 minutes on each side, until the salmon flakes apart when pierced with a fork. Halfway through the cooking process, add the chopped almonds.
Serve the salmon hot, and with a helping of the zucchini. Buon Appetito!