Summer is fast approaching! I believe that means it's time to reintroduce our good friend basil back into the BenGusto™ round table.
This may come as a surprise to you, but I would just like to confirm that this BenGusto™  ravioli experiment proved to be actually successful. It all started with a lone, purple melanzana (eggplant) in the refrigerator. Before I knew it, I found myself slicing and dicing plump tomatoes, throwing an assortment of flours to and fro, and performing my usual creative routine, which often leads to kitchen disasters.
Surprisingly, I had never made ravioli before at home (I had made some in the professional kitchen of the Agrihotel Elisabetta), so I just… had a feeling that it was the "right thing to do". As a chef at BenGusto™, striving to create the next original BenGusto recipe to be published online, I often feel this magnetic pull towards a certain dish or skill that I have not mastered (right now, it's souffle). Staring at this aging, fat eggplant, a lightbulb went off in my head: Make ravioli! So, without checking how to turn eggplant into some sort of ravioli filling, I started grinding the melanzana with some tomato, parmigiano reggiano, and walnuts. It smelled like raw eggplant. I decided to throw it on a saucepan with a dash of olive oil, and give it a blast of heat until the eggplant cooked through, and the smell went away. Bingo!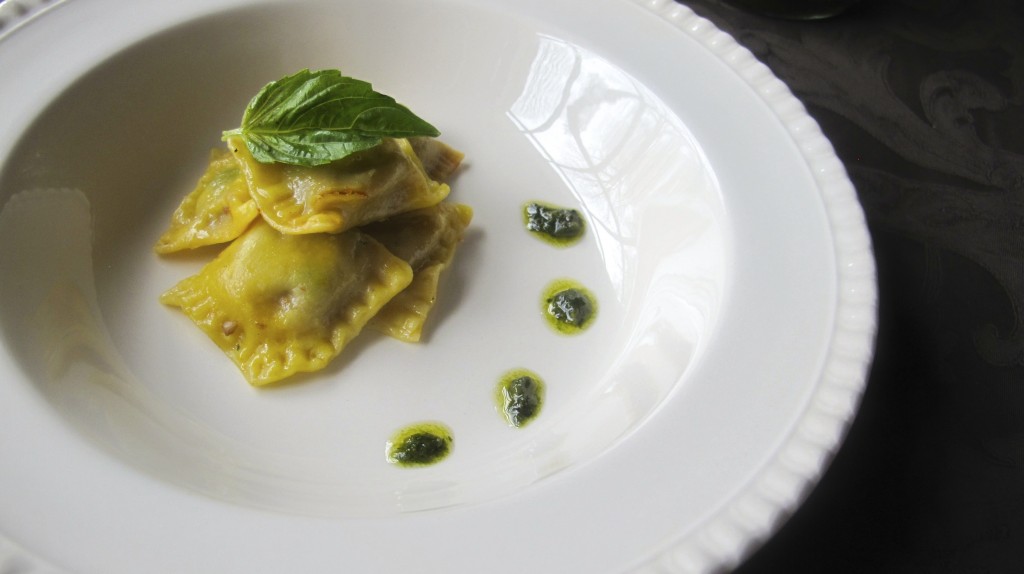 Both my parents and I have never been big fans of ravioli (hence why I had never made it at home before). My parents ended up giving this ravioli recipe the prestigious title of "best ravioli ever". Therefore, I suppose this recipe is quite good. Don't be intimidated by making homemade ravioli! It takes some time, but it's well worth the effort, and the experience is enjoyable.
 Basil, Mozzarella, and Eggplant Ravioli 
Level: Medium-Hard        Prep Time: 1.5 Hours       Cooking Time: about 4 minutes         Makes 6 Servings
For the Pasta:
1 1/4 cup White Flour
1 cup Semolina Flour
1/4 tsp. Salt
2 large Eggs
1/4 cup Water
1 1/2 tbsp. Olive Oil
For the Filling:
1 large Eggplant
2 Roman Tomatoes
2 tbsp. Grated Parmesan
Small Handful of Walnuts, finely chopped
10 oz. Fresh Mozzarella
20 leaves of Basil
For the Sauce:
1 stick of Butter and 15 leaves of fresh Sage, and/or fresh Pesto Sauce
First, we need to prepare a ball of pasta dough. Making the pasta dough is easy! Check out my post on making handmade pasta to make a proper ball of dough: Homemade Pasta – The Italian Art
Once you've completed your dough, let the ball rest in the fridge, wrapped in plastic.
Dice the eggplant.
Slice each tomato into quarters, and discard the seed-filled center of each (the goal is to get rid of some of the tomato's water).
In a blender fitted with a steel blade, grind the eggplant, tomato, walnuts, and parmesan together until a paste is formed.
On a small saucepan lightly coated in olive oil,  cook the paste on medium heat for 3-4 minutes, stirring occasionally.
Dice the mozzarella into fine chunks (1/4 of a bitesize).
Rinse the basil and cut into fine pieces.
Take the pasta dough out of the refrigerator. Using a rolling pin or pasta-flattening machine, flatten the pasta dough into thin sheets (like lasagna sheets).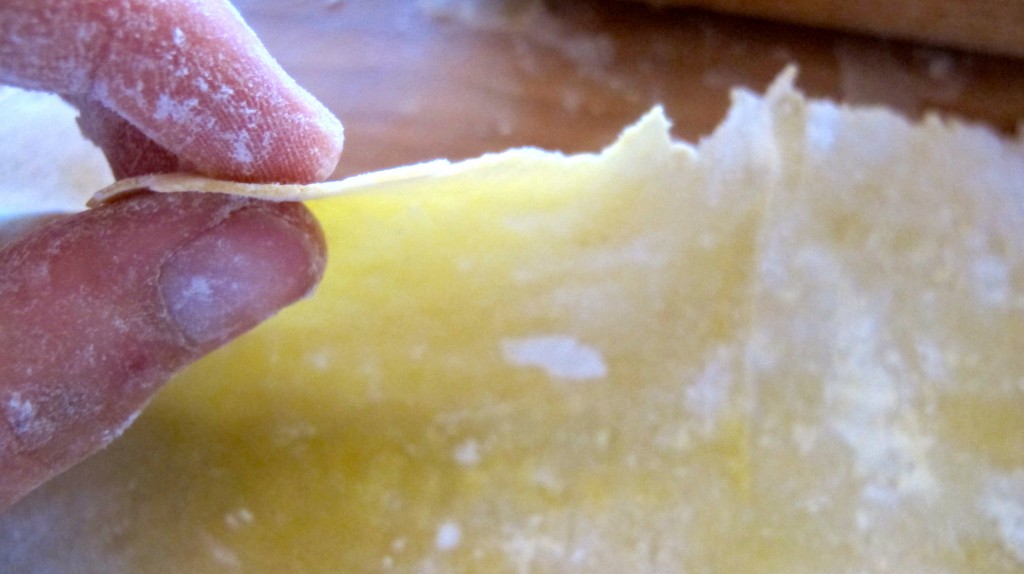 Place dollops of the eggplant sauce in a row down the sheet, spacing each dollop out at least 3/4 inch. Make sure there is plenty of empty pasta above and below the ravioli to fold over.
Place a small piece of mozzarella and a small piece of basil on each dollop.
Wet the pasta dough with water using a brush. Wet around each dollop, being careful not to let any water on the dollop.
Fold the sheet over. Press down and cut out each ravioli.
Using a fork, press down on each edge of the ravioli. If you make a mistake and sauce seeps out of a ravioli, don't worry! Try and fix it, or just throw it out. There will be more!
Coat each finished ravioli in flour and let sit aside. If you don't plan to eat them straight away, they can be kept in the fridge for up to 2 days.
Bring a large pot of salted water to a boil.
Cook the ravioli for about 4 minutes, or until the ravioli begin to float, and are cooked through.
Enjoy your handmade ravioli with either pesto sauce, or butter and sage (melt a stick of butter with 15 sage leaves in a small pot set on low heat). You can also do what I did: mix the two!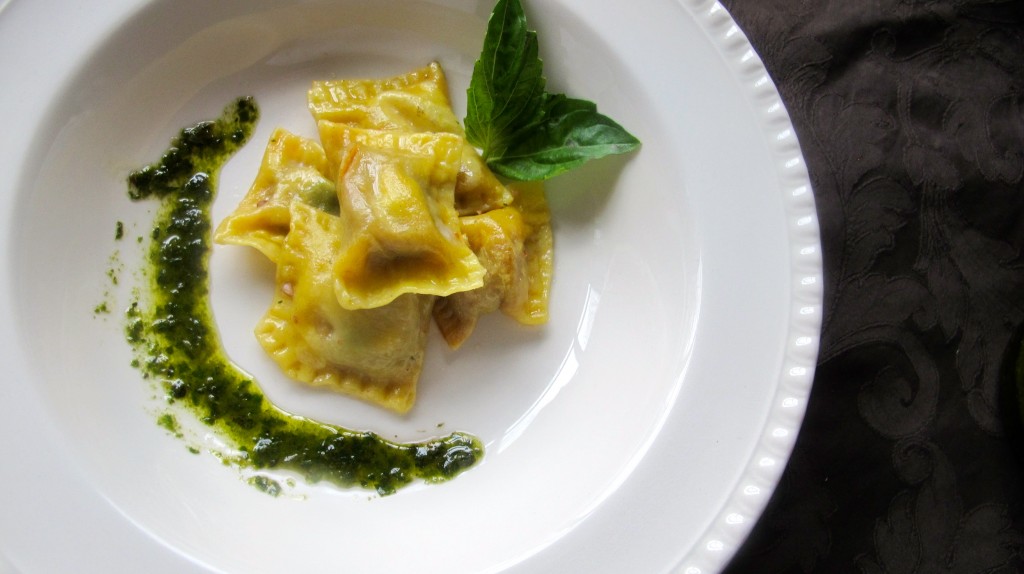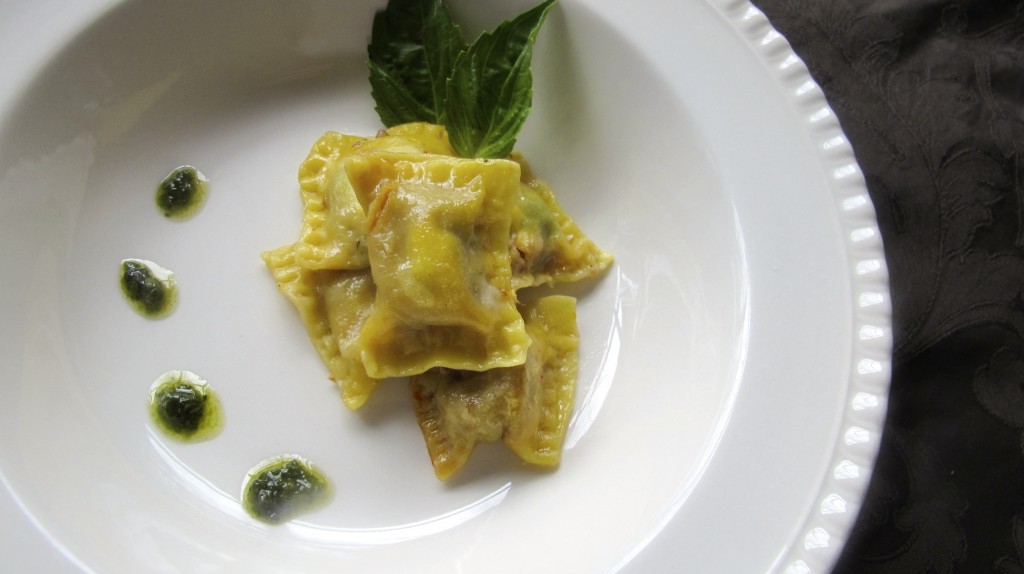 Buon Appetito!