I am pleased to present the first ever BenGusto™ video. I've been wanting to do a video for a recipe or a BenGusto Buddy Cooking Class for a while now, so I'm glad to finally have the opportunity to showcase a film. I am a little rusty with the camera (I used to make videos all the time when I was little), but the final product still turned out quite nicely. Hopefully, I will have a customized "BenGusto™ soundtrack" to go with the next film. I'm working with some musicians to compose a nice set of jazz songs. Looking forward to it!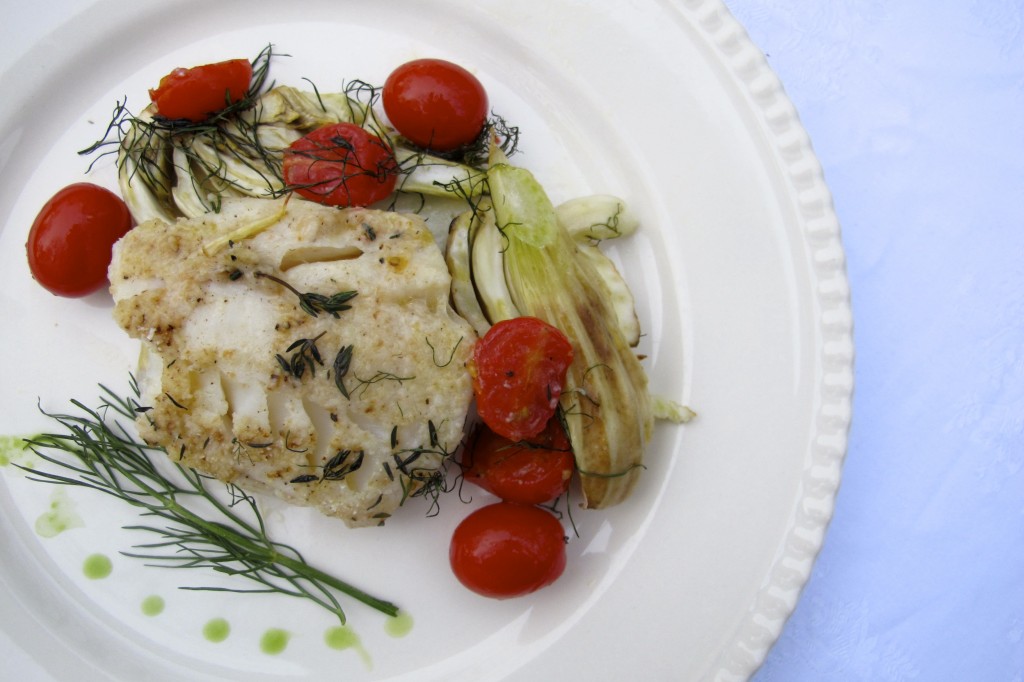 This recipe is actually one of my favorites: roasted haddock with fennel, cherry tomatoes, and yellow onions. After I develop a new recipe, I type it up on a large document titled, "BenGusto RECIPES". In the document I made a little side note by the recipe, claiming that I "only ate the fish and ignored the side of broccolini" (it is well known that I will eat broccolini till the cows come home). The fish was incredible, and the fennel, cherry tomatoes, and onions that roasted beside the fish completed a full meal (yes, that means that you don't even need to make a side dish). Anyways, I'll let the video explain the rest. Buon Appetito!
Roasted Haddock with Fennel, Cherry Tomatoes, and Yellow Onion
Level: Easy           Prep Time: 15 minutes          Cooking Time: 15-17 minutes
1 1/2 pound cleaned Haddock (cod works as well)
2 medium Fennel bulbs
1 large Yellow Onion
4 cups Cherry Tomatoes
4 cloves Garlic
Salt & Pepper
3 tbsp. Bread Crumbs
10 sprigs of Fresh Thyme
1/3 cup Olive Oil
Preheat the oven to 400 degrees F.
Cut the stalks off the fennel and place aside (don't throw away). Cut the fennel straight down the middle, lengthwise. Then proceed to slice the fennel in slivers. Place in a wide pan lined with aluminum foil.
Slice 2 cups of the cherry tomatoes in half, and keep the remaining 2 cups whole. Add all the cherry tomatoes to the pan.
Slice the onion into rings. Add to the pan.
Drizzle half of the 1/3 cup of olive over the vegetables. Season with salt and pepper.
Season the top of the haddock with salt, pepper, and the bread crumbs. Lay the fish in the middle of the pan.
Drizzle over the rest of the olive oil. Take the leftover fennel stalks and pluck of some of the leaves, placing them over the fish and vegetables. Lay the sprigs of thyme over the fish and veggies as well.
Cook for 15-17 minutes, or until the fish easily pries apart at the touch of a fork. Buon Appetito!