When the cold winter months arrive in the rolling vineyard hills of Piemonte, Italy, famous for its wines and coveted truffles, all the top-rated piemontese restaurants shift their focus from ravioli with shavings of expensive black truffle to warm, chocolatey goodness. This warm, chocolatey goodness is called the "Tortino", and it comes in the form of a small chocolate cake with a moist, liquid chocolate center that oozes when cracked into. It's on many winter dessert menus in Piemonte for a reason.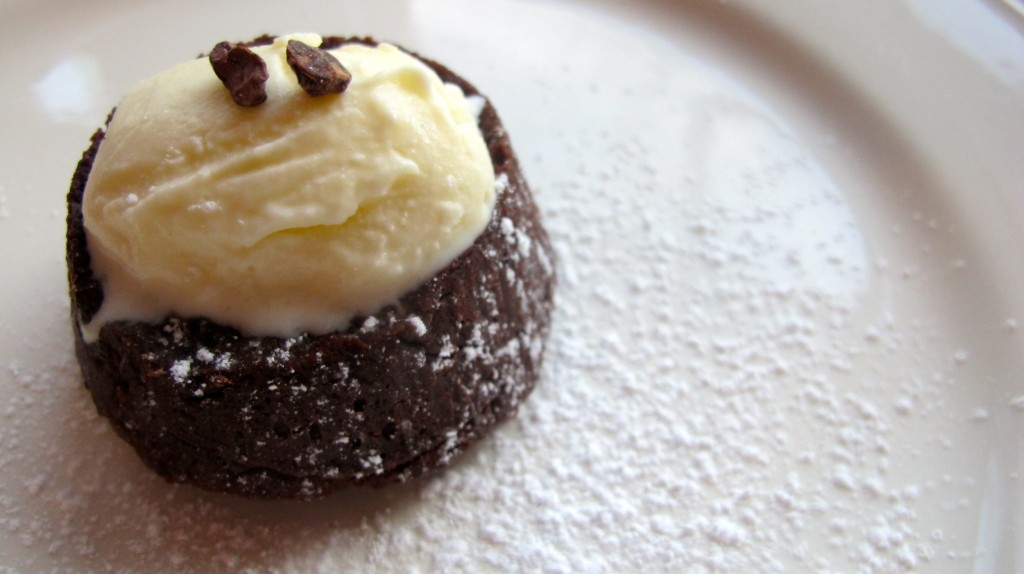 During the first winter I spent on my family's farm in Piemonte, which was about five years ago,  I, along with my parents and older brother, discovered a small trattoria, called L'Osteria del Teatro, tucked in a quiet alleyway in the town of Alba, a town known to be the center of truffle festivities. Being used to the region's summer bursts of lemon and tomato, I was intrigued by this restaurant's warm and wintery menu selection. While the  miniature wheel of melted toma cheese wrapped in speck was what drew me in, the molten chocolate cake for dessert was what kept my family and me coming back (especially in the case of my brother, who never was a fan of cheese). So what do you do when you're in a family trattoria eating good food? You talk with the chef, of course! So yes, I do have the traditional recipe of this restaurant's spectacular chocolate cake. I made a few adjustments here and there (including converting the measurements from metric to the US system) to make it even more fantastic.
Chocolate "Tortino"
Makes 12 individual cakes.
15 minutes of prep work, 4 hours in the freezer, followed by 10 minutes in the oven.
Level: Easy
2 sticks of Butter (16 tbsp.)
250 g Unsweetened Chocolate (9 ounces)
4 large Eggs
1 1/2 cup Granulated Sugar
1 tsp. Vanilla Extract
1 tsp. Coffee Granules or Espresso Powder
3/4 cup All-Purpose Flour
1/4 tsp. Salt
3 tbsp. Cornstarch
Roughly chop the chocolate (this will help it melt faster).
Chop the butter into cubes.
Over a very low heat, melt the chocolate and butter together, stirring constantly to keep from burning. Another method is to melt the butter and chocolate together in a bowl set over boiling water. Both are just as easy.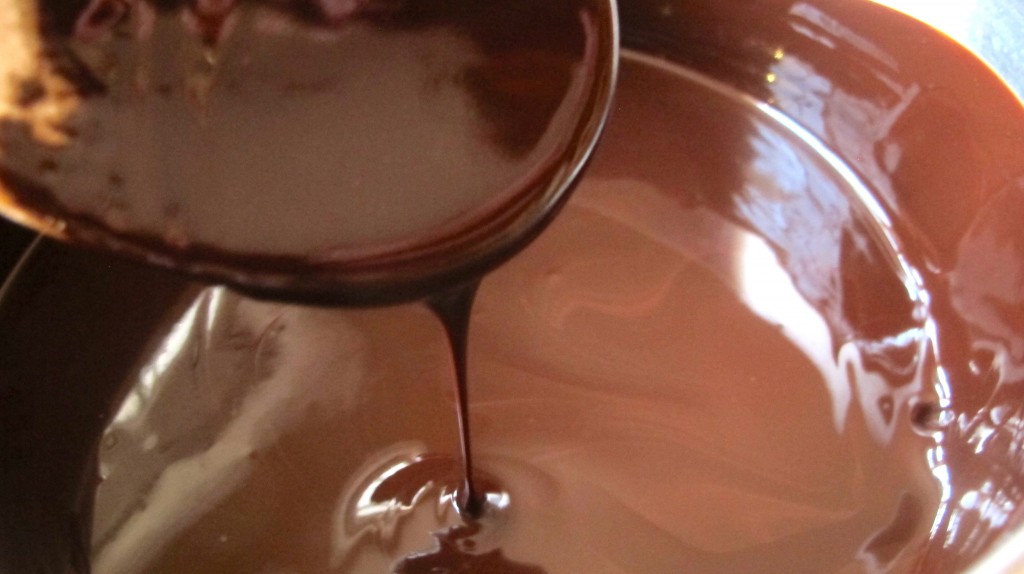 Once the chocolate and butter have melted, turn off the stove and set the mixture aside.
Using an electric mixer, beat the eggs, sugar, vanilla, and coffee granules/espresso powder on high until incorporated.
Turn the mixer on a low speed setting, and gradually add the chocolate to the egg mixture.
In a separate small bowl, toss together the flour, salt, and cornstarch.
Gradually add the dry flour mixture to the wet chocolate mixture.
Spray 12 tin baking cups with cooking oil spray. It is important to use baking cups because you will have to eventually flip your finished product onto a plate, a task that would be difficult to do with a large muffin pan.
Drop a scoop of tortino batter into each baking cup. Place the cups in the freezer and let them chill for at least 4 hours. These tortini are great make-ahead-desserts because they can last for weeks in the freezer!
Preheat the oven to 350 degrees F. Bake the tortini for 10-12 minutes, or until they are set, yet still soft.
Flip a tortino onto a plate. Dust with powdered sugar, add a dollop of ice cream, and buon appetito!