What is the answer to this endless winter of blistering-cold temperatures?  BenGusto's famous, yet not so famous, oat banana bread, of course! It is so easy that it can be made using just two small bowls and a loaf pan. This warm, moist, and chocolatey banana bread will keep you toasted on a brisk morning day. But enough with the shallow, cheesy lines! Let us move on to the recipe.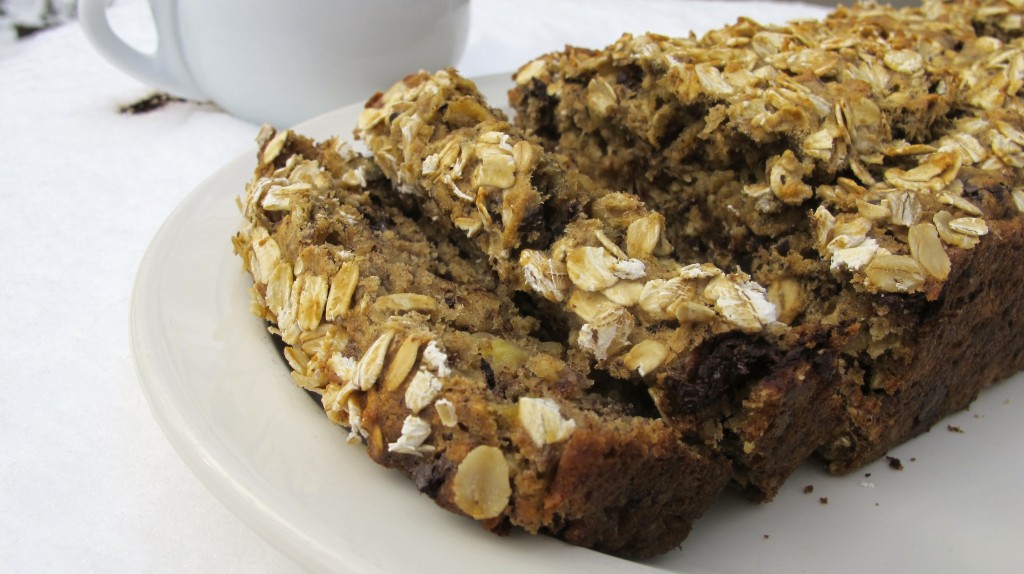 This banana bread is made with oat flour (huzzah to the gluten-free folk! Keep in mind, however, that not all oat flours are gluten free, because many manufacturers expose the oats to gluten during processing. This recipe can be made gluten free by replacing the 1/3 cup white flour with 1/3 cup oat flour. ), and packed with oats for extra texture. With a crunch from the walnuts and an ooze from the dark chocolate chunks, this banana bread will be your recipe for life. I always enjoy my banana bread by pouring cold milk over a warm slice. It is especially good as a pre soccer game power breakfast. I know that I can't use any other banana bread recipe ever again. In fact, I am so dedicated to this banana bread that I even went outside to take pictures of the dang thing in the snow!
Simple Oat & Chocolate Banana Bread
3/4 cup Oat Flour
1/3 cup White Flour
1 tsp Baking Soda
1 cup Long-Rolled Oats
1/2 cup Sugar
1/4 tsp. Salt
4 medium, super ripe Bananas
1 Egg + 1 Egg White
2 tbsp. Olive Oil
1 tsp Vanilla
2 tbsp. Espresso
50 g Chopped Dark Chocolate (I recommend 75% cocoa)
1/2 cup Chopped Walnuts
Preheat the oven to 325 degrees.
In a small bowl, mix together the oat flour, oats, white flour, baking soda, and salt. Set aside.
In a large bowl, mash the bananas thoroughly (you can use a blender to help you out, or hands).
Whisk the eggs, sugar, olive oil, vanilla, and espresso with the bananas.
Gradually add the dry mixture to the wet mixture while stirring. Stir just until incorporated, being careful not to over stir.
Coat the chopped chocolate in 1 tbsp. white flour. This will keep the chocolate from falling to the bottom during the baking process.
Mix in the chopped chocolate and chopped walnuts.
Grease a 10″ X 5″ loaf pan with  cooking spray or butter. Pour in the batter. Sprinkle some oats and walnuts over the batter.
Place the bread in the oven and bake for about 40 minutes, or until a toothpick comes clean out of the cake. Buon Appetito!