When I took my first year of Spanish in eighth grade, a good three years ago, whenever my Bolivian profesora told us students to speak in Spanish, everyone would sit there babbling "¡taco taco burrito queso señor!" Of course, now most of us claim that we are "proficient" in Spanish , but there still are a few students in their fourth year of Spanish who have managed to somehow receive decent grades without knowing a single phrase other than "me molesta". I am sure my current Spanish teacher (I know she reads BenGusto, so I must point out that she is an excellent teacher)  would agree. So that's what I think about when I eat this taco. However, this taco is not so much from Latin America as it is from Italy (of course). It manages to combine two of the world's finest cuisines in one tortilla, while also providing versatility (the taco can be vegetarian, or not. It's scrumptious either way), and simplicity. What more do you want in life?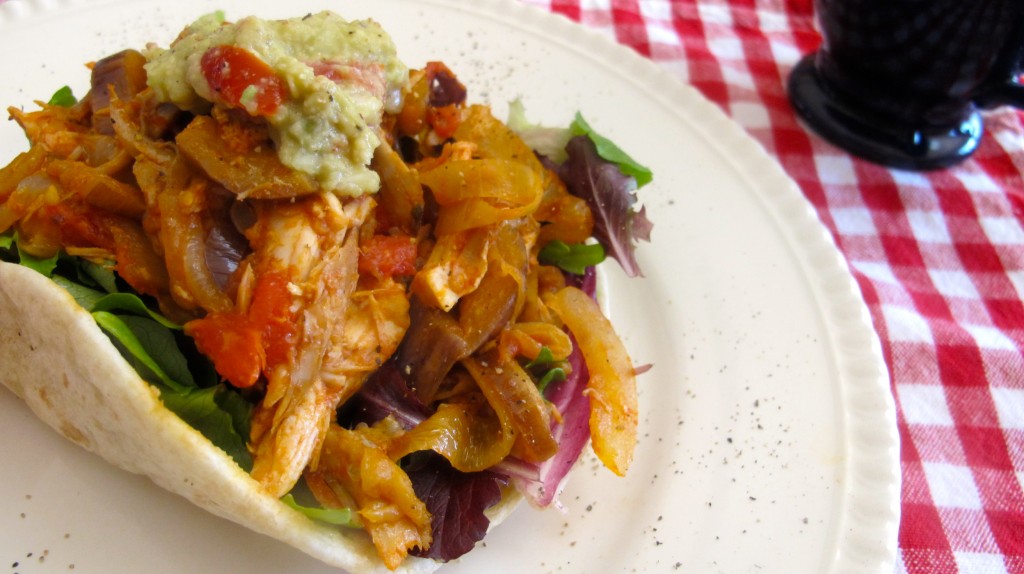 Once upon a time, the lunch grumblies hit a young boy. This young boy could not find anything stocked in the kitchen other than an eggplant, some tomatoes, tortillas, guacamole (made yesterday), and some leftover chicken. There was some tuna and yogurt as well, but he wasn't looking to have a tuna parfait for lunch. So he stuffed a tortilla with some Italian flavors.
Anyways, that's the story. The story is a little dry if you ask me. But hey, this recipe sure isn't!
Vegetarian Taco Italiano
1 Tortilla
2 tbsp. Guacamole (homemade is always good!)
1/2 medium Eggplant
2 tbsp. Olive Oil
1 small Yellow Onion
2 roman Tomatoes
1 cup Cooked, Shredded Chicken (optional)
Salt and Pepper
Before the taco preparation commences, you can decide to crisp up your tortilla in the oven for a few minutes, or not.
Dice the eggplant into chunks.
Slice the onion into thin circles.
Dice the tomato.
Pour the olive oil on a medium-sized pan over medium heat. Add the sliced onion. Stir often and sauté until the onion is slightly browned and translucent.
Add the eggplant and tomato to the pan. Sprinkle a dash of salt. Cook over medium heat until the vegetables have boiled down.
Check the vegetable sauté for salt. Throw in the chicken as well if you desire. Mix and turn off the stovetop.
Step 1: Lay down the tortilla on a plate
Step 2: Smear some guacamole on the bottom
Step 3: Bunch a handful of lettuce on top.
Step 4: Add the "Italian" part.
Step 5: Finish with a dollop of guacamole
¡Bien Appetito!