Snow-capped Alps, 4-inch thick strudel, red and white checkered shirts, leather lederhosen, cows grazing on lush green fields,  and….. pastries?
A new BenGusto destination comes a new story to tell. While in the region of Tirol in Austria this past week, I got an insight into the welcoming Austrian culture, old  tradition, breathtaking alpine landscape, and, of course, amazing food. Blah blah blah. Sounds like a typical trip, right? That's why I had to shake things up and get in the kitchen with a real Austrian.
I was staying at a typical Austrian chalet, the Hotel Rieser, in the small mountain village of Pertisau, about 30 minutes from the town of Innsbruck (where the 1964 and 1976 Olympics were held), when I thought to myself, "Ben, you gotta find out how these Austrians are making such damn good bread. I swear this stuff tastes like a bite of fresh mountain earth from heaven!" I asked the owner of the chalet, a very kind and reserved man, if I could see how they make their bread. The Rieser's food was the talk of the town (even if Pertisau is quite small), and their traditional Austrian cuisine, especially their breads and desserts, was driving me crazy. The owner, Mr. Rieser, told me, "Of course you can see how we make the bread in the kitchen. It is no problem. Come and I will introduce you to Tony, the pastry chef."
As soon as I walked in the kitchen, Tony popped up around the corner with an "AaaHHAAa!" His hair was staticky, his purple chef outfit was floured, and his glasses were slightly fogged up. A true artist at work. "Ben! I Tony! 6:00 morning!" he told me in broken English, as he shook my hand emphatically. I was excited to work with the pastry chef who was turning out astounding Austrian doughnuts filled with cherry and breads packed with earthy nuts, especially since he was so friendly and kookoo!
I got up at 5:30 the next day to make it in the kitchen at 6:00. Tony was already dressed in purple and hard at work, rolling out balls of dough faster than a jackrabbit on a motorcycle. He motioned for me to come over with an energetic hand, and pulled out an extra apron. When I said he knew broken English, I meant it. So we worked through visuals; Tony would roll a ball of dough, and I would copy. We then threw the balls on a pan, and put it in the oven. (It's quite different from the way I do bread; I always use a bread pot. I will have to experiment doing a bread in the pot along side a bread on a pan in order to see which one I like best)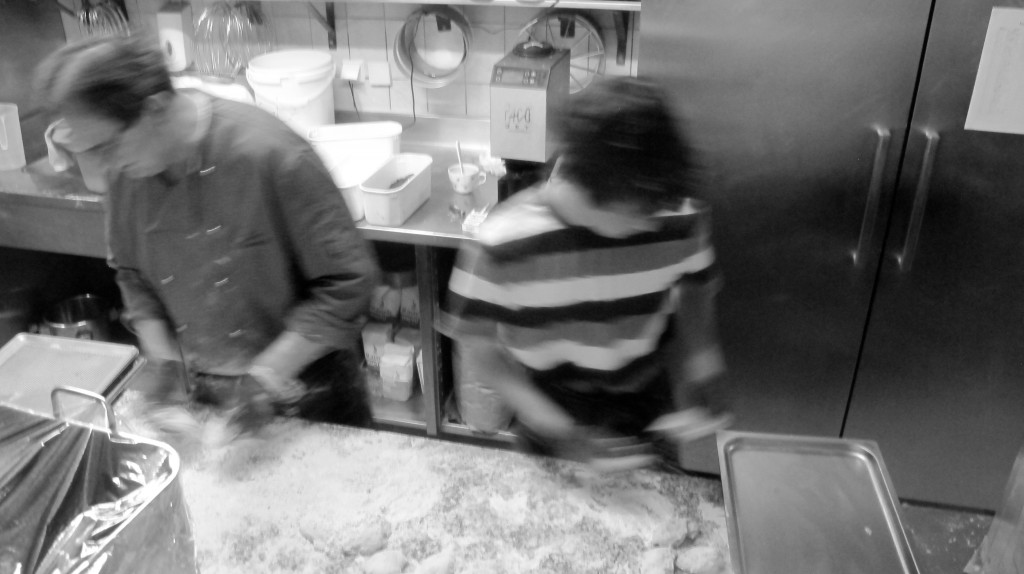 It turns out there is no big secret to Austrian bread. Other than the fact that they have some killer flours, grains, nuts, and clean water available to them, there is no special, secret ingredient or technique that makes their bread different. I brought home a sack of the wheat flour that Tony uses in order to test it out in Virginia with Virginian water, yeast, and climate. We'll see how the test goes soon..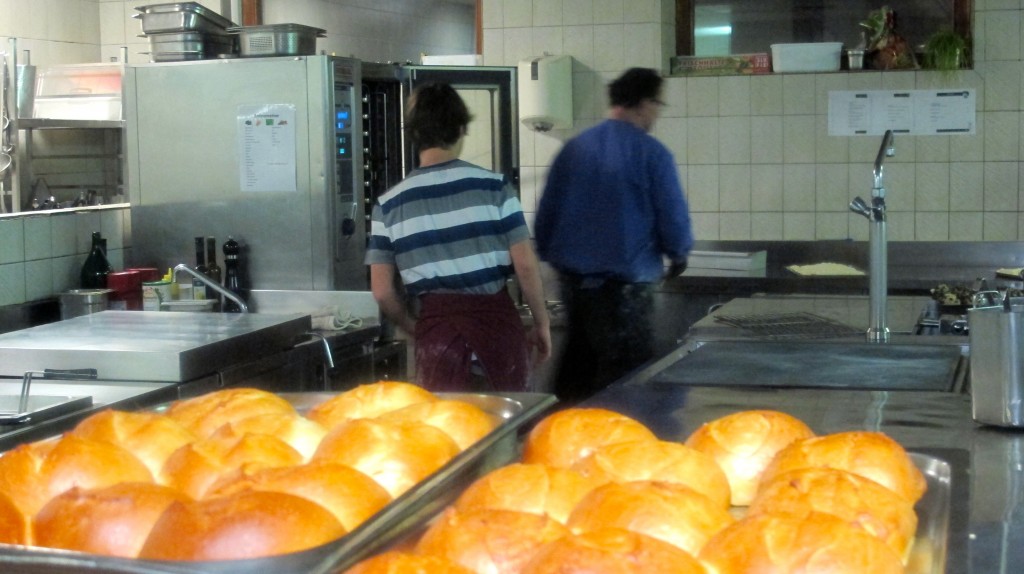 At one point I saw that Tony was kneading a big thing of dough in the electric mixer, adding a little bit of water here and there. I asked him if the bread was for today. He replied, "Oooh yes! Today!" Then he turned the mixer off, dumped the dough out of the mixer bowl, and began to shape more balls. This was very strange to me. I am used to kneading the dough before letting it rise, because if you knead it after you risk letting too much air escape, and you can end up with a dense bread. I wish I could have gotten an explanation as to why he kneads dough after letting it rise, but alas, the language barrier conquered me.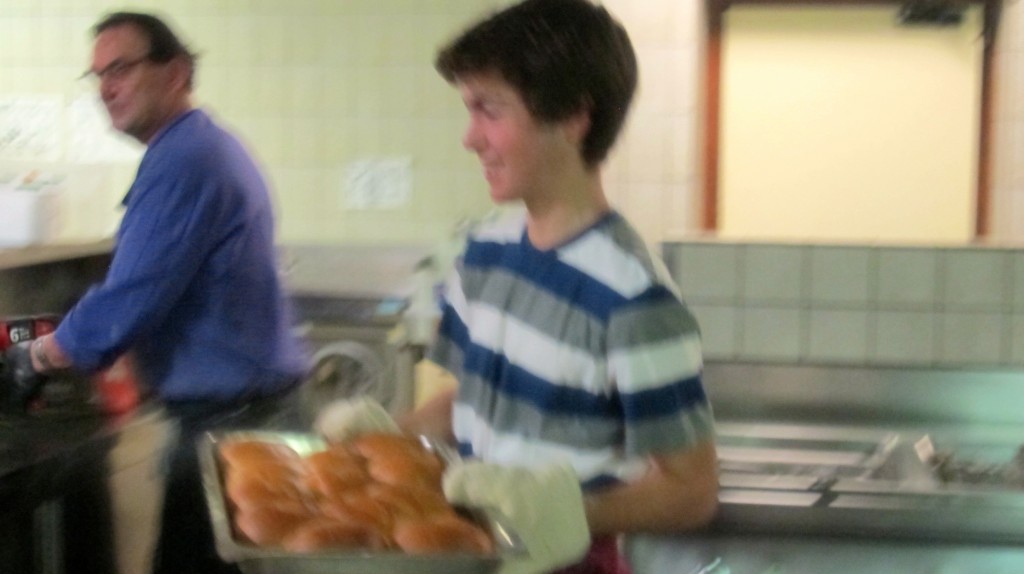 Surprisingly, the majority of my morning in the Austrian kitchen was not spent making bread, but laying out platters of pastries. Tony had made an array of different pastries the night before- Viennese punch cookies, esterhazy torte, chocolate covered strawberries, cream puffs, glazed brioche- that we carried up from the refrigerator downstairs one by one. Tony then handed me a set of small pastry wrappers (like cupcake wrappers, but smaller) and told me to place each pastry in the wrapper. I thought it'd be a snap, but it wasn't all that easy. The majority of pastries were glazed, so I had to spend a good amount of time on each individual pastry, carefully plying them off the pan with my knife, cleaning up the look and extra pieces of glaze stuck to each pastry, and strategically placing them on the wrapper (which was often too small) so that it would look presentable and hold up without falling out of the wrapper. That may sound like a lot, but it really wasn't a bad job. It payed off in the end, because what came after this task was really enjoyable.
Once each pastry was placed in its own wrapper, Tony led me over to a shelf in the far corner of the kitchen. Together, we brought down two big stacks of elegant platters wrapper in bubble wrap. They were black and sleek. We carried the platters into a small room on the other side of the kitchen with two small tables for the chefs to eat on, write on, relax on, sleep on, etc. Tony told me to unwrap the platters, and then he left. I figured he was on a smoke break (at least that's how it would be in Italy), but after a few minutes he came back in with this giant mirror. I wasn't quite sure what it was for, but I didn't bother trying to push the language barrier, so I swallowed my curiosity.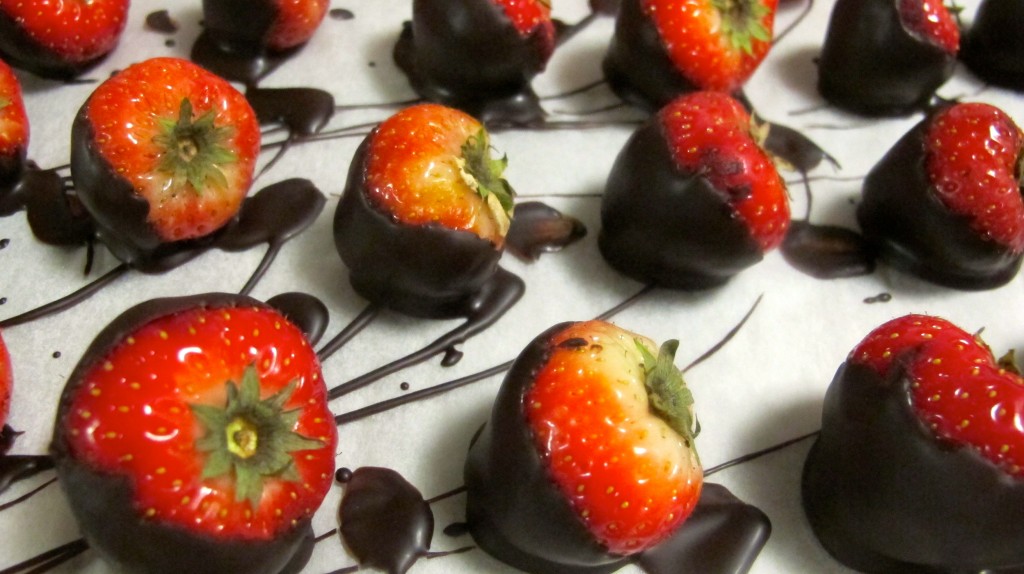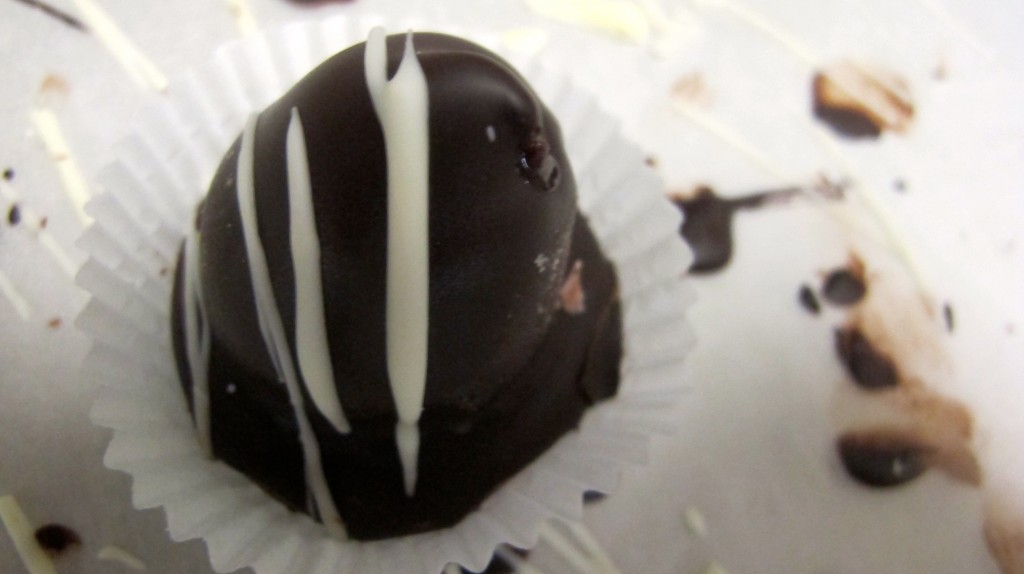 Once the black platters were unwrapped, Tony showed me how I was supposed to plate the pastries. He started making some weird border with an identifiable pattern. He made some motion that I thought meant "See? This is how you do it." I nodded my head in agreement and got to work plating the pastries in my own fashion: with an identifiable pattern. After  few platters, I was quite pleased with my work and called Tony to come check it out. I swore I saw money in his eyes! He was in awe at the beauty! "Bootiful!" "Verrry goood!" I later heard that they were a little low on staff in the pastry department, so I think Tony was really excited and had some hope in me. A fellow employee, a young and terrible waiter named Ringo (Ringo actually told me to include his name in this story and tell everyone how good of a waiter he is. He's pretty much the best waiter ever. I was kidding about the terrible part.), told me that Tony was near retirement, and was looking for someone share his pastry knowledge with. I would be honored to be that someone, but alas, I am in Virginia.
At around 9:30, I finished all of the black platters. That's when Tony motioned for me to plate the remaining pastries on the mirror. The grande finale. I was pretty lucky to fit all of the pastries (except for four leftovers, which Tony and I ate) on the mirror. Then I was done. I left the kitchen to go grab some breakfast with my family, spent the day skiing with German friends, and did not see the pastries until after midnight. The pastries were the key part of the New Year's Eve midnight buffet. I was excited to see my work, and show the elegant platters to my family and friends. When the buffet was opened, my brother, my friend Rafael, and I were first to get to it. But alas! The platter was not elegant. The pattern was distorted, and it looked as though the pastries were simply thrown onto the plate.  I suppose the pastries were jostled a bit throughout the day. Oh well! It was a lot of fun anyways.