Before you begin reading this post and labouring away at trying to bake this tart, let me recite a declaration of warning: Beware. I call this a damn almond tart for a reason. (excuse my vulgar language)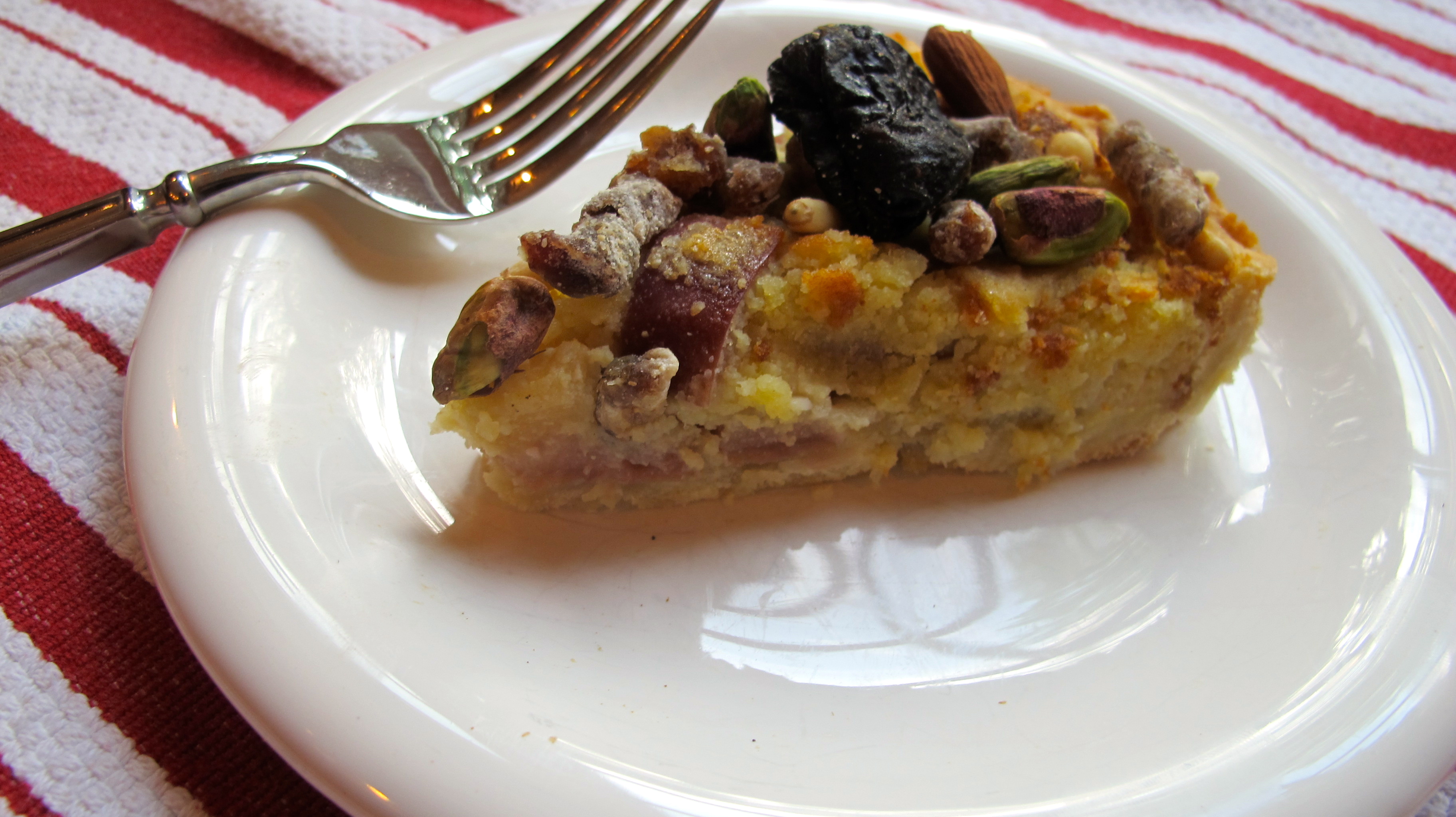 As a brake before I post the final story from the Agrihotel Elisabetta adventure, I thought I'd share this almond and apple cream tart recipe.
If you ever feel like cooking something hard and laborious, this recipe would be a good one to try out. There are quite a few steps to it, but the end result is rather quite delicious, and you get to have some good taste-tests along the way.
I was inspired by a recipe I found in an italian cook book that contains only dessert recipes from some of the fanciest, top-class chefs in Italy (I made some adjustments to the recipe, making it a little easier and changing the units of measurement from the metric system). So that's why it proved to be pretty difficult. But I don't discourage anyone thinking about going for it! It's tasty, and a neat way to use the ever-so-brilliant almond flour.
Almond Cream and Apple Tart
For the Crust:
10 tbsp. Cold Butter (1 stick + 2 tbsp.)
1 1/2 cup All-Purpose Flour
1/4 cup Cold Water
1 tbsp. Granulated Sugar
1/4 tsp. Salt
For the Almond Cream:
8 tbsp. Room-Temperature Butter (1 stick)
1/2 cup Almond Flour
1/2 cup Granulated Sugar
2 tbsp. All-Purpose Flour
1 large Egg
1 1/2 tsp. Bourbon or White Rum
1/3 cup Pastry Cream (see my recipe here)
For the Apples:
3 medium Red Apples
4 cups Water
1/2 cup Almond Flour
1/2 cup Granulated Sugar
For Decoration:
Dried Fruit (apricots, dates, prunes, golden raisins, etc.)
 Nuts (pine nuts, pistachios, almonds, macadamias)
Preheat the oven to 375 degrees F.
First, let's prepare the crust. Cut the chilled butter into cubes and place in a blender fitted with a steel blade. Blend in the flour, sugar, and salt with the butter. Gradually add the cold water until dough becomes a ball, or thick enough to be shaped into one. Shape into a firm ball with your hands, wrap in plastic wrap, and let sit in the refrigerator for at least 2 hours.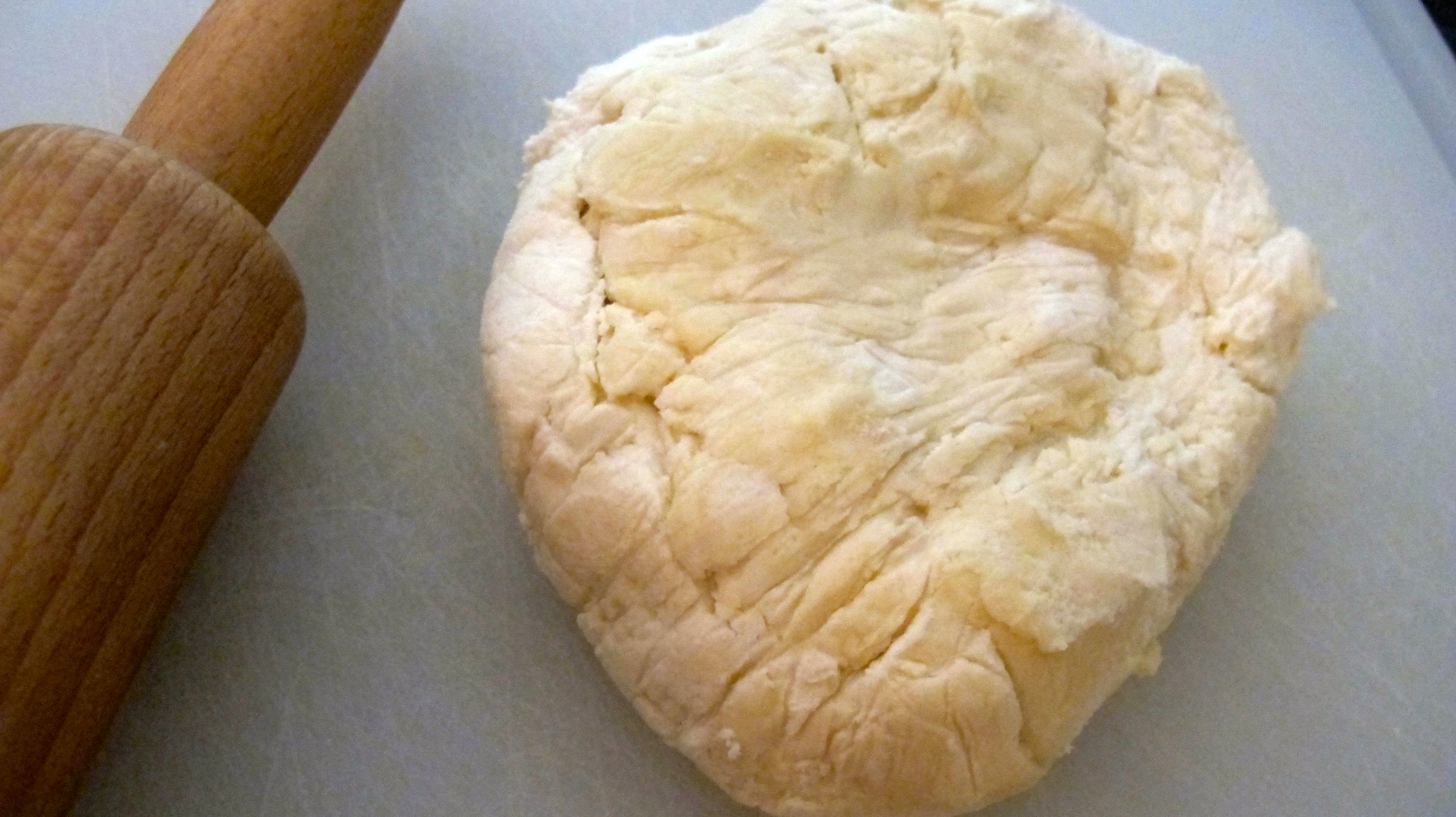 Take dough out of refrigerator. Sprinkle flour on the dough to keep from sticking, and roll it out. Spread the dough on a tart pan. Place a pie weight or tinfoil covered with dried beans over the tart to keep air bubbles from forming. Cook for 15 minutes with weights, and 10 minutes without.
After taking out the cooked pie crust, crank the oven up to 400 degrees F.
Beat the room-temperature butter and granulated sugar together in an electric mixer on high speed until a cream is developed.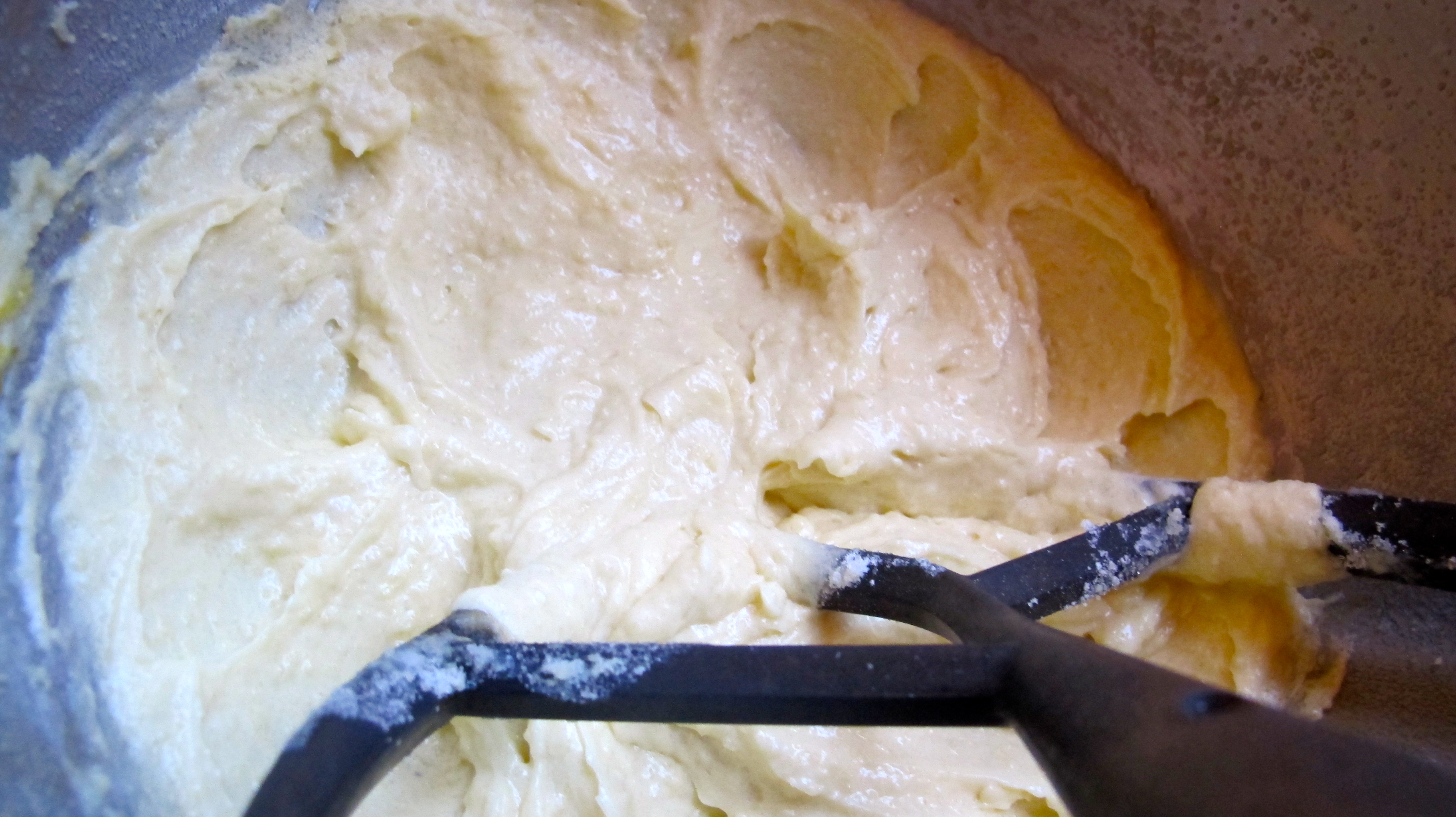 Continuously mixing, add the egg and gradually add the almond and all-purpose flour. Pour in the bourbon/white rum as well. Take cream off the mixer and stir in the 1/3 cup pastry cream by hand.
Slice the red apples into small, bite size pieces.
Cook the apple in a pot filled with the water, almond flour, and sugar on medium heat until the apples turn soft. This should take about 7 minutes.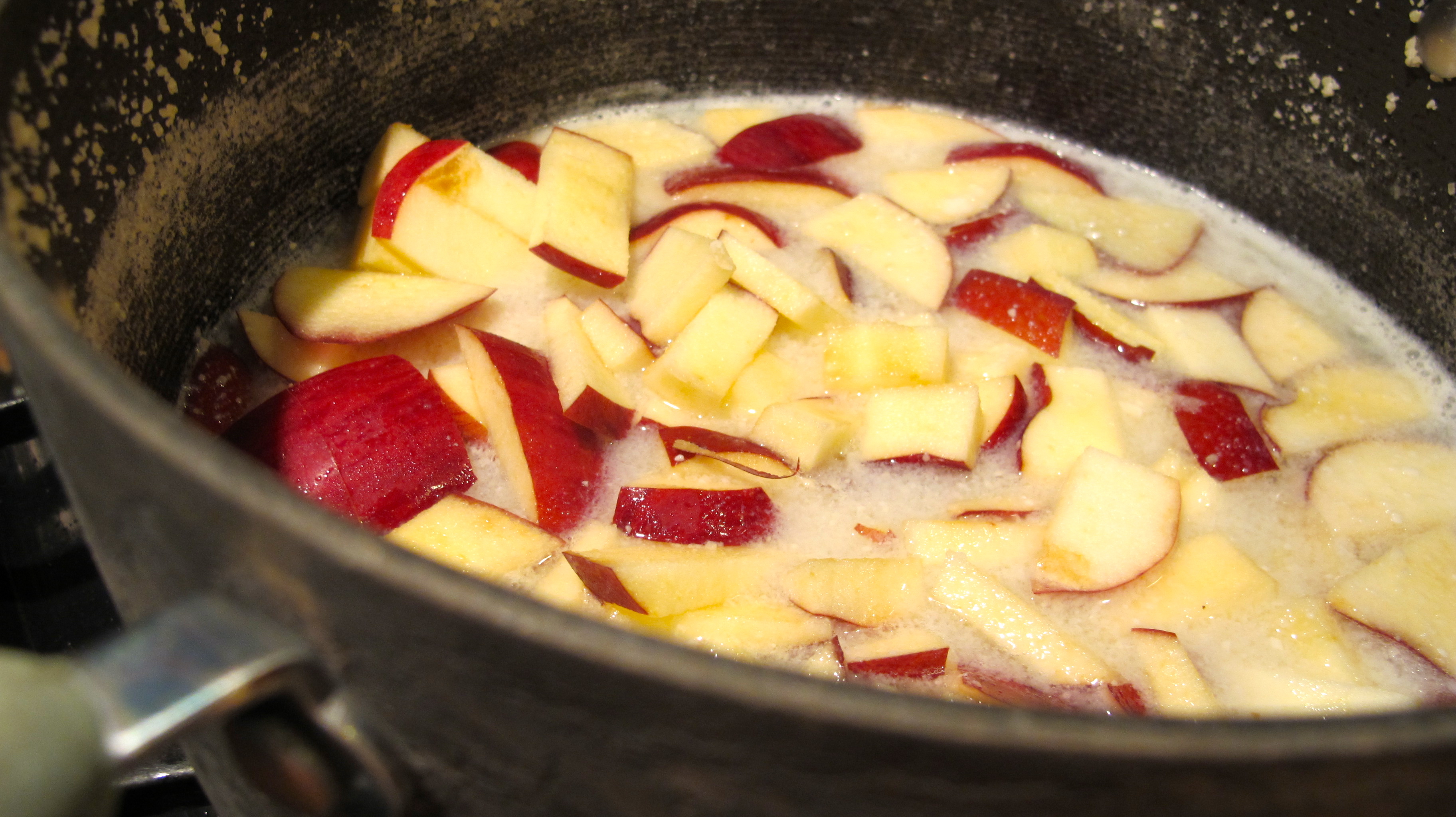 Drain the apples and set aside.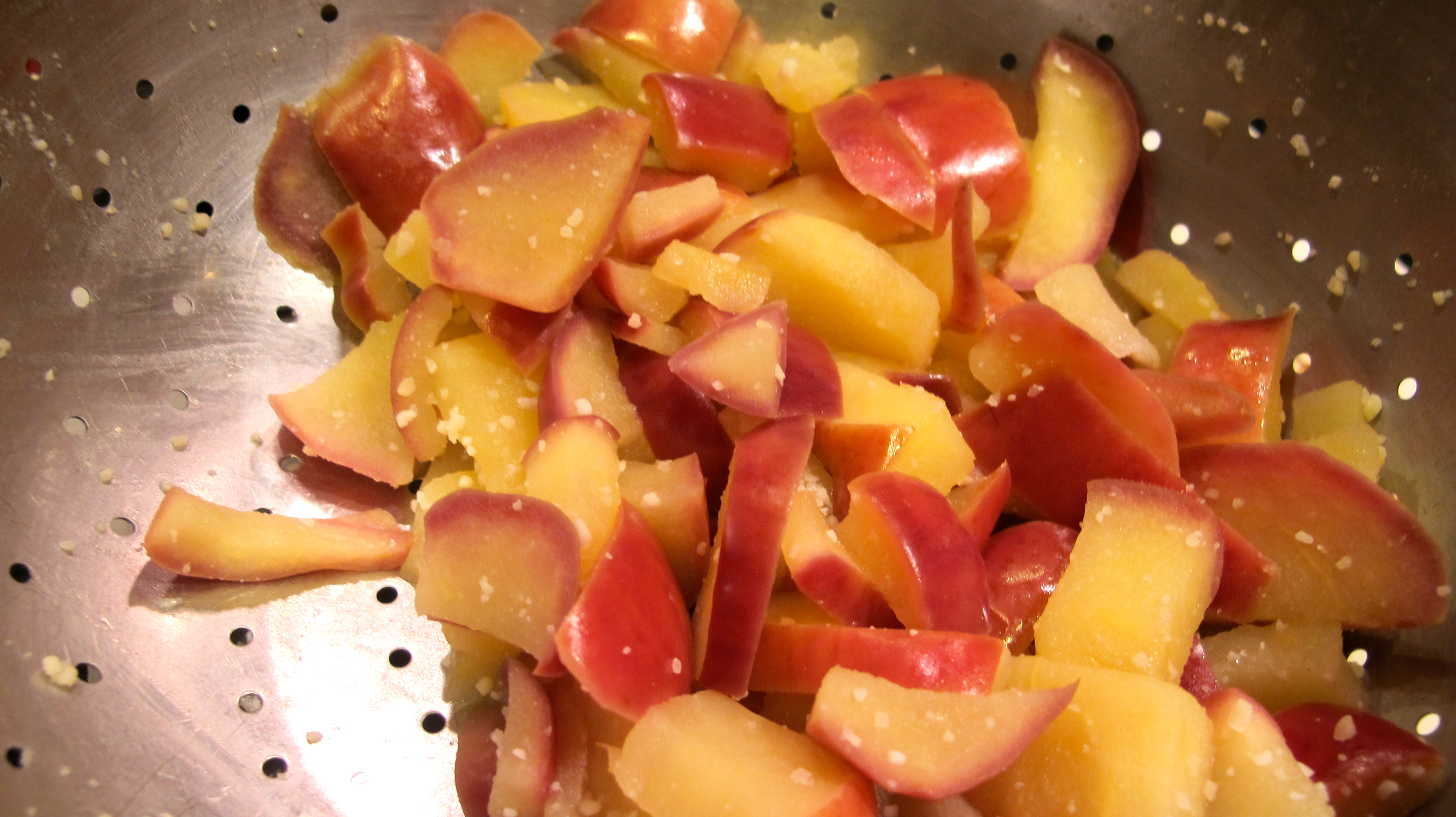 Take the pre-cooked crust and spread a heaping spoonful of the almond cream at the base. Lay the apples on top, and then pour the remaining cream over the apples. Bake for 30-35 minutes.
If the top of the tart comes out a burnt dark brown, then just thinly slice off the burnt top layer.
Decorate the tart with the selection of dried fruit and nuts. Keep in the refrigerator. Enjoy!