I don't usually panic when cooking. I always try and tell myself, "Ben, if you botch this dish, then you can always rummage through the fridge for something else, and learn from your royal screw up." I must admit though, that I did have a tad, eensey weensey bit of panic in me when cooking this dish.
The distress wasn't caused by the labor of preparing the dish. In fact, this Branzino recipe is very simple. I was
more worried about the outcome, because I hadn't planned this recipe for a whole, uncut branzino fish. I wanted to cook the filet with the potatoes and tomatoes in the oven, but in order to get the filet, I would have to cook the fish as a whole. Cooking it a second time could cause the fish to go dry.
Thankfully, the branzino never went dry. This dish took my family and me back to the many times of ordering this beautiful white fish at the local Italian trattorie on a warm summer day. My father even claimed it to be the best Branzino recipe ever put together, and everyone who knows my father would tell you that he's not afraid to say it straight, and criticize heavily.
Roasted Branzino with Rosemary Potatoes
2 Branzino whole fishes
4 Roman Tomatoes
4 Russet Potatoes
1/4 cup Olive Oil
1/2 cup Italian Olives
Rosemary
Thyme
Salt
Pepper
Garlic
Preheat the oven to 400 degrees F.
Peel the potatoes. After peeling, slice the potatoes with a mandolin slicer, or as thin as you can with a knife. Give them a rinse in the sink.
Place the sliced potatoes in a pan with 1/4 cup of olive oil, and heat over the stove on medium-high.
Chop about 1/4 cup of rosemary and add it to the potatoes. Continue to heat for about 10 minutes, or until the potatoes are soft, but slightly crisped. Season with 1 1/2 teaspoons of salt, and a teaspoon of pepper.
Place the branzinos on a pan lined with foil, and drizzle olive oil over the fishes. Season the fishes with salt (about 2 teaspoons) and pepper. Place the olives alongside the fishes as well, and a bundle of rosemary and thyme in the middle of the two fishes. Bake for 8 minutes.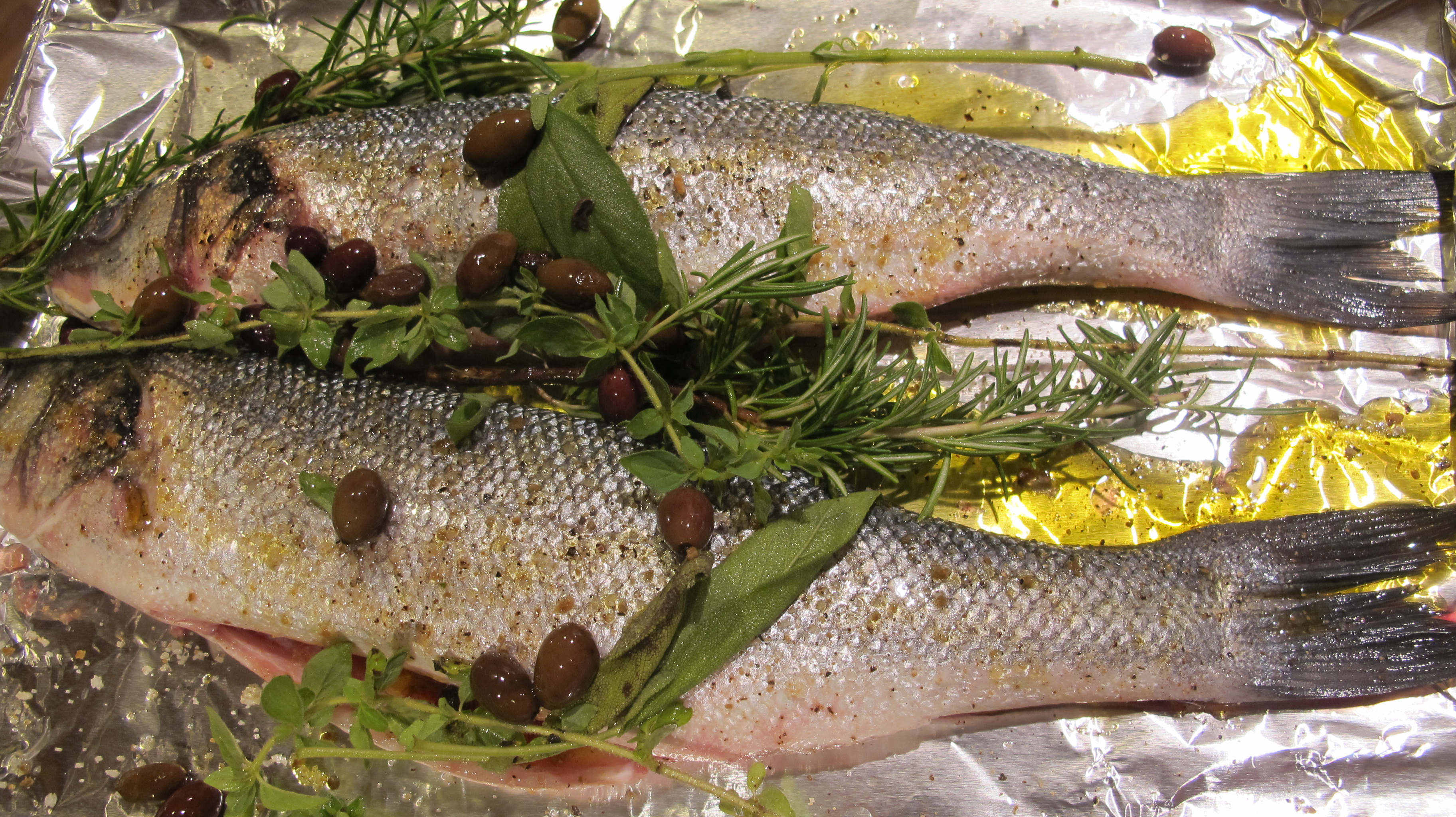 As the branzinos cook in the oven, slice the tomatoes thin with a knife. Lay the tomatoes at the bottom of a large pan, and set aside.
Once the branzino is done, take it out and extract the good meat of the fish with a spoon and fork. Discard the head, tail, and skin. Lay the fish meat over the tomatoes. Lay the potatoes on top of the fish meat. Add the olives that were baked with the fish to the pan as well. Place it in the oven for another 5 minutes.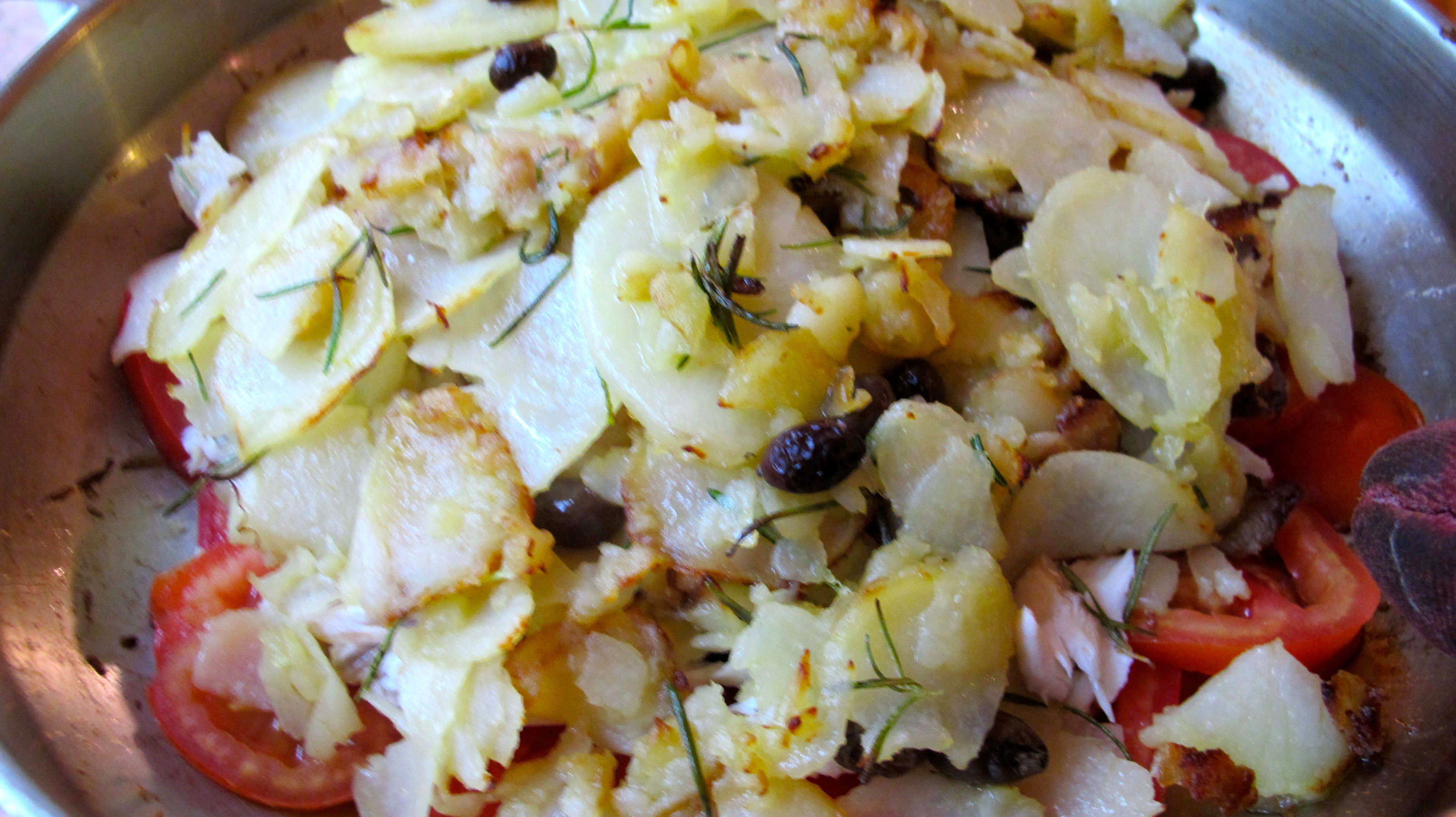 Serve warm with a drizzle of olive oil if desired. Buon appetito!