It is the season of the asparagi, or, in "normal" language, asparagus. The season will be done in the blink of an eye, and pretty soon we'll begin to discuss things like lemon meringue pie (that should be appearing soon on BenGusto) and summer gazpacho. Time to enjoy what these brilliant green stalks have to offer!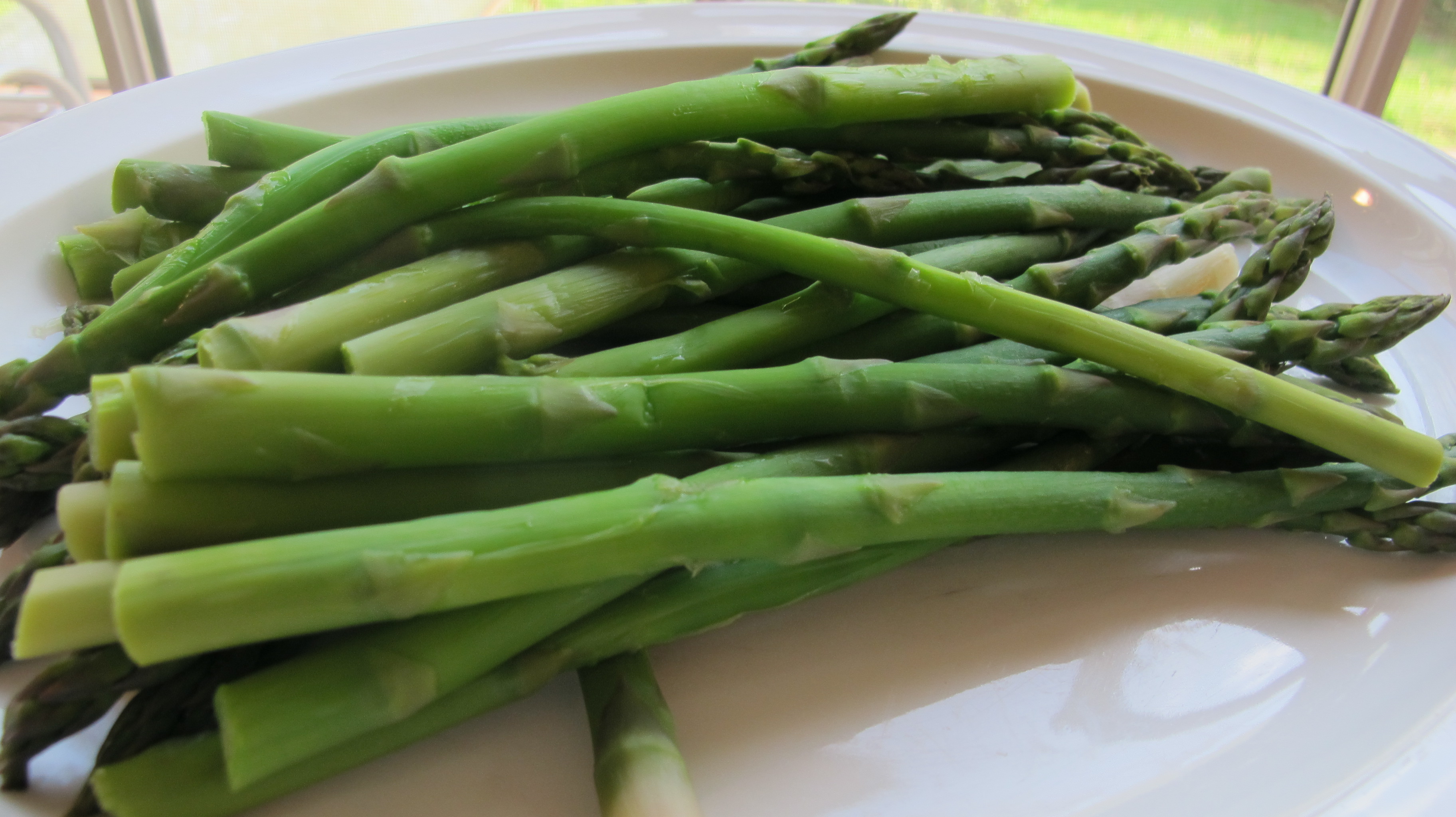 Last year, living in the region of Piemonte in northern Italy, I was, of course, surrounded by delicious, but limited menus. By "limited" I mean that every restaurant served the same thing. The good part was that the restaurants changed their menus very often according to what was in season. The bad part was that you would still get a bit tired of seeing the same dishes at every trattoria. So most of my spring of last year consisted of asparagus with a fried egg on top. Every where you'd go, asparagus with egg would be waiting for you. A dish so basic, yet elegantly devine. I took the combo of egg and asparagus, and made it explode in this unique, stir-fry like recipe. It's a simple, healthy, and scrumptious dish.
One of the keys to this recipe? The quality of the bread. I used a mixture of two different homemade breads. Any fluffy bread of your choice will work great with the recipe.
Asparagus Bread Stir Fry
1 bunch of Asparagus (about 24 spears)

2 cups diced Whole-Grain Bread
2 cups Black Russian Bread (or a different bread of your choice)
 Olive Oil
1 medium Yellow Onion
1 small, mild Green Pepper
2 cloves of Garlic
2 eggs
2 tbsp. Balsamic Vinegar
10 thin slices Parmesan (or 1/4 cup grated parmesan)
Salt and Pepper
Steam the asparagus in a tall pot filled with 1 cup of water over medium-high heat for about 6 minutes, or until asparagus are soft enough to eat, but contain a crunch.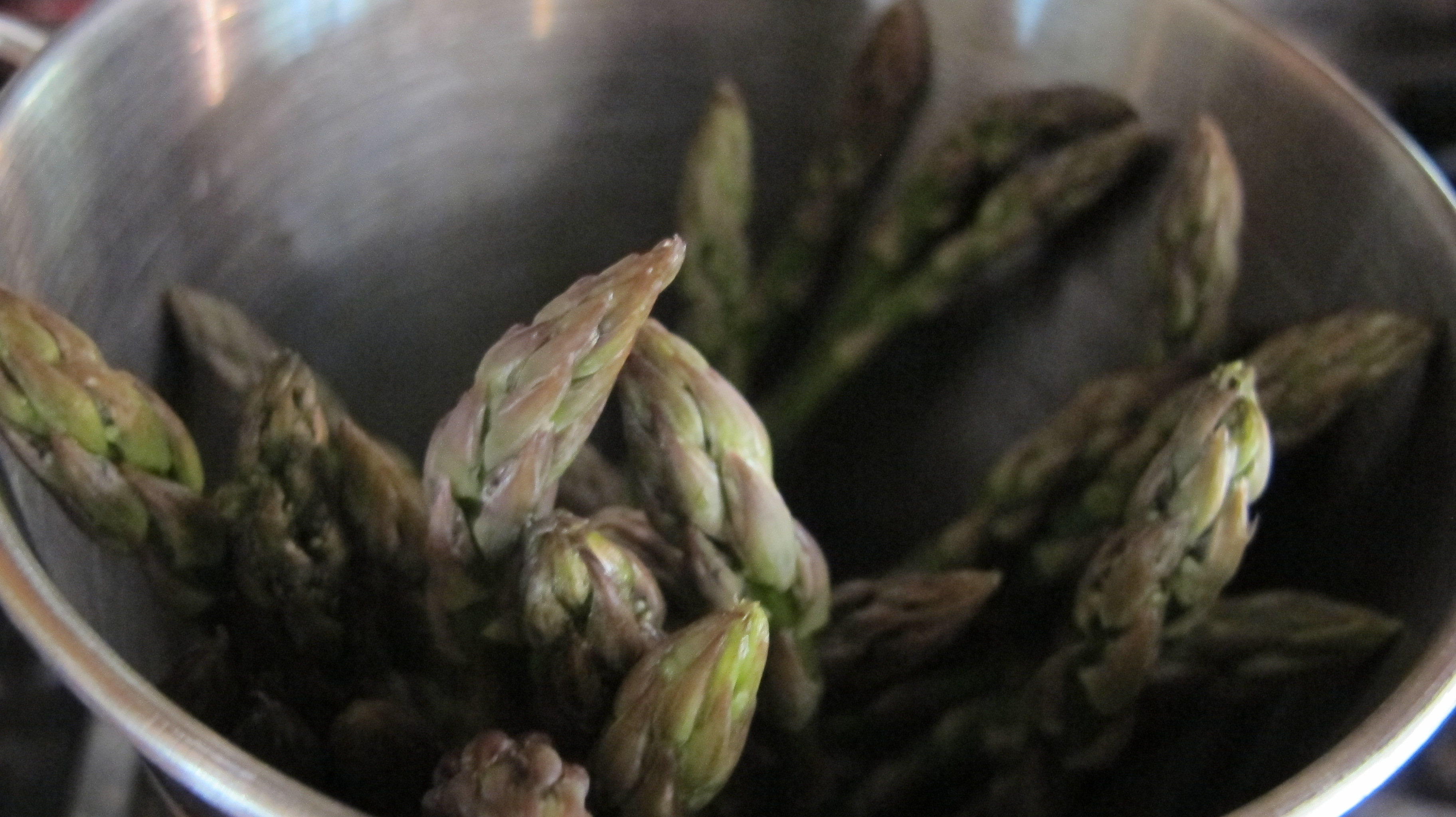 Dress the asparagus with 3 tbsp. olive oil, the balsamic vinegar, 1/4 tsp. salt, and 1/2 tsp. pepper. Let it marinate as you prepare the rest of the stir fry.
Thinly slice the onion into very thin circles.
Finely chop the green pepper.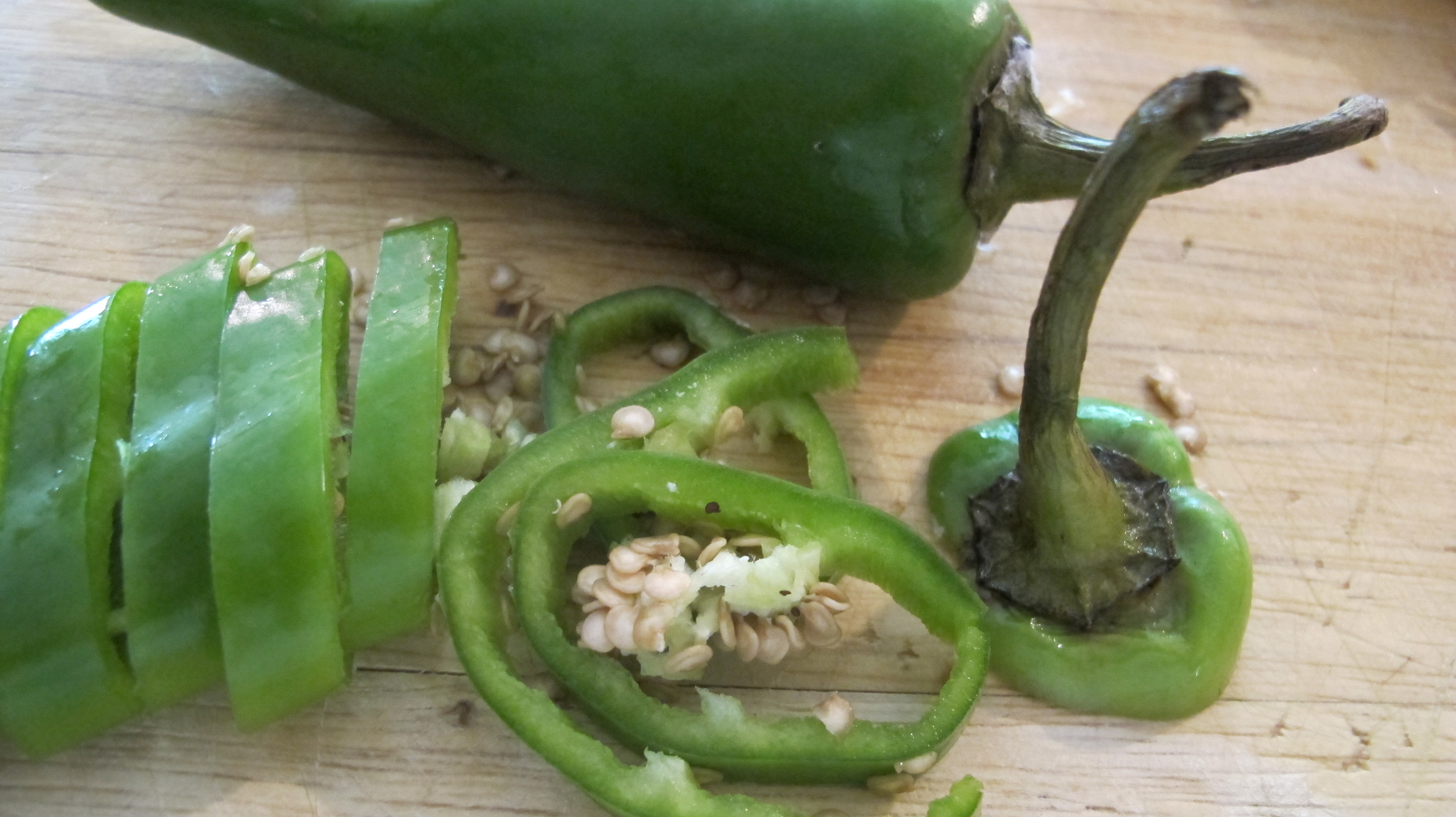 Place the pepper, onion, and garlic on a pan over medium heat with 3 tbsp. olive oil. Heat for about 4 minutes, stirring constantly, until the onion caramelizes.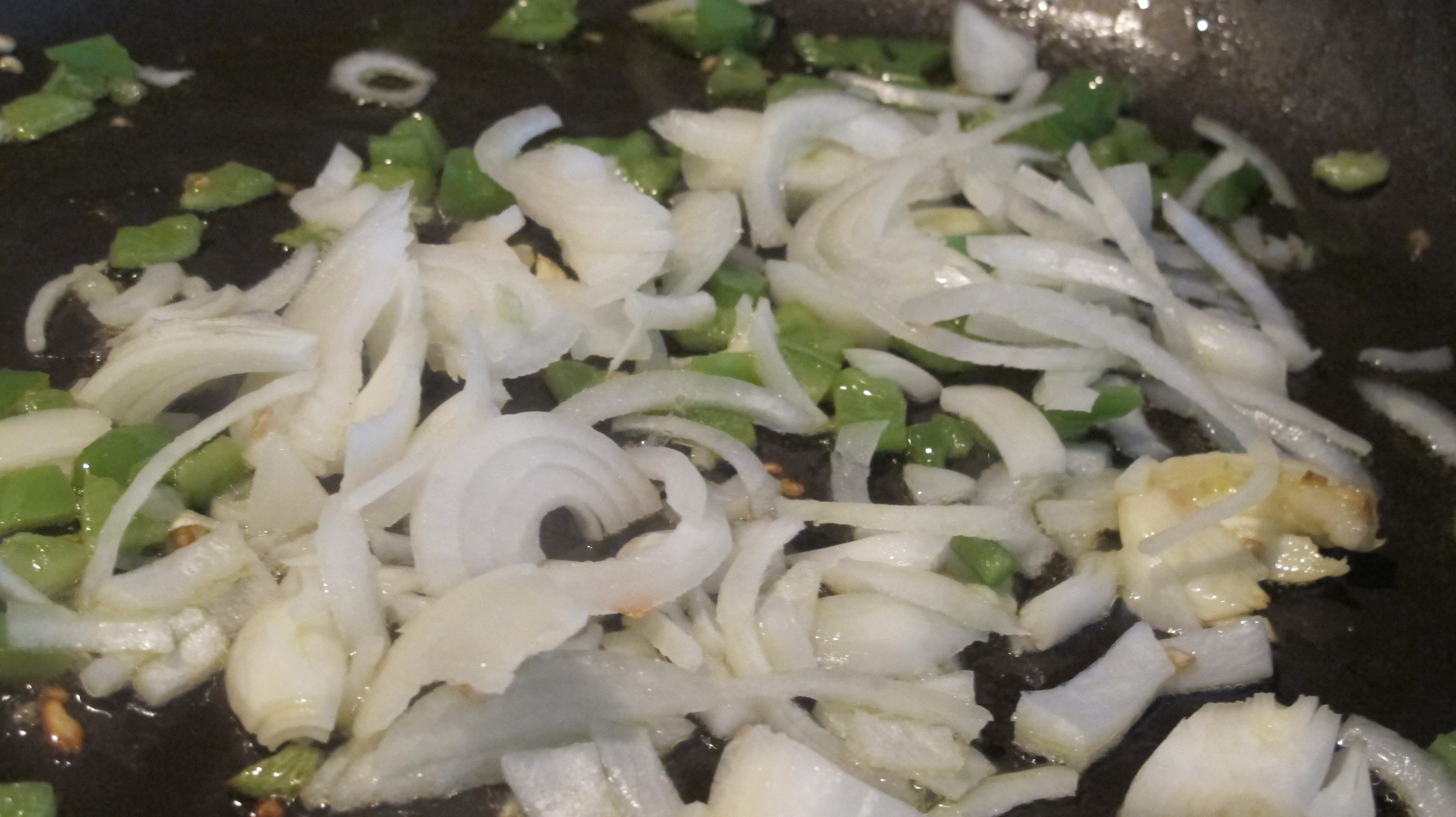 Dice your selection of bread into cubes and throw them in the pan.
Chop the asparagus into small pieces and throw it in the pan as well.
Create a hole in the middle of the pan and place the cracked eggs into the hole. Let the egg cook through for about 1 minute or so, and then dice the egg with your spatula and mix it into the surrounding ingredients.
Lay the pieces of parmesan over the stir fry. Cover it and let it cook for another two minutes, or until the cheese melts.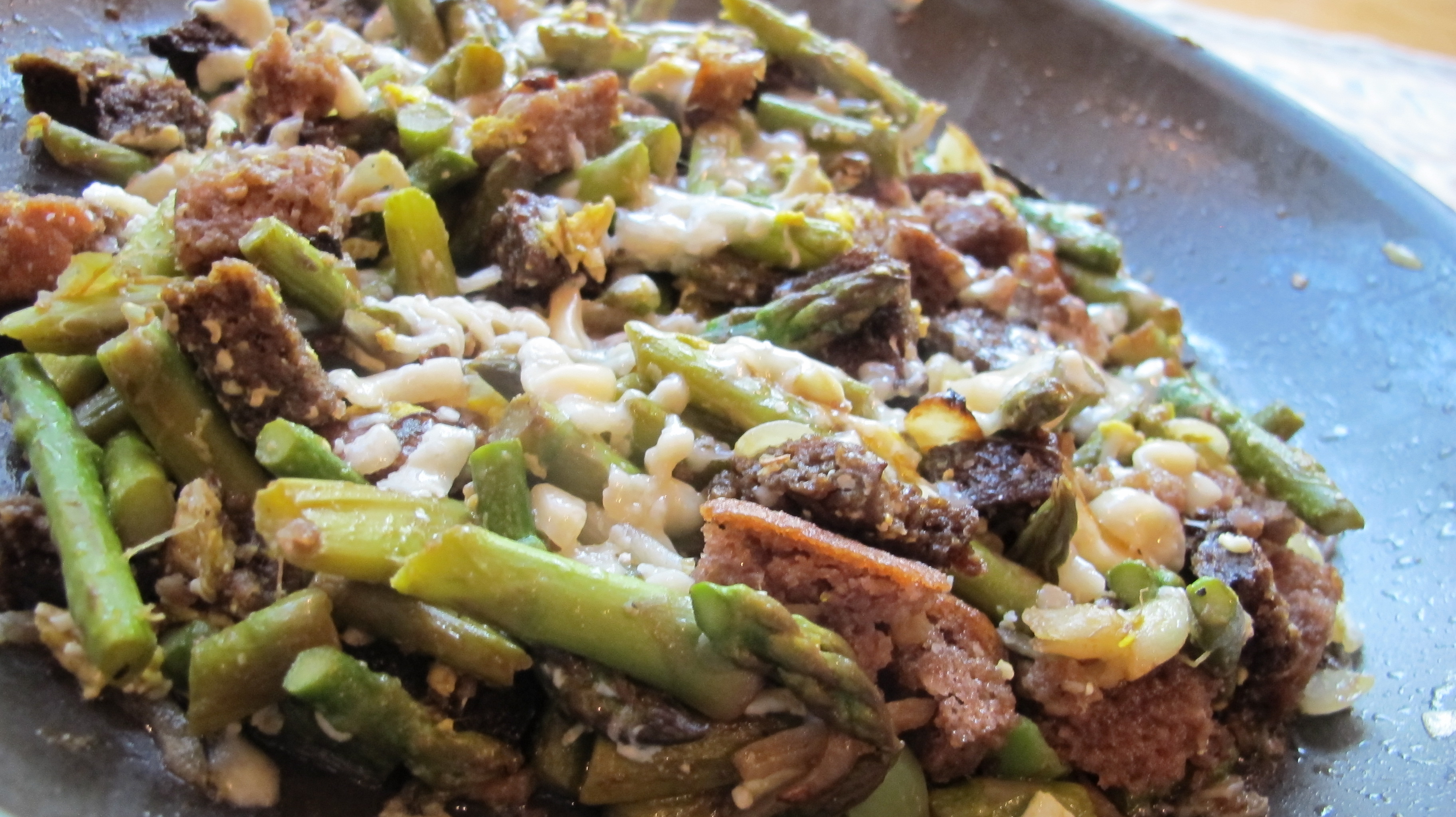 Serve warm, and enjoy spring's green delight!