A perfect slice of moist, fluffy, and hearty blueberry coffee cake to go with a cup of freshly brewed joe on a sunny sunday morning. What sounds better?
I actually served this coffee cake up for a few friends when we got together for a weekend brunch. I'd say they
seemed impressed by its deliciousness considering the amount of slices that were being cut for only five people.
This coffee cake recipe I made, adapted from a recipe from the Washington Post, completes any weekend breakfastings. We're also helping out with health issues around the world here at BenGusto.com by making this recipe very heart-friendly, so you can go ahead and have a few slices. The cool part is that the beloved streusel is made up of a crunchy and ever-so-addicting homemade granola. Allow me to show you what's in store for you on this si coffee cake recipe.
Healthy Blueberry Coffee Cake with Granola Streusel 
For the Homemade Granola (to be used in the streusel):
1 1/2 cup long rolled oats

1/4 cup wheat germ (optional)
1/4 cup sliced almonds
2 tbsp. honey
2 tbsp. brown sugar
1 tsp. cinnamon
2 tbsp. olive oil
Preheat the oven to 300 degrees F.
Mix the oats, almonds, and wheat germ in a bowl.
Add the remaining ingredients.
Spread on a glass pan, or a metal pan lined with aluminum foil. Cook for about 25 minutes, taking the pan out to stir it two or three times.
For the Cake:
1 1/4 cup all-purpose flour
3/4 cup whole wheat flour
1/2 cup long-rolled oats
3/4 tsp. baking powder
3/4 tsp. baking soda
1/4 tsp. salt
1 1/2 tsp. cinnamon
3/4 cup nonfat greek yogurt
1/3 cup skim milk
1/3 cup olive oil
1/2 cup + 1 tbsp. brown sugar
1 egg + 2 egg whites
1 1/2 tsp. vanilla extract
1 tbsp. honey
1 2/3 cup blueberries
1 1/3 cup Homemade Granola
Preheat the oven to 350 degrees F.
Mix together the flours, oats, baking powder, baking soda, salt, and cinnamon together in a large bowl.
In a separate small bowl whisk together the yogurt, milk, egg and egg whites, brown sugar, and vanilla together.
Gradually add the wet mixture to the dry. Mix in the blueberries slowly.
Sprinkle the homemade granola, 1 tbsp. brown sugar, and 1 tbsp. honey over the top of the cake.
Grease a round, 10-inch cake pan with butter or cooking spray. Bake for about 35 minutes, or until a toothpick comes out of the cake clean.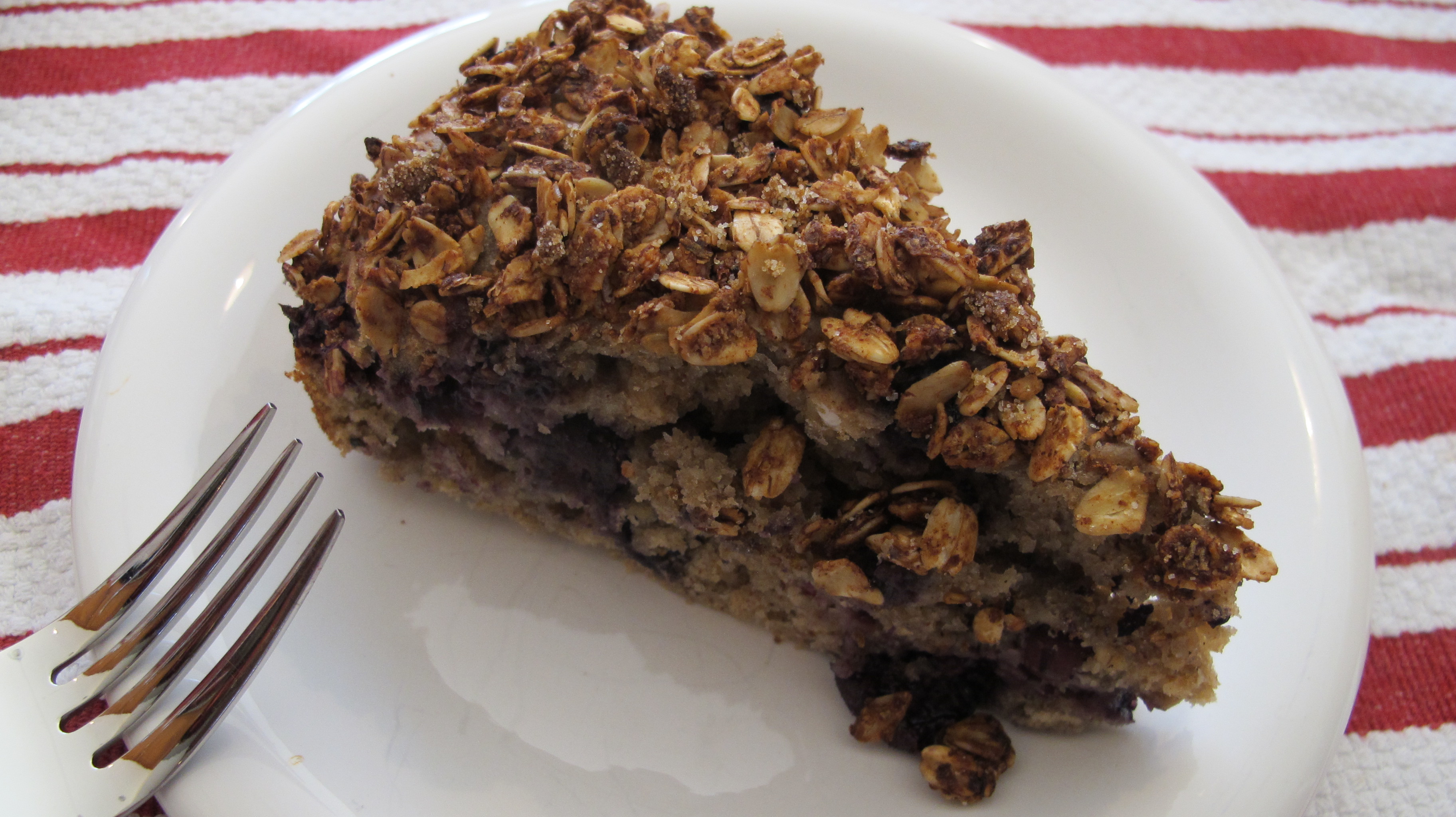 *A cool BenGusto side note:
I had to make brown sugar for this recipe because I was all out. I didn't know it was possible until I researched that all you need to do is add 1 tbsp. of dark molasses to 1/4 cup of sugar to make your own. I'm not sure if it really worked too well, but it's better than nothing!