Traditionally, Italian buffalos are used for the fantastic mozzarella di bufala cheese they produce. Mozzarella from the buffalo differs from that of a cow mainly in its stronger, "gamier" taste. In terms of using buffalos for their meat, I can't recall the last time I ate a helping of buffalo in Italy that wasn't in dairy form. However, I know you can get it, because the Italians will eat any part of their livestock. So I will take the safe way out, and classify this recipe as more of an American one than Italian. I know Americans commonly eat buffalo meat, and my recipe, after all, is a chili.  
The best part about this chili recipe is that you don't have to use buffalo meat, or even normal ground beef. For example, when I made this I used half buffalo meat, and half leftover brisket meat from the night before. It will come out different depending on what meat you use, but that is what's so exciting about this recipe! No matter what meat, I guarantee this chili will be good.
I do recommend buffalo meat over ground beef in this chili recipe, or any ragu sauces you'll make. Buffalo meat is  more expensive, but it's a lean meat, and strong in flavor.
American Buffalo Chili
7 tbsp. Olive Oil
4 cloves Garlic
dash of Red Pepper Flakes
2 lb. ground Buffalo Meat (or ground beef, or leftover brisket)
27 oz can of Diced Tomatoes
about 1/3 cup Tomato Sauce (sauce without seasoning)
4 tbsp. Ground Chili Pepper
1 1/2 tsp. Cumin
1/2 tsp.   Dried, Crushed Oregano
2 tsp. Salt
1 tsp. Paprika
13 oz cooked Black Beans
Cherry Tomatoes, Chopped Onion, Cilantro (optional for garnishing)
Saute the garlic gloves and red pepper flakes in enough olive oil to cover most of the pan (about 7 tbsp.) over low heat for about 3 minutes, or until the garlic is softened.
Add the buffalo meat, and any other meat you use, in the pan. Cook the meat thoroughly over medium heat.
Add the can of diced tomatoes, and tomato sauce.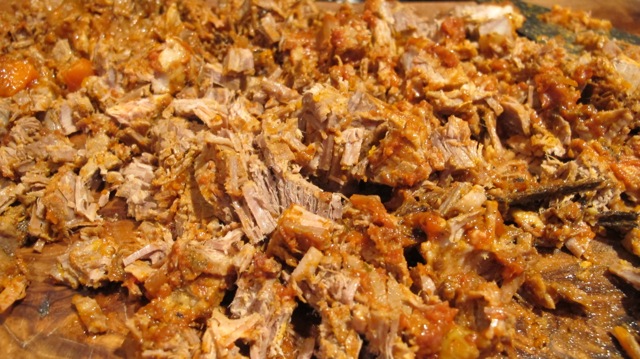 Add all of the spices to the chili (ground chili pepper, cumin, oregano, salt, and paprika).
Finally, add the cooked beans. By now, if the chili is too solid, and not soupy enough, then add more tomato sauce.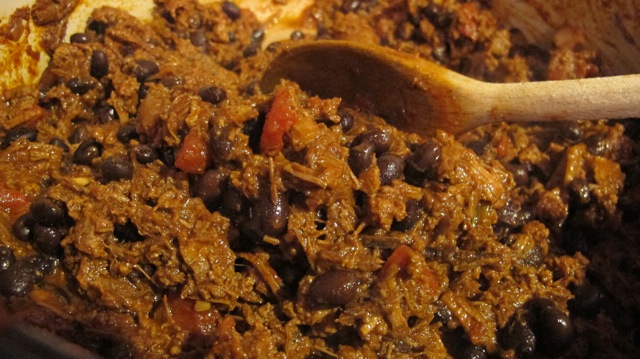 Garnish a bowl of chili with fresh tomato, onion, or cilantro! Enjoy!