Are these the  best waffles I've EVER had? Yes, and that's not just because I created the recipe myself. Everyone in my family (well, that's only three people) has given these healthy Belgian waffles, that resemble apple pie, a double thumbs up. They are a thick, fluffy, and very flavorful breakfast for a brisk Sunday morning treat.
With a drizzle of maple syrup, and a sprinkle of walnuts, these waffles will make you never go back to eating oatmeal and rice cakes.
My recipe for Apple-Cinnamon Belgian Waffles  are made with whole wheat, an ingredient that I discovered is not only healthy, but provides an earthy, nutty flavor to breads and baked goods. My mom, who is the main bread baker of the house, has been using whole wheat more and more lately because it gives breads more flavor, and a dense texture. It turns out, whole wheat is perfect for waffles.
While in Italy, the only thing I occasionally miss is some American breakfast classics. The Italians are very light when it comes to morning meals, eating a single brioche with coffee, or a boring piece of toast with jam (although, the jam is quite good). When it comes to a relaxing Sunday brunch or breakfast, you can't beat Americans and their stacks of french toast and pancakes, slobbered with whipped cream and syrup. I was lucky enough to even find maple syrup in Italy, so I could make my own American breakfasts. It wasn't until half way through the year that I finally found a bottle of "liquid gold", as I sometimes call it, when we moved to the city streets of Torino. There was no way I could find it in the middle of the rural countryside of Piemonte at our vineyard estate.
For this recipe, you don't need to have a Belgian waffle iron, but you do need to have some type of waffle iron. I enjoy the Belgian iron because the waffles turn out large, fluffy, and all square. I feel like I am eating at a higher class of waffles.
Apple-Cinnamon Belgian Waffles
1 1/2 cup of Whole Wheat Flour

1 1/3 cup of Milk (I used 2%, but any type should be fine)
1 Egg + 1 Egg White
1 medium-sized red Apple
2 1/2 tsp. Baking Powder
1 1/2 tbsp. Granulated Sugar
1/2 tbsp. Brown Sugar
1 1/2 tsp. Cinnamon
1/4 tsp. Nutmeg
Pinch of Salt
1 1/2 tsp. Vanilla
Maple Syrup (optional)
crushed Walnuts (optional)
Rev your waffle iron! Plug it in, and let it start to heat up.
Beat the egg and egg white in a large bowl until bubbles form at the top.
Cut up the apple and blend it in a blender.
Add the vanilla and apple to the beaten egg and whisk together.
Whisk in the milk.
Add the dry ingredients (the flour, baking powder, granulated sugar, brown sugar, cinnamon, nutmeg, and salt) to the wet mixture and stir together. Do not stir too much, or the waffle will loose some desired texture.
Spray your waffle iron with cooking spray or give it a coating of canola oil, so the waffles won't stick. Place a nice heaping of waffle batter into the iron and let it cook until soft and fluffy.
Serve warm with maple syrup and a sprinkle of crushed walnuts.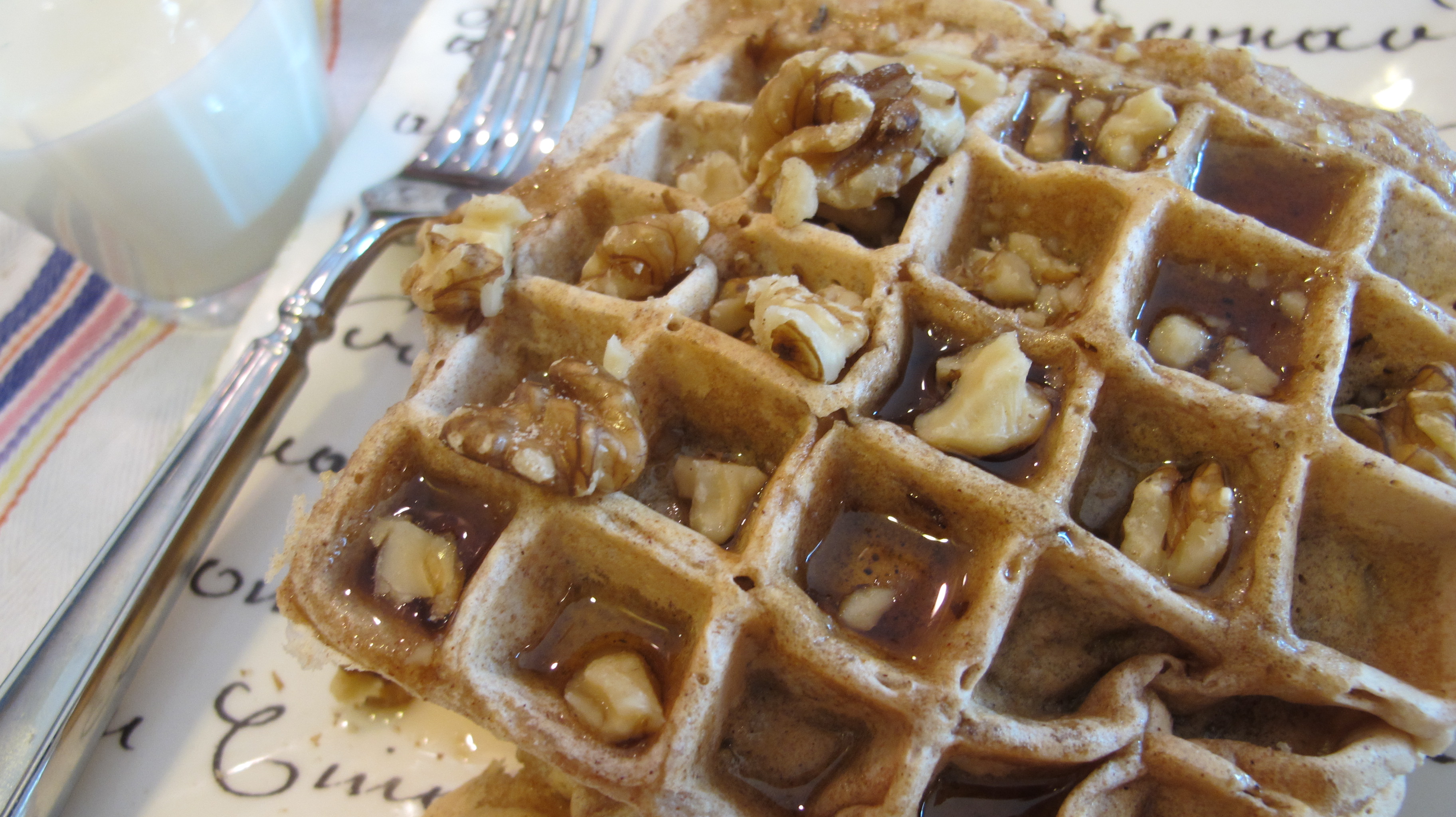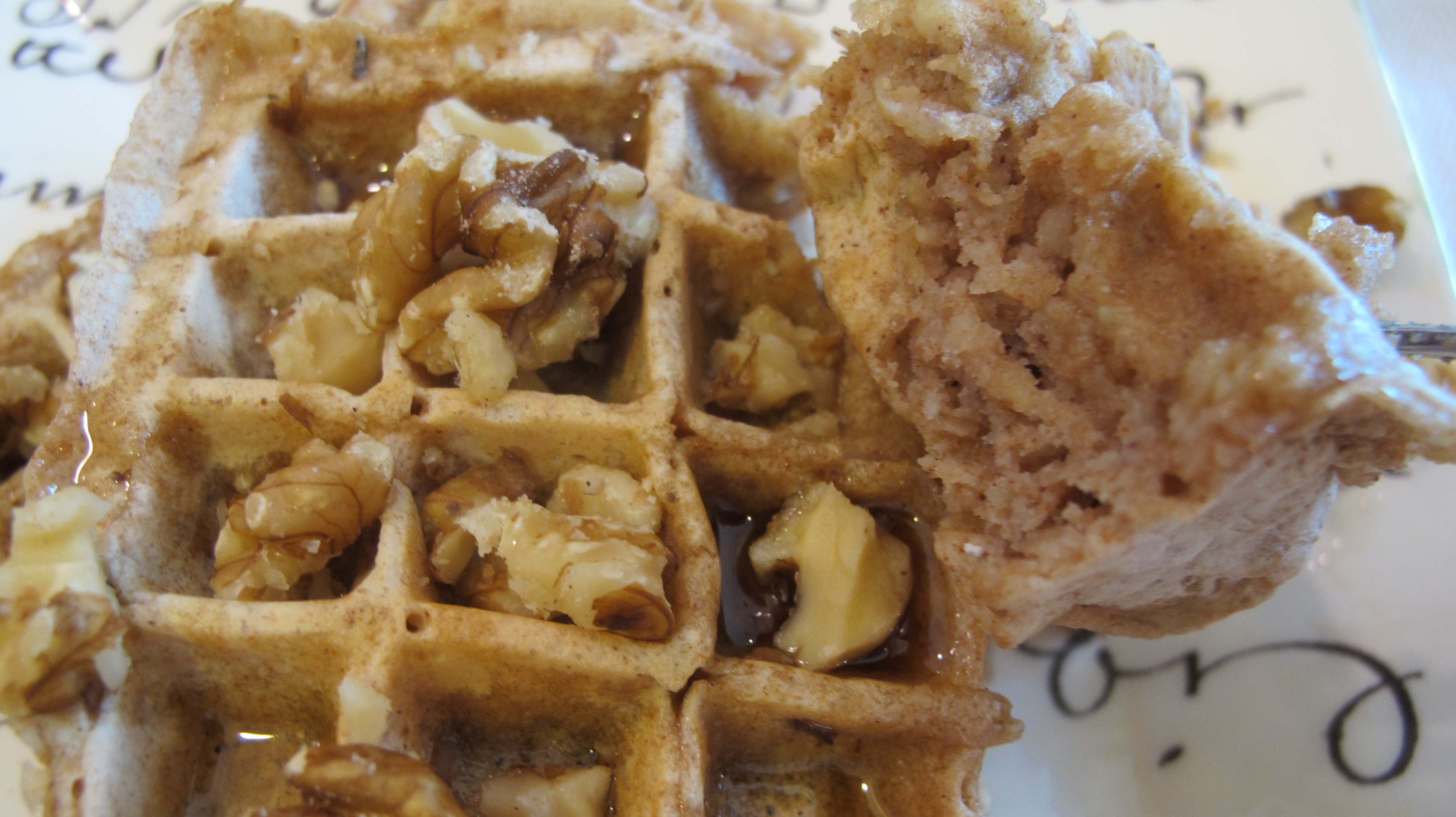 Buon Giorno e Buon Appetito!