I know it's now fall, but scents of the summer are still in the air. Tomatoes are not so bad, so I thought I'd share these two delicious dishes that I created in the summer.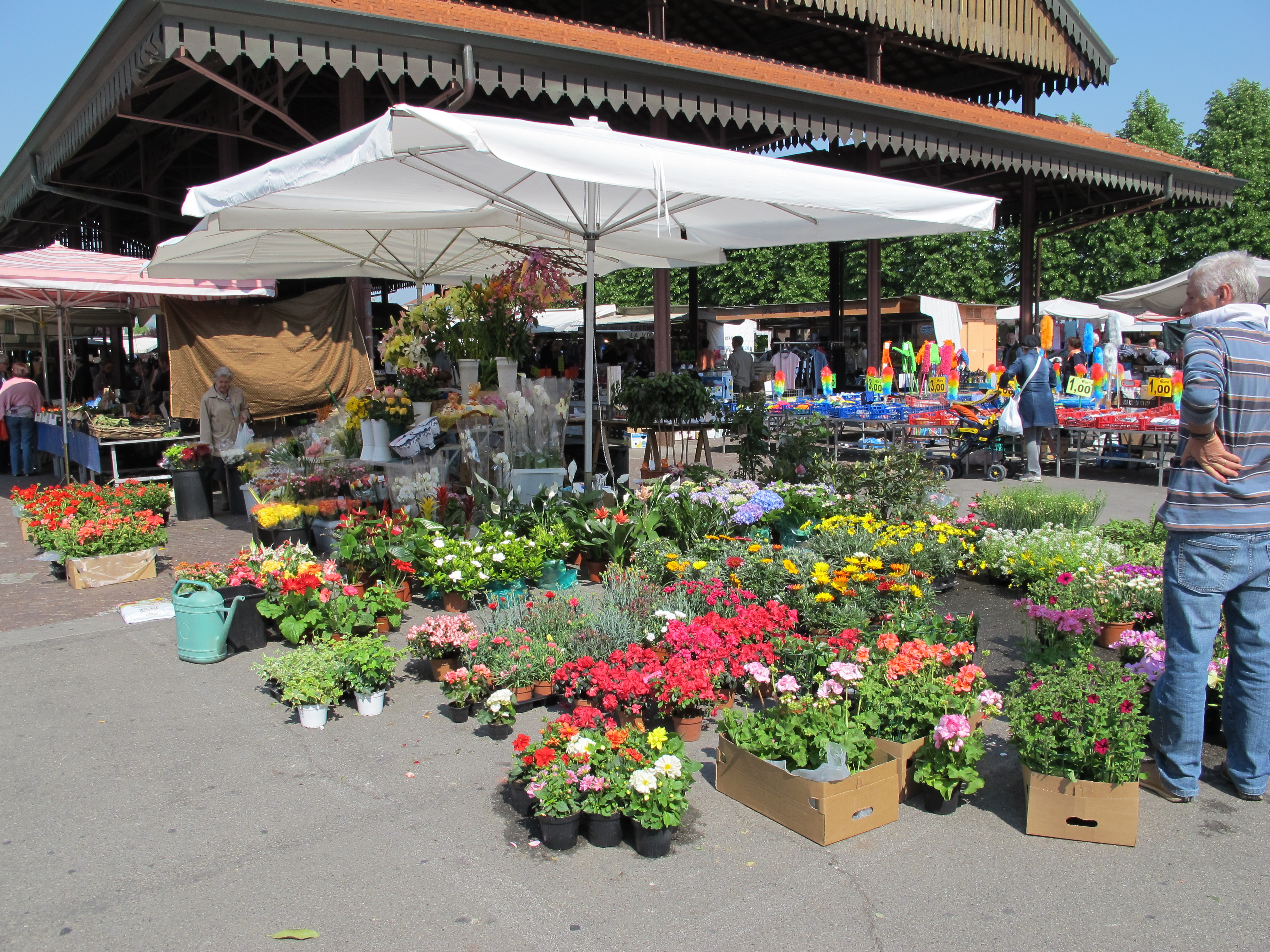 The Saturday food market in Alba was full of ripe, local fruits and vegetables, and freshly caught fish throughout the summer. I am a pretty big almond fan, and I remembered having a nice salmon dish somewhere that had almond slices on top. But I didn't go with just almond slivers on a baked fish. I wanted almond chunks full of flavor and mixed with other delightful ingredients that compliment the italian salmon. And so, using almonds from Sicily, I developed a recipe that had my parents, and myself, claiming it was the "best salmon I've ever had." And that's not only because I had the freshest fish available.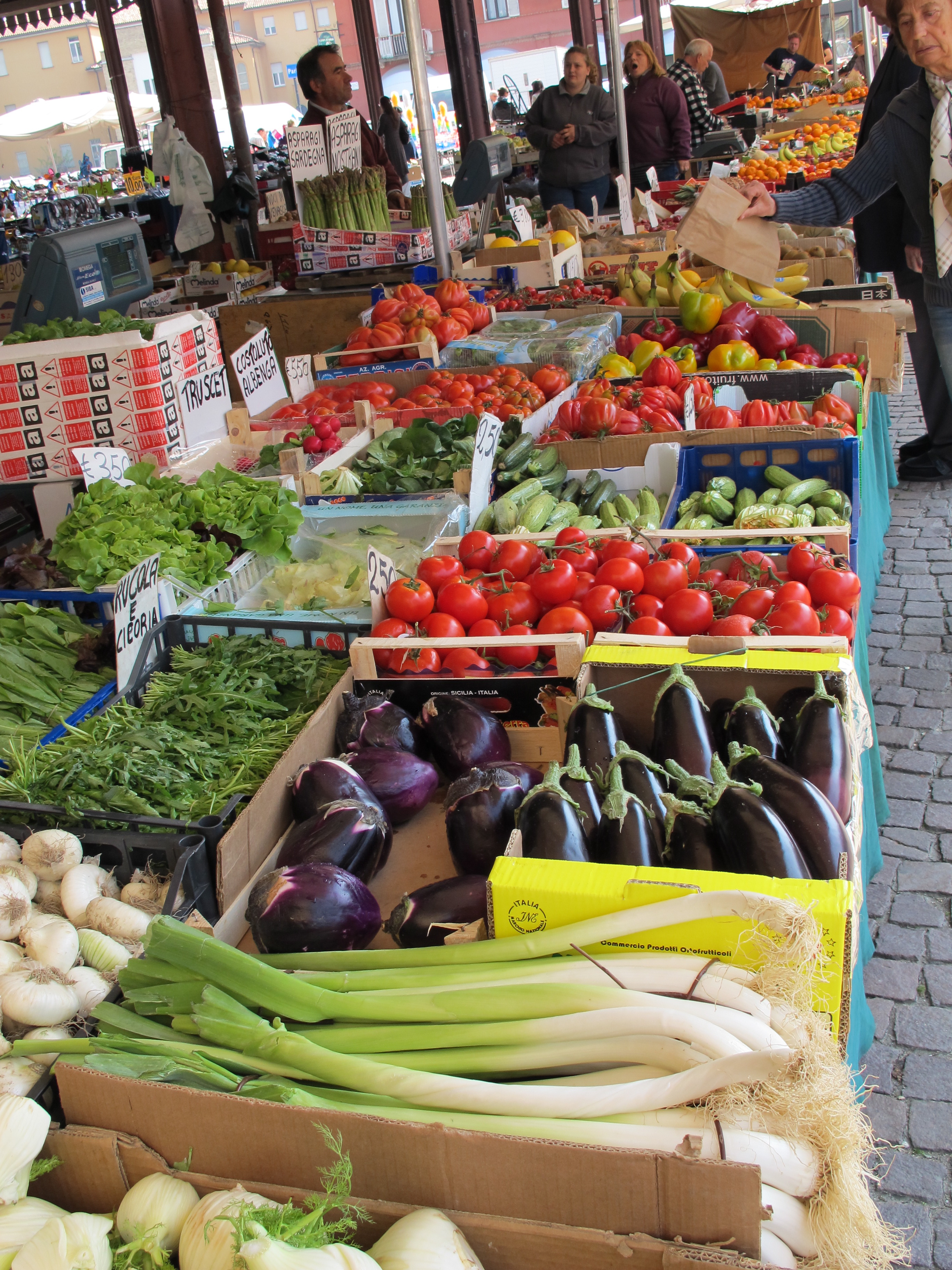 The farmer's market in Alba. Unfortunately, I don't have a picture of the fish vendors.
With every meal, you need to have a side. Normally, my family makes a simple salad to go with every meal. But since I was feeling creative, I did not think a "simple salad" would be a right fit for my new salmon recipe. During the summer, every salad we make will include our neighbor's large Cuore di bue tomatoes. So I decided to make a traditional Panzanella salad, a little like the one my school would serve occasionally. (When I say my school would make it, it means it's good. My school had professional chefs serving three course meals daily.) Panzanella salad always has soft bread, mostly the insides, incorporated into the dish so it softens and soaks up the vinaigrette. Using the abnormally large tomatoes from Giuseppe, the old farmer next door, I made the "salad of the summer" with cucumbers, onions, and soft bread from the farmer's market in Alba. 
Almond-Crusted Salmon
(Ingredients for about two medium-sized fillets)
Fresh Salmon
Parsley
Bread Crumbs
Almonds
2 Egg Whites
Salt and Pepper
Lemon
Preheat the oven to 450 degrees
Chop almonds roughly, so you still get a nice big crunch.
Combine almonds, bread crumbs, and parsley in a bowl.
Dip top side of salmon fillet in egg whites, and then dip top of the salmon in dry mixture
Season with salt and pepper to your liking, but do not be too stingy with the salt!
Bake for about 12-14 minutes, or until the salmon's center is a little darker than the outside of the fish.
Squeeze lemon juice over the baked salmon, and your meal is served!
Panzanella Salad
(Based on the number of servings, and which ingredients you like more, you can decide the amounts to your liking)
Tomatoes
Cucumbers
Basil
Red Onions
Bread with puffy, soft insides
Salt and Pepper
Lemon
Olive Oil
Splash of red wine vinegar (optional)
Chop tomatoes and cucumbers into nice chunks. Finely chop the red onion.
Cut the bread into chunks, using mostly the inside and little crust
Combine the ingredients along with fresh basil
Be generous in giving the salad a nice amount of olive oil!
A splash of red wine vinegar, a touch of lemon juice from a fresh lemon, and a good amount of salt and pepper will give the salad its flavor!