I've always thought that a sandwich with cheese has to be hot. That cheese has gotta be melting. We bought a panini press in america a few years ago. A good purchase; I use it fairly regularly for weekend lunches. Last year, I convinced my mom that a panini press
for our vineyard home (in italy) would be useful. She wanted another small one, but my dad and I were looking more towards the heavy-duty grande size. It had only one temperature, but it was more professional looking, with more space for grilling and more weight to press on the sandwiches. We bought the big press, with my mom still worried about it taking up to much counter space.
It was a great decision. We use the big panini press way more than the wimpy one we have in the States. We use the press even
more for a quick way to grill vegetables as a side dish than to heat sandwiches. It's easy to use, and does a much better job than the press we have in Virginia that's half the size. The problem with the small press is that the sandwiches don't have enough weight pushing them down evenly. Plus, there's not as much space.
The day after the Tomato-Rosemary Bread success, I knew the left over half would make a killer panino of mozzarella, tomato, and basil; a classic combo. A tomato-rosemary homemade bread? There can't be anything that would work better.
Slices of tomato, again from the generous farmer next door, with fresh mozzarella di bufala from the local market, basil from our basil plants, salt, pepper, and a drizzle of olive oil. And with that, they're ready to sizzle on the press.
My bread recipe is very simple. It doesn't require kneading, or any high- level knowledge. If you try it (click here: Tomato-Rosemary Bread), then I suggest making the  mozzarella-tomato sandwiches too. If you don't have a panini press, then wrap it in tinfoil and heat it in the oven.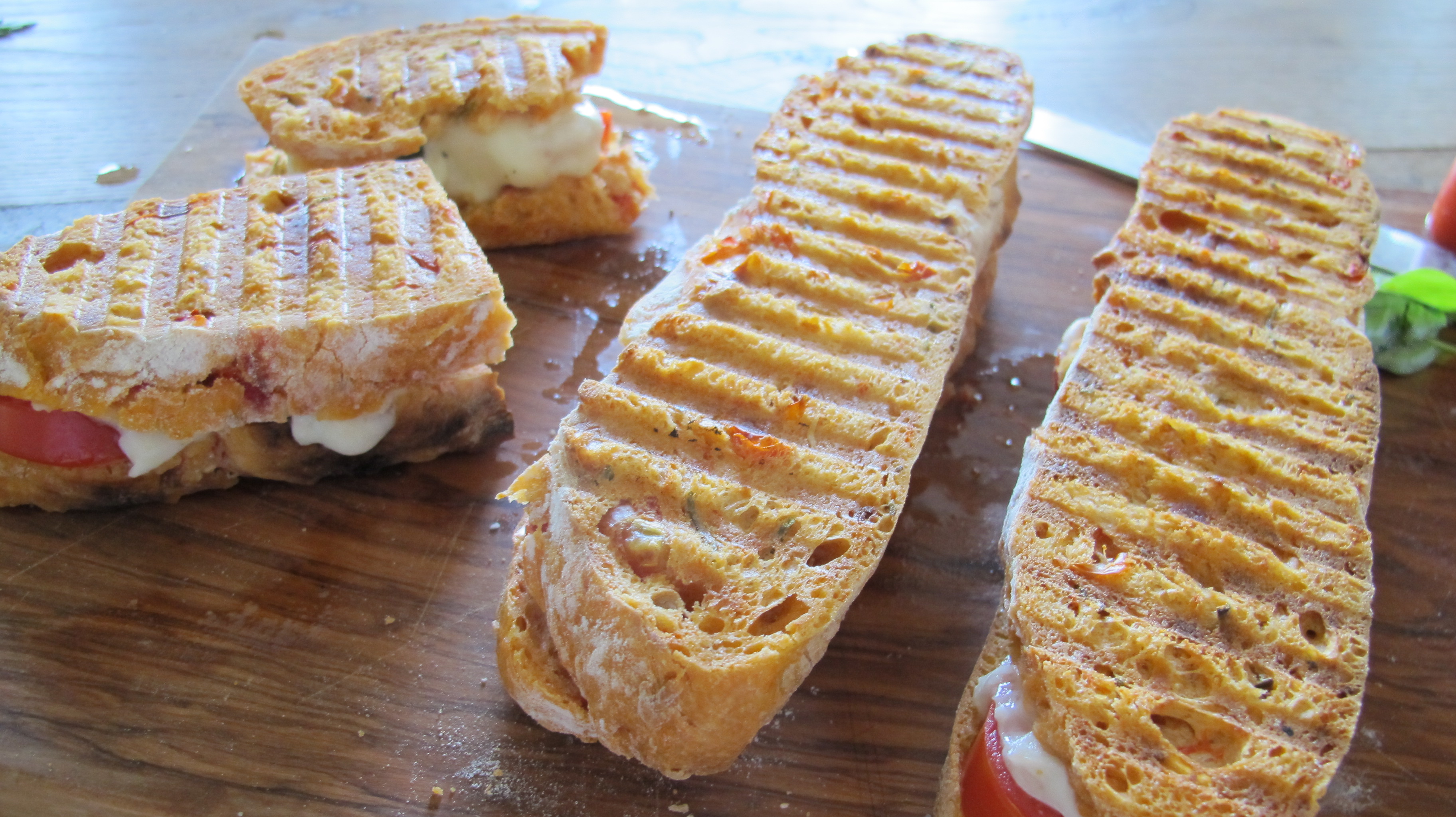 Buon Appetito